The Q or quadriceps angle is a measurement of pelvic width that is believed to contribute to the risk of sports injuries in women athletes. Can non-surgical therapies and exercises help rehabilitate injuries?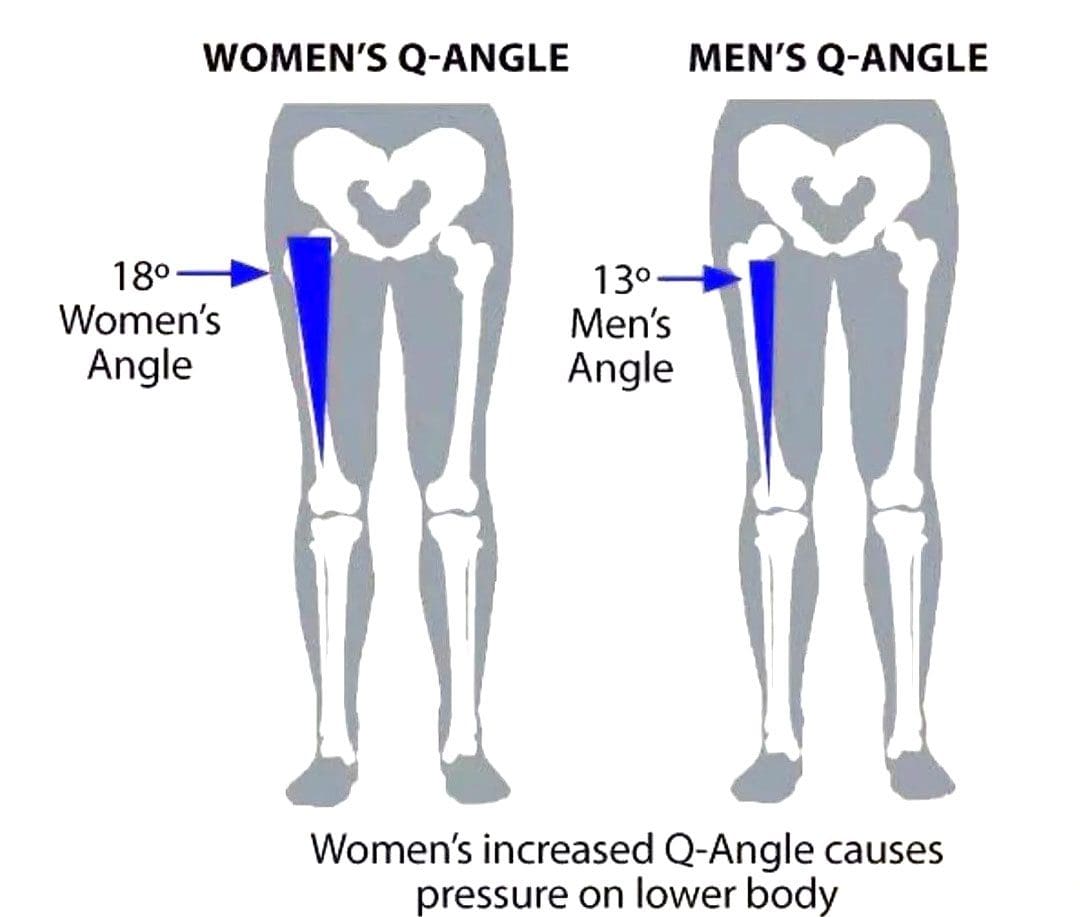 Quadriceps Q - Angle Injuries
The Q angle is the angle where the femur/upper leg bone meets the tibia/lower leg bone. It is measured by two intersecting lines:
One from the center of the patella/kneecap to the anterior superior iliac spine of the pelvis.
The other is from the patella to the tibial tubercle.
On average the angle is three degrees higher in women than men.
Average 17 degrees for women and 14 degrees for men. (Ramada R Khasawneh, et al., 2019)
Sports medicine experts have linked a wider pelvis to a larger Q-angle. (Ramada R Khasawneh, et al., 2019)
Women have biomechanical differences that include a wider pelvis, making it easier to give birth. However, this difference can contribute to knee injuries when playing sports, as an increased Q angle generates more stress on the knee joint, as well as leading to increased foot pronation.
Injuries
Various factors can increase the risk of injury, but a wider Q angle has been linked to the following conditions.
Patellofemoral Pain Syndrome
An increased Q angle can cause the quadriceps to pull on the kneecap, shifting it out of place and causing dysfunctional patellar tracking.
With time, this can cause knee pain (under and around the kneecap), and muscle imbalance.
Foot orthotics and arch supports could be recommended.
Some researchers have found a link, while others have not found the same association. (Wolf Petersen, et al., 2014)
Chondromalacia of the Knee
This is the wearing down of the cartilage on the underside of the kneecap.
This leads to degeneration of the articular surfaces of the knee. (Enrico Vaienti, et al., 2017)
The common symptom is pain under and around the kneecap.
ACL Injuries
Women have higher rates of ACL injuries than men. (Yasuhiro Mitani. 2017)
An increased Q angle can be a factor that increases stress and causes the knee to lose its stability.
However, this remains controversial, as some studies have found no association between the Q angle and knee injuries.
Chiropractic Treatment
Strengthening Exercises
ACL injury prevention programs designed for women have resulted in reduced injuries. (Trent Nessler, et al., 2017)
The vastus medialis obliquus or VMO is a teardrop-shaped muscle that helps move the knee joint and stabilize the kneecap.
Strengthening the muscle can increase the stability of the knee joint.
Strengthening may require a specific focus on muscle contraction timing.
Closed-chain exercises like wall squats are recommended.
Glute strengthening will improve stability.
Stretching Exercises
Stretching tight muscles will help relax the injured area, increase circulation, and restore range of motion and function.
Muscles commonly found to be tight include the quadriceps, hamstrings, iliotibial band, and gastrocnemius.
Foot Orthotics
Custom-made, flexible orthotics decrease the Q angle and reduce pronation, relieving the added stress on the knee.
A custom orthotic ensures that the foot and leg dynamics are accounted for and corrected.
Motion-control shoes can also help correct overpronation.
---
Knee Rehabilitation
---
The information herein is not intended to replace a one-on-one relationship with a qualified healthcare professional or licensed physician and is not medical advice. We encourage you to make healthcare decisions based on your research and partnership with a qualified healthcare professional. Our information scope is limited to chiropractic, musculoskeletal, physical medicines, wellness, sensitive health issues, functional medicine articles, topics, and discussions. We provide and present clinical collaboration with specialists from various disciplines. Each specialist is governed by their professional scope of practice and their jurisdiction of licensure. We use functional health & wellness protocols to treat and support care for the injuries or disorders of the musculoskeletal system. Our videos, posts, topics, subjects, and insights cover clinical matters, issues, and topics that relate to and directly or indirectly support our clinical scope of practice.* Our office has reasonably attempted to provide supportive citations and identified the relevant research study or studies supporting our posts. We provide copies of supporting research studies available to regulatory boards and the public upon request.
We understand that we cover matters that require an additional explanation of how it may assist in a particular care plan or treatment protocol; therefore, to further discuss the subject matter above, please contact Dr. Alex Jimenez or contact us at 915-850-0900.
Dr. Alex Jimenez DC, MSACP, CCST, IFMCP*, CIFM*, ATN*
email: coach@elpasofunctionalmedicine.com
Licensed in: Texas & New Mexico*
References
Khasawneh, R. R., Allouh, M. Z., & Abu-El-Rub, E. (2019). Measurement of the quadriceps (Q) angle with respect to various body parameters in young Arab population. PloS one, 14(6), e0218387. https://doi.org/10.1371/journal.pone.0218387
Petersen, W., Ellermann, A., Gösele-Koppenburg, A., Best, R., Rembitzki, I. V., Brüggemann, G. P., & Liebau, C. (2014). Patellofemoral pain syndrome. Knee surgery, sports traumatology, arthroscopy: Official journal of the ESSKA, 22(10), 2264–2274. https://doi.org/10.1007/s00167-013-2759-6
Vaienti, E., Scita, G., Ceccarelli, F., & Pogliacomi, F. (2017). Understanding the human knee and its relationship to total knee replacement. Acta bio-medica : Atenei Parmensis, 88(2S), 6–16. https://doi.org/10.23750/abm.v88i2-S.6507
Mitani Y. (2017). Gender-related differences in lower limb alignment, range of joint motion, and the incidence of sports injuries in Japanese university athletes. Journal of Physical Therapy Science, 29(1), 12–15. https://doi.org/10.1589/jpts.29.12
Nessler, T., Denney, L., & Sampley, J. (2017). ACL Injury Prevention: What Does Research Tell Us? Current reviews in musculoskeletal medicine, 10(3), 281–288. https://doi.org/10.1007/s12178-017-9416-5