Individuals at work, school, etc, perform all kinds of repetitive physical tasks that put their bodies through a great deal of musculoskeletal stress, what are the effects and benefits of joint manipulation therapy for pain relief?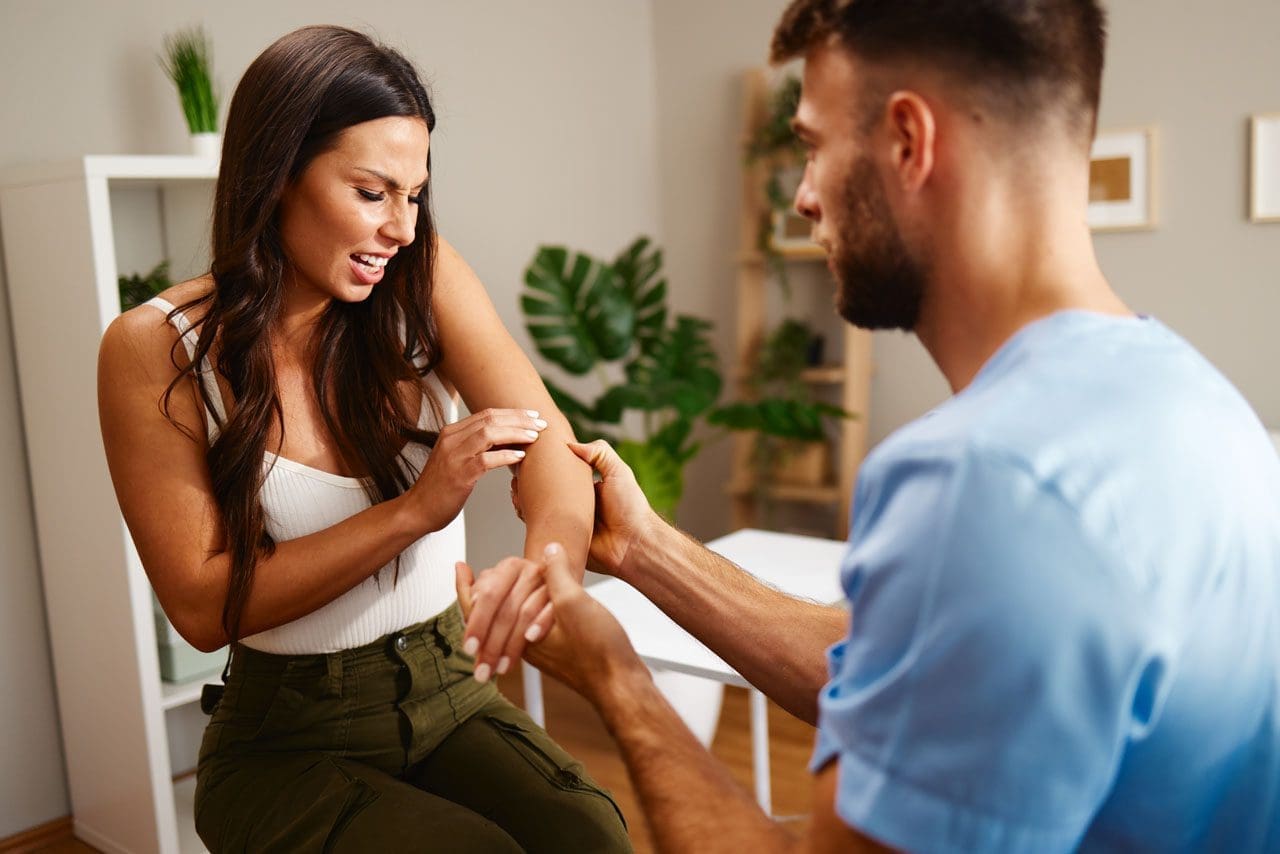 Joint Manipulation Health Benefits
Joint manipulation is a form of manual therapy that involves applying force to the spinal or peripheral joints to:
Relieve pain symptoms.
Realign the joints to their proper position.
Restore flexibility.
Improve mobility.
Increase range of motion.
Chiropractors, massage, and physical therapists use various manipulation techniques to help move and feel better after an injury or illness that causes loss of functional mobility. Here we explain joint manipulation, its applications, and if the technique is safe for you and your condition.
Joint Popping
The joints in the body are places where two or more bones come together to allow movement.
On the ends of a bone is a lining of hyaline cartilage.
The cartilage allows the joint surfaces to glide/slide smoothly.
If the cartilage is injured or damaged, pain and limited motion can present.
When a joint doesn't move properly, the muscles surrounding that joint don't contract properly.
If a joint is dysfunctional for some time, significant muscle wasting and atrophy can occur around the joint, leading to difficulty with mobility like standing, walking, or reaching. (Hurley MV.1997)
The body is made up of cells that breathe by converting energy and releasing waste materials. One type of waste material from cell respiration is carbon dioxide. The gas is transported through the blood and delivered out of the body while breathing. Small pockets of gas can get trapped in the joints that expand and contract as pressure around the joint changes during movement, known as cavitation. When the gas is released through joint manipulation, there can be a popping or snapping sound as the joint is moved. Once the gas is released, joint pressure is decreased and mobility is increased. (Kawchuk, et al., 2015)
Causes
Non-medical
There are non-medical and medical causes of joint dysfunction and derangement that include:
Overuse and repetitive strain.
Unhealthy sitting and/or standing posture.
Lack of physical activity.
Over-stretching or stretching incorrectly.
In these situations, the joints can be temporarily placed in a dysfunctional/compromised position. When moving to the correct position, a popping sound can present as built-up pressure is released.
Medical
Joint problems can occur from medical conditions that can include:
Herniated cervical or lumbar discs.
Spinal arthritis.
Rheumatoid arthritis.
Osteoarthritis.
Joint contracture after being immobilized for some time.
In these cases, a medical problem can be causing a limitation in the joint's position and movement. (Gessl, et al., 20220)
Benefits
If a chiropractic practitioner determines there is joint dysfunction then manipulation may be a treatment option. The benefits include:
Pain Relief
When a chiropractor or therapist gets an injured joint moving properly, the receptors in and around the area get reset allowing for pain relief.
Improved Muscle Activation
As a chiropractor manipulates a joint into its correct anatomical position, the surrounding muscles can flex and contract properly.
Improved Range of Motion
The joint is repositioned for proper movement.
This improves the range of motion and relieves tightness and stiffness.
Improved Functional Mobility
Once a joint is manipulated, the improved range of motion and muscle activation around the joint can lead to improved overall functional mobility. (Puentedura, et al., 2012)
Candidates
Joint manipulation is a safe manual therapy technique for certain individuals. (Puentedura, et al., 2016) This includes:
Individuals with acute neck, back, or peripheral joint pain.
Adults aged 25 to 65 with no serious medical conditions.
Athletes who have been injured from their sport.
Individuals who have been immobilized after injury or surgery.
Joint manipulation is not recommended for everyone and can be dangerous or lead to injury in individuals with certain conditions. (Puentedura, et al., 2016) These include individuals with:
Osteoporosis
Weakened bones may fracture if a high-velocity force is applied to a joint via manipulation
Joint fractures
Individuals with a joint fracture, should not have that specific joint manipulated.
Post Spinal Fusion Surgery
Individuals that have had spinal fusion in the neck or lower back should avoid spinal joint manipulations or adjustments for at least one year after the procedure.
The bones need time to heal thoroughly.
Manipulation can cause a failure of the fusion.
Individuals with Arterial Insufficiency In Their Neck
A rare but dangerous side effect of a neck adjustment is the risk of tearing an artery in the neck known as the vertebrobasilar artery. (Moser, et al., 2019)
If there is pain, loss of movement, or decreased mobility after an injury or surgery, a chiropractic adjustment with joint manipulation can be beneficial to help regain movement. Manual techniques can help improve joint mobility, alleviate pain, and increase strength and stability around the joints. Joint manipulation isn't for everyone and is recommended to consult with a healthcare professional to see if it is safe for your specific condition.
---
Arthritis Explained
---
The information herein is not intended to replace a one-on-one relationship with a qualified healthcare professional or licensed physician and is not medical advice. We encourage you to make healthcare decisions based on your research and partnership with a qualified healthcare professional. Our information scope is limited to chiropractic, musculoskeletal, physical medicines, wellness, sensitive health issues, functional medicine articles, topics, and discussions. We provide and present clinical collaboration with specialists from various disciplines. Each specialist is governed by their professional scope of practice and their jurisdiction of licensure. We use functional health & wellness protocols to treat and support care for the injuries or disorders of the musculoskeletal system. Our videos, posts, topics, subjects, and insights cover clinical matters, issues, and topics that relate to and directly or indirectly support our clinical scope of practice.* Our office has reasonably attempted to provide supportive citations and identified the relevant research study or studies supporting our posts. We provide copies of supporting research studies available to regulatory boards and the public upon request.
We understand that we cover matters that require an additional explanation of how it may assist in a particular care plan or treatment protocol; therefore, to further discuss the subject matter above, please contact Dr. Alex Jimenez or contact us at 915-850-0900.
Dr. Alex Jimenez DC, MSACP, CCST, IFMCP*, CIFM*, ATN*
email: coach@elpasofunctionalmedicine.com
Licensed in: Texas & New Mexico*
References
Bastow J. (1948). Indications for joint manipulation. Proceedings of the Royal Society of Medicine, 41(9), 615.
Gessl, I., Popescu, M., Schimpl, V., Supp, G., Deimel, T., Durechova, M., Hucke, M., Loiskandl, M., Studenic, P., Zauner, M., Smolen, J. S., Aletaha, D., & Mandl, P. (2021). Role of joint damage, malalignment, and inflammation in articular tenderness in rheumatoid arthritis, psoriatic arthritis, and osteoarthritis. Annals of the rheumatic diseases, 80(7), 884–890. https://doi.org/10.1136/annrheumdis-2020-218744
Hurley M. V. (1997). The effects of joint damage on muscle function, proprioception, and rehabilitation. Manual therapy, 2(1), 11–17. https://doi.org/10.1054/math.1997.0281
Kawchuk, G. N., Fryer, J., Jaremko, J. L., Zeng, H., Rowe, L., & Thompson, R. (2015). Real-time visualization of joint cavitation. PloS one, 10(4), e0119470. https://doi.org/10.1371/journal.pone.0119470
Moser, N., Mior, S., Noseworthy, M., Côté, P., Wells, G., Behr, M., & Triano, J. (2019). Effect of cervical manipulation on the vertebral artery and cerebral hemodynamics in patients with chronic neck pain: a crossover randomized controlled trial. BMJ open, 9(5), e025219. https://doi.org/10.1136/bmjopen-2018-025219
Puentedura, E. J., Cleland, J. A., Landers, M. R., Mintken, P. E., Louw, A., & Fernández-de-Las-Peñas, C. (2012). Development of a clinical prediction rule to identify patients with neck pain likely to benefit from thrust joint manipulation to the cervical spine. The Journal of orthopedic and sports physical therapy, 42(7), 577–592. https://doi.org/10.2519/jospt.2012.4243
Puentedura, E. J., Slaughter, R., Reilly, S., Ventura, E., & Young, D. (2017). Thrust joint manipulation utilization by U.S. physical therapists. The Journal of manual & manipulative therapy, 25(2), 74–82. https://doi.org/10.1080/10669817.2016.1187902