Walking is a great physical exercise activity that requires endurance. When walking for two hours or more, refueling energy stores can be done with portable walking energy snacks. These are foods that can be taken along and eaten while on the move. This includes fruits, vegetables, energy bars, trail mix, energy gels, and sports drinks that can replenish the body. However, depending on when an individual goes for a walk, they need to think about breakfast or lunch nutrition before engaging in the walk. This will help to get the most benefits from the snacks, as well as, what to have after the workout for recovery.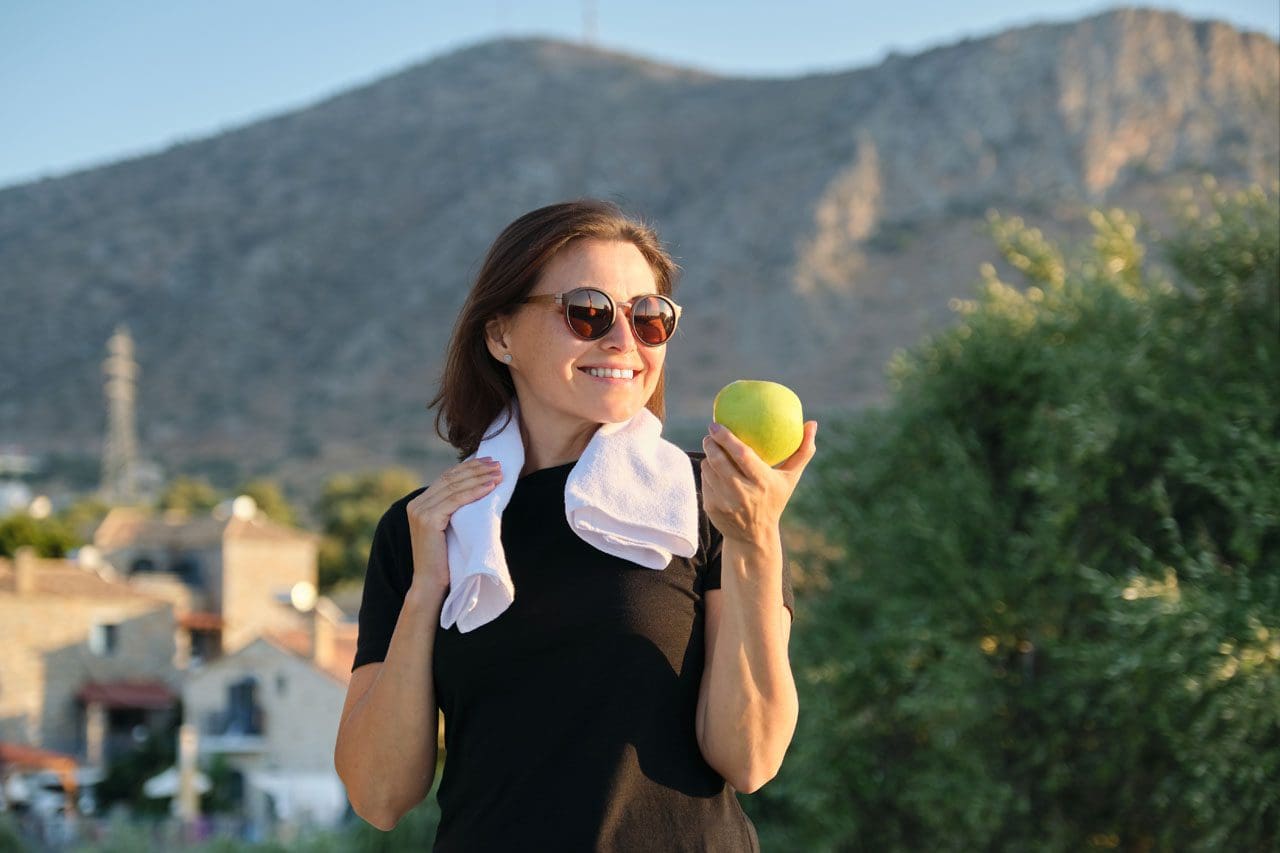 Walking Energy Snacks
Individuals walking for a long time will want a snack - before, during, and after. There are various options to choose from. Individuals may want to experiment with various snack and drink options to find the right balance of carbs, fat, and protein so that the body gets the energy it needs without feeling weighed down or hungry soon after. The ideal walking energy snacks should be healthy, full of energy, and easy to eat on the move.
Fruit Snacks
Fruit snacks are great for the all-natural carbohydrate burst.
Bananas are great for potassium.
Apples, oranges, and raisins are also recommended packable snacks.
For certain individuals, the fiber in some fruits can get digestion moving, requiring a restroom, so plan ahead.
Some individuals can eat fruit regularly but may have an upset stomach during walking, which is why experimentation may be necessary.
Energy Bars
Nutrition bars can provide vitamins and minerals and protein but can be high in calories.
Check the labels to choose the balance of ingredients that's best for you.
Energy bars offer a healthy combination of carbohydrates, protein, and fat.​
They are convenient for a snack when on a walk.
Most products utilize peanuts/other nuts or soy for protein.
Individuals may want to avoid chocolate-covered bars, as they can melt.
Trail Mix
Trail mixes are the original energy bar.
Individuals can mix their own, buy in bulk, or pre-packaged.
Trail mix contains nuts for protein, raisins or other dried fruit for carbohydrates, and chocolate or carob for taste.
The salted varieties can help replace electrolytes.
Be aware of portion control, as trail mix is often high in fat and calories.
Energy Gels
Energy gels provide a carbohydrate boost designed for individuals doing endurance events and activities.
Energy gels need to be taken with water for carbohydrate digestion.
There are some that can be taken without water but may not provide as much energy.
For individuals that walk fast and breathe hard, energy gels can be safer than chewing and possibly choking.
Newer brands are trying to be natural and less sweet.
Energy and Sports Drinks
Water is not enough to keep the body hydrated on long walks.
Sports drinks with sugar and salt replenish H2O and electrolyte levels more thoroughly when walking for more than an hour helping to prevent dehydration and hyponatremia/low salt levels.
It is recommended to avoid:
High-caffeine energy drinks in small cans, as they have too much caffeine and not enough hydrating water.
Sports and energy drinks with additives and herbs, which do not help on walks, and look for those with salt and carbohydrate replacement.
---
Ankle Sprain Recovery
---
The information herein is not intended to replace a one-on-one relationship with a qualified healthcare professional or licensed physician and is not medical advice. We encourage you to make healthcare decisions based on your research and partnership with a qualified healthcare professional. Our information scope is limited to chiropractic, musculoskeletal, physical medicines, wellness, sensitive health issues, functional medicine articles, topics, and discussions. We provide and present clinical collaboration with specialists from various disciplines. Each specialist is governed by their professional scope of practice and their jurisdiction of licensure. We use functional health & wellness protocols to treat and support care for the injuries or disorders of the musculoskeletal system. Our videos, posts, topics, subjects, and insights cover clinical matters, issues, and topics that relate to and directly or indirectly support our clinical scope of practice.* Our office has reasonably attempted to provide supportive citations and identified the relevant research study or studies supporting our posts. We provide copies of supporting research studies available to regulatory boards and the public upon request.
We understand that we cover matters that require an additional explanation of how it may assist in a particular care plan or treatment protocol; therefore, to further discuss the subject matter above, please contact Dr. Alex Jimenez or contact us at 915-850-0900.
Dr. Alex Jimenez DC, MSACP, CCST, IFMCP*, CIFM*, ATN*
email: coach@elpasofunctionalmedicine.com
Licensed in: Texas & New Mexico*
References
Francois, Monique E et al. "'Exercise snacks' before meals: a novel strategy to improve glycaemic control in individuals with insulin resistance." Diabetologia vol. 57,7 (2014): 1437-45. doi:10.1007/s00125-014-3244-6
Islam, Hashim, et al. "Exercise Snacks: A Novel Strategy to Improve Cardiometabolic Health." Exercise and sport sciences review vol. 50,1 (2022): 31-37. doi:10.1249/JES.0000000000000275
Marangoni, Franca, et al. "Snacking in nutrition and health." International Journal of food sciences and Nutrition vol. 70,8 (2019): 909-923. doi:10.1080/09637486.2019.1595543
McCubbin, Alan J et al. "Sports Dietitians Australia Position Statement: Nutrition for Exercise in Hot Environments." International Journal of sports nutrition and exercise metabolism vol. 30,1 (2020): 83-98. doi:10.1123/ijsnem.2019-0300
Moore, Daniel R et al. "Walking or body weight squat "activity snacks" increase dietary amino acid utilization for myofibrillar protein synthesis during prolonged sitting." Journal of applied physiology (Bethesda, Md.: 1985) vol. 133,3 (2022): 777-785. doi:10.1152/japplphysiol.00106.2022
Njike, Valentine Yanchou, et al. "Snack Food, Satiety, and Weight." Advances in nutrition (Bethesda, Md.) vol. 7,5 866-78. 15 Sep. 2016, doi:10.3945/an.115.009340