Sports activities will result in aches, pains, and injuries that need to be examined by a doctor or specialist for proper diagnosis and treatment. Finding the right sports injury specialist can be one of the most difficult parts of dealing with an injury. The following may help when deciding if a sports chiropractic specialist can help.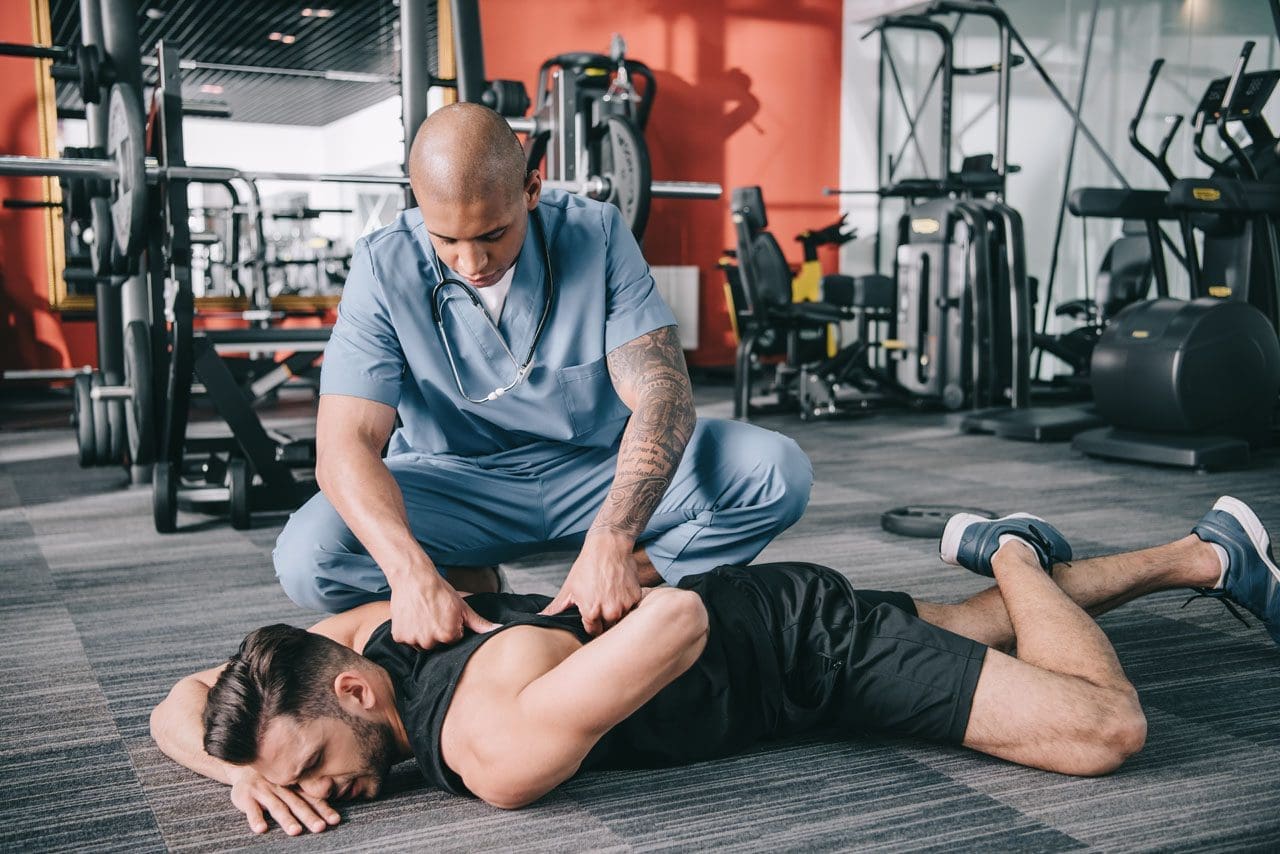 Sports Injury Specialist
Sports medicine is the study and practice of medical principles related to the science of sports:
Injury prevention
Injury diagnosis and treatment
Nutrition
Psychology
Sports medicine focuses on the medical and therapeutic aspects of sports physical activity. These individuals can be physicians, surgeons, chiropractors, physical therapists, or providers who regularly work with athletes. Athletes often prefer providers with athletic treatment experience.
Doctor To See First for a Sports Injury
Individuals that belong to an HMO or PPO may find that their primary care physician is the first doctor to see for injury.
A family doctor may not be a sports medicine specialist but may have the expertise to deal with the injury.
Minor musculoskeletal injuries like acute sprains and strains respond well to immediate standard treatments like rest, ice, compression, and elevation.
Individuals with complicated overuse or training injuries, chronic conditions such as tendonitis, or who require surgery will be referred to a specialist.
Family Doctor Treatment
Nearly all family practice physicians can diagnose and treat various sports-related injuries.
They will refer the individual to a doctor with additional training in sports medicine or an orthopedic sports surgeon if necessary.
When to See a Surgeon
If the injury will likely require surgery and the insurance allows self-referral, individuals may choose to see an orthopedic surgeon first.
Primary care or sports medicine physicians can treat most sports injuries and fractures.
A primary care doctor can recommend an orthopedic surgeon if surgery is required.
Specialists to Consider
After diagnosis, other providers may be involved in caring for sports-related injuries.
Athletic Trainers
Certified athletic trainers are trained professionals that work exclusively with athletes.
Many work with high school and college sports teams, but also work in health clubs and medical clinics.
A certified trainer can help decide which injuries require a specialist and can make the referral.
Physical Therapists
Physical therapists treat injuries based on a doctor's clinical diagnosis.
Physical therapy integrates training and rehabilitation principles into recovery.
Therapists often subspecialize in sports medicine and orthopedic injuries.
Chiropractors
Chiropractors perform treatments that relieve pressure on various areas of the body.
Many athletes prefer chiropractic care first because the treatment is done without prescription medications or surgery.
Chiropractors often work in conjunction with massage therapists to treat various musculoskeletal conditions.
Podiatrists
A podiatrist is recommended for problems with the foot.
These clinicians have several years of residency, exclusively studying foot and ankle musculoskeletal problems.
Podiatrists who focus on sports medicine injuries often work with runners and athletes prone to foot and ankle injuries.
They also perform biomechanical analysis, assess gait, and make customized foot orthotics.
Holistic Practitioners
Holistic healthcare practitioners use non-invasive, non-pharmaceutical techniques and therapies that include:
Acupuncture
Medical herbalism
Other non-traditional methods to treat conditions and illnesses.
Some may have specific experience in treating sports-related injuries.
Finding the Right Specialist
It is important to find a doctor who can design a treatment plan to heal and rehabilitate the injury properly and get the athlete back to their sport quickly and safely. Medicine is science and art, and injury treatment should be personalized to specific goals of healing and performance. When selecting a healthcare provider to treat injuries or provide advice, personal recommendations from trusted sources are recommended to screen providers. As well as asking other athletes, local teams, gyms, athletic clubs, and healthcare organizations can direct individuals in the right direction. If you can't find a confident recommendation, look for a certified sports medicine physician online or call the clinic. When calling the office, questions to think about include:
What is your treatment specialty?
What experience do you have treating athletes?
What special training do you have in sports injury care?
What degrees and certifications do you have?
---
How I Tore My ACL
---
The information herein is not intended to replace a one-on-one relationship with a qualified healthcare professional or licensed physician and is not medical advice. We encourage you to make healthcare decisions based on your research and partnership with a qualified healthcare professional. Our information scope is limited to chiropractic, musculoskeletal, physical medicines, wellness, sensitive health issues, functional medicine articles, topics, and discussions. We provide and present clinical collaboration with specialists from various disciplines. Each specialist is governed by their professional scope of practice and their jurisdiction of licensure. We use functional health & wellness protocols to treat and support care for the injuries or disorders of the musculoskeletal system. Our videos, posts, topics, subjects, and insights cover clinical matters, issues, and topics that relate to and directly or indirectly support our clinical scope of practice.* Our office has reasonably attempted to provide supportive citations and identified the relevant research study or studies supporting our posts. We provide copies of supporting research studies available to regulatory boards and the public upon request.
We understand that we cover matters that require an additional explanation of how it may assist in a particular care plan or treatment protocol; therefore, to further discuss the subject matter above, please contact Dr. Alex Jimenez or contact us at 915-850-0900.
Dr. Alex Jimenez DC, MSACP, CCST, IFMCP*, CIFM*, ATN*
email: coach@elpasofunctionalmedicine.com
Licensed in: Texas & New Mexico*
References
Bowyer, B L et al. "Sports medicine. 2. Upper extremity injuries." Archives of physical medicine and Rehabilitation vol. 74,5-S (1993): S433-7.
Chang, Thomas J. "Sports Medicine." Clinics in podiatric medicine and surgery vol. 40,1 (2023): xiii-xiv. doi:10.1016/j.cpm.2022.10.001
Ellen, M I, and J Smith. "Musculoskeletal rehabilitation and sports medicine. 2. Shoulder and upper extremity injuries." Archives of physical medicine and Rehabilitation vol. 80,5 Suppl 1 (1999): S50-8. doi:10.1016/s0003-9993(99)90103-x
Haskell, William L et al. "Physical activity and public health: updated recommendation for adults from the American College of Sports Medicine and the American Heart Association." Medicine and science in sports and exercise vol. 39,8 (2007): 1423-34. doi:10.1249/mss.0b013e3180616b27
Sherman, A L, and J L Young. "Musculoskeletal rehabilitation and sports medicine. 1. Head and spine injuries." Archives of physical medicine and Rehabilitation vol. 80,5 Suppl 1 (1999): S40-9. doi:10.1016/s0003-9993(99)90102-8
Zwolski, Christin, et al. "Resistance Training in Youth: Laying the Foundation for Injury Prevention and Physical Literacy." Sports Health vol. 9,5 (2017): 436-443. doi:10.1177/1941738117704153