Pinched Nerves and Muscle Spasms: A pinched or compressed nerve can occur in various body regions, from the wrist to the foot. When a nerve is compressed, a pins and needles feeling can present until the pressure is relieved, or there can be no sensation symptoms, but other symptoms like muscle spasms, especially in the arm or leg, can appear. Individuals will feel a repetitive fluttering or twitching when the arm or leg is not in motion. A pinched nerve could be the cause of spasms in the back or extremities. Injury Medical Chiropractic and Functional Medicine Clinic can help if symptoms are not stopping or worsening.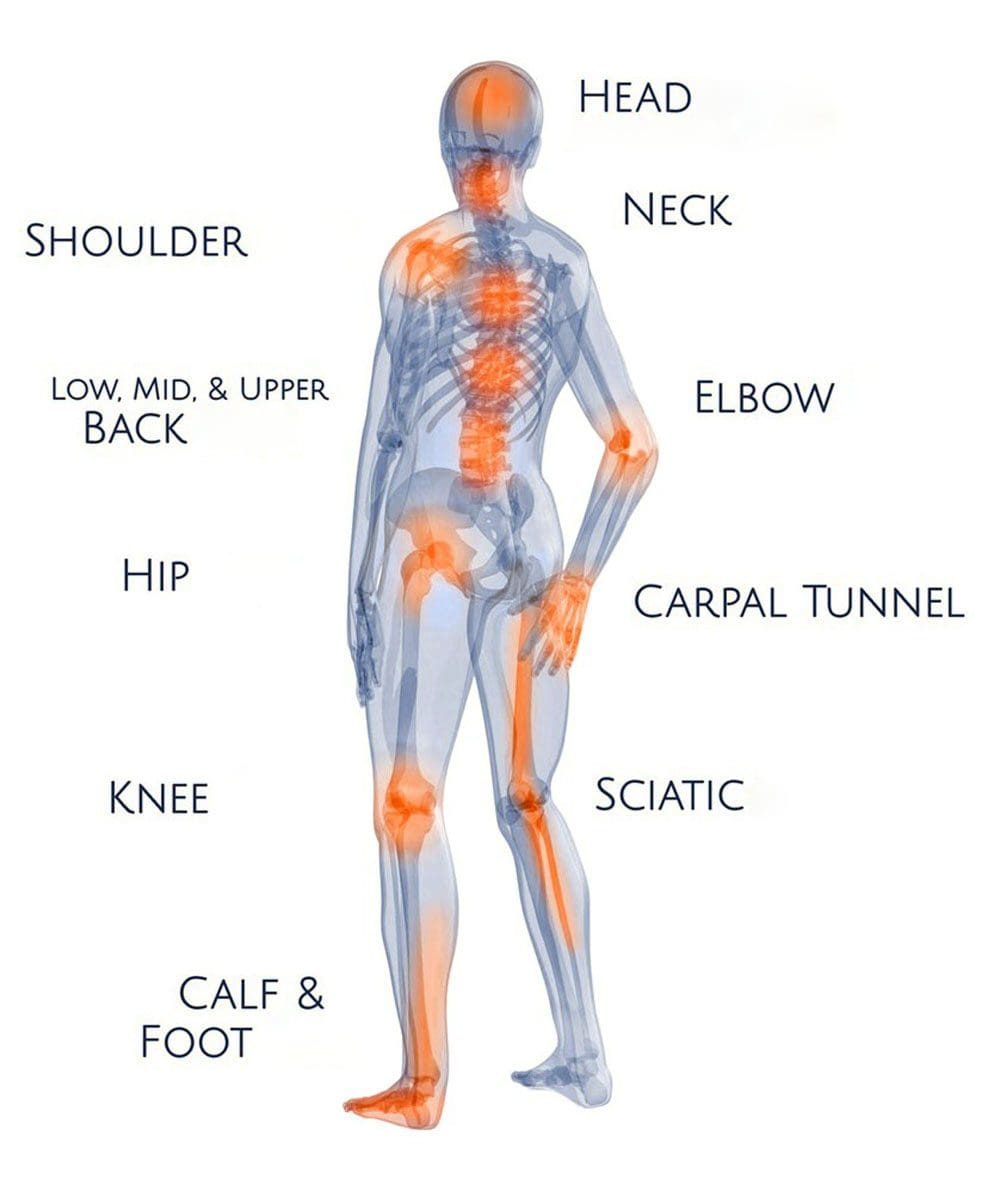 Pinched Nerves and Muscle Spasms
When multiple symptoms appear, individuals may not realize they are connected. Individuals may think aches, pains, and spasms are normal aging processes. Pinched nerves occur when there is an impingement on any one of the numerous nerves of the spine. Impingements can be caused by:
Repetitive motion injuries
Disc degeneration
Herniated/ruptured discs
Bone spurs
Arthritis
Trauma injury
The pain symptoms from the spasm can be quick, sharp, or pulsating and throbbing. The muscles respond by tightening or spasming as the nerve sends interrupted/incomplete signals. In addition to muscle spasms, a pinched nerve can contribute to other symptoms, including the following.
Tingling
Numbness
Pins and needles sensation
Reduced range of motion
Muscle weakness
Signs a Pinched Nerve Might Be Causing Spasms
Sudden shooting pain that radiates down the leg or arm.
Weak muscles
Muscle atrophy - shrinking or deteriorating.
Chronic tingling in the extremities.
A burning sensation in a specific area; this could but is not necessarily the source of the pinched nerve.
Electrical shock-type pain accompanies the spasms.
If a pinched nerve is left untreated and continues to generate symptoms, it can affect daily life and lead to uncomfortable long-term issues. Severe nerve compression combined with inflammation can cause damage to nearby soft tissues and muscles, leading to chronic conditions. When the nerves are damaged, it can be harder to control the muscles making certain motions uncomfortable or difficult to move certain body parts.
Chiropractic Care
Chiropractic care, massage, and decompression therapy will relieve pinched nerves and muscle spasms and restore neuromusculoskeletal system function. The body will be realigned, and patients will be trained on stretching exercises, muscle strengthening, posture training, and nutritional support to optimize the body's natural healing abilities to repair the damaged nerves.
---
Low Back Pain
---
The information herein is not intended to replace a one-on-one relationship with a qualified healthcare professional or licensed physician and is not medical advice. We encourage you to make healthcare decisions based on your research and partnership with a qualified healthcare professional. Our information scope is limited to chiropractic, musculoskeletal, physical medicines, wellness, sensitive health issues, functional medicine articles, topics, and discussions. We provide and present clinical collaboration with specialists from a wide array of disciplines. Each specialist is governed by their professional scope of practice and their jurisdiction of licensure. We use functional health & wellness protocols to treat and support care for the injuries or disorders of the musculoskeletal system. Our videos, posts, topics, subjects, and insights cover clinical matters, issues, and topics that relate to and directly or indirectly support our clinical scope of practice.* Our office has reasonably attempted to provide supportive citations and identified the relevant research study or studies supporting our posts. We provide copies of supporting research studies available to regulatory boards and the public upon request.
We understand that we cover matters that require an additional explanation of how it may assist in a particular care plan or treatment protocol; therefore, to further discuss the subject matter above, please contact Dr. Alex Jimenez or contact us at 915-850-0900.
Dr. Alex Jimenez DC, MSACP, CCST, IFMCP*, CIFM*, ATN*
email: coach@elpasofunctionalmedicine.com
Licensed in: Texas & New Mexico*
References
Bustamante, S, and P G Houlton. "Swelling of the leg, deep venous thrombosis, and the piriformis syndrome." Pain research & management vol. 6,4 (2001): 200-3. doi:10.1155/2001/104091
Chu, Eric Chun-Pu, and Robert J Trager. "Thoracic Schwannoma as an Unusual Cause of Sciatic Pain in the Chiropractic Office: A Case Report." The American journal of case reports vol. 23 e938448. 16 Nov. 2022, doi:10.12659/AJCR.938448
Coletti, Roger H. "The ischemic model of chronic muscle spasm and pain." European journal of translational myology vol. 32,1 10323. 18 Jan. 2022, doi:10.4081/ejtm.2022.10323
Hirayama, Jiro, et al. "Relationship between low-back pain, muscle spasm and pressure pain thresholds in patients with lumbar disc herniation." The European spine journal: official publication of the European Spine Society, the European Spinal Deformity Society, and the European Section of the Cervical Spine Research Society vol. 15,1 (2006): 41-7. doi:10.1007/s00586-004-0813-2
Kennedy, John G, and Donald E Baxter. "Nerve disorders in dancers." Clinics in sports medicine vol. 27,2 (2008): 329-34. doi:10.1016/j.csm.2008.01.001
Waddell, Roger K. "Chiropractic care for a patient with spasmodic dysphonia associated with cervical spine trauma." Journal of chiropractic medicine vol. 4,1 (2005): 19-24. doi:10.1016/S0899-3467(07)60108-6