Idiopathic scoliosis means that no cause congenital or neuromuscular that created the spinal deformation has been identified. However, idiopathic scoliosis is the most common type, affecting 2% to 3% of individuals. Individuals diagnosed with an idiopathic disease or condition can be frustrated with more questions than answers, but it can still be treated in adults and kids.
Idiopathic Scoliosis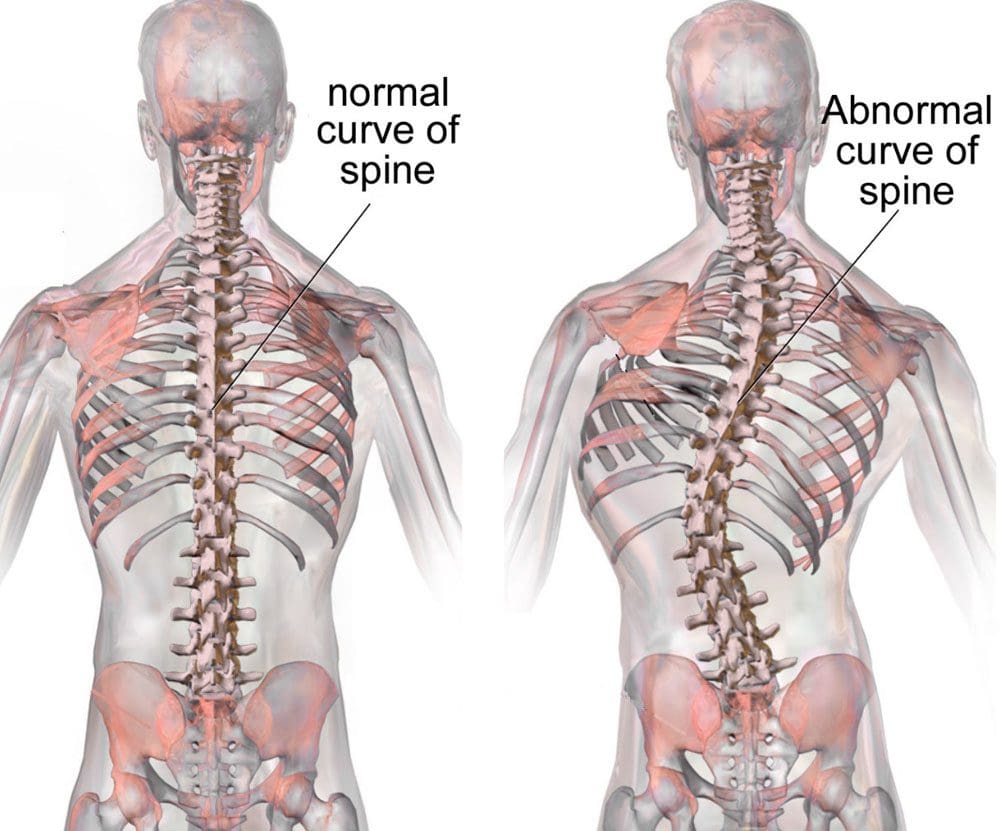 Congenital Scoliosis
Congenital scoliosis is an abnormal curvature of the spine related to which the patient was born.
Usually, a failure of formation or segmentation during normal development leads to the spinal condition.
Neuromuscular Scoliosis
Individuals with neuromuscular scoliosis are usually born with neurological disorders that contribute to muscular unevenness, often resulting in the development of the condition.
For example, individuals with cerebral palsy are born with muscular unevenness that can contribute to scoliosis development.
Who Is Affected
Anyone can develop scoliosis, but children and adults are divided into separate categories.
Children
Children with this condition are divided into three subcategories:
Infantile idiopathic scoliosis
Juvenile idiopathic scoliosis
Adolescent idiopathic scoliosis
These classifications are based on age and skeletal maturity.
Infantile is zero to 3 years old.
A juvenile is 3 to 10 years old.
Adolescents are from 11 onward or when starting puberty, to the point where the skeleton fully matures.
Adults
Idiopathic scoliosis in adults results from undiagnosed or untreated scoliosis in childhood that gradually progressed.
Causes
Research has found a genetic predisposition to developing scoliosis, as it has been found to run in families. Genetic testing has been designed to help determine the risk of developing progressive scoliosis. Theories have been presented about abnormalities that affect the nervous system. These include:
Dysfunctions of the brain stem or equilibrium have been frequently identified in individuals with idiopathic scoliosis.
Other theories suggest skeletal growth abnormalities or hormonal/metabolic dysfunction may contribute to the condition.
However, determining its exact cause remains unknown.
Signs and Symptoms
Here are some things to look out for.
The body leans to one side.
There is an unevenness of the ribcage or hips.
Uneven shoulders.
Shoulder blades may protrude or stick out.
The head is not positioned directly above the pelvis.
Diagnosis
Idiopathic scoliosis curves tend to follow predictable patterns.
Right thoracic or middle back scoliosis
Left thoracolumbar or mid and low-back scoliosis
Relative thoracic hyper or hypo kyphosis
Magnetic resonance images/MRIs of the spine can show evidence of any significant abnormalities. If no other related condition is present to suggest different causes, then the idiopathic scoliosis diagnosis can be made.
Treatment
Treatment depends on the individual's age and the degree of curvature in the spine.
In many cases, adolescent or juvenile idiopathic scoliosis patients that have a mild curve can be treated with a brace.
Adults could need surgical intervention, such as a fusion surgery where rods and screws are added to realign the spine and relieve the pressure on the nerves.
---
Chiropractor
---
The information herein is not intended to replace a one-on-one relationship with a qualified healthcare professional or licensed physician and is not medical advice. We encourage you to make healthcare decisions based on your research and partnership with a qualified healthcare professional. Our information scope is limited to chiropractic, musculoskeletal, physical medicines, wellness, sensitive health issues, functional medicine articles, topics, and discussions. We provide and present clinical collaboration with specialists from a wide array of disciplines. Each specialist is governed by their professional scope of practice and their jurisdiction of licensure. We use functional health & wellness protocols to treat and support care for the injuries or disorders of the musculoskeletal system. Our videos, posts, topics, subjects, and insights cover clinical matters, issues, and topics that relate to and directly or indirectly support our clinical scope of practice.* Our office has reasonably attempted to provide supportive citations and identified the relevant research study or studies supporting our posts. We provide copies of supporting research studies available to regulatory boards and the public upon request.
We understand that we cover matters that require an additional explanation of how it may assist in a particular care plan or treatment protocol; therefore, to further discuss the subject matter above, please contact Dr. Alex Jimenez or contact us at 915-850-0900.
Dr. Alex Jimenez DC, MSACP, CCST, IFMCP*, CIFM*, ATN*
email: coach@elpasofunctionalmedicine.com
Licensed in: Texas & New Mexico*
References
Burnei, G et al. "Congenital scoliosis: an up-to-date." Journal of medicine and life vol. 8,3 (2015): 388-97.
Clément, Jean-Luc, et al. "Relationship between thoracic hypokyphosis, lumbar lordosis and sagittal pelvic parameters in adolescent idiopathic scoliosis." The European spine journal: official publication of the European Spine Society, the European Spinal Deformity Society, and the European Section of the Cervical Spine Research Society vol. 22,11 (2013): 2414-20. doi:10.1007/s00586-013-2852-z
Giampietro, Philip F et al. "Congenital and idiopathic scoliosis: clinical and genetic aspects." Clinical medicine & research vol. 1,2 (2003): 125-36. doi:10.3121/cmr.1.2.125
"Scoliosis – Symptoms, Diagnosis and Treatment." https://www.aans.org/Patients/Neurosurgical-Conditions-and-Treatments/Scoliosis
"Thoracic Hyperkyphosis." Physiopedia, 2009, https://www.physiopedia.com/Thoracic_Hyperkyphosis