The hip joint is a ball-and-socket joint composed of the femur head and a socket, which is part of the pelvis. The labrum is a cartilage ring on the socket part of the hip joint that helps keep joint fluid inside to ensure frictionless hip motion and alignment during movement. A labral tear of the hip is an injury to the labrum. The extent of the damage can vary. Sometimes, the hip labrum can have mini tears or fray at the edges, usually caused by gradual wear and tear. In other cases, a section of the labrum can separate or get torn away from the socket bone. These types of injuries are usually due to trauma. There are conservative hip labral tear tests to determine the type of injury. The Injury Medical Chiropractic and Functional Medicine Clinic team can help.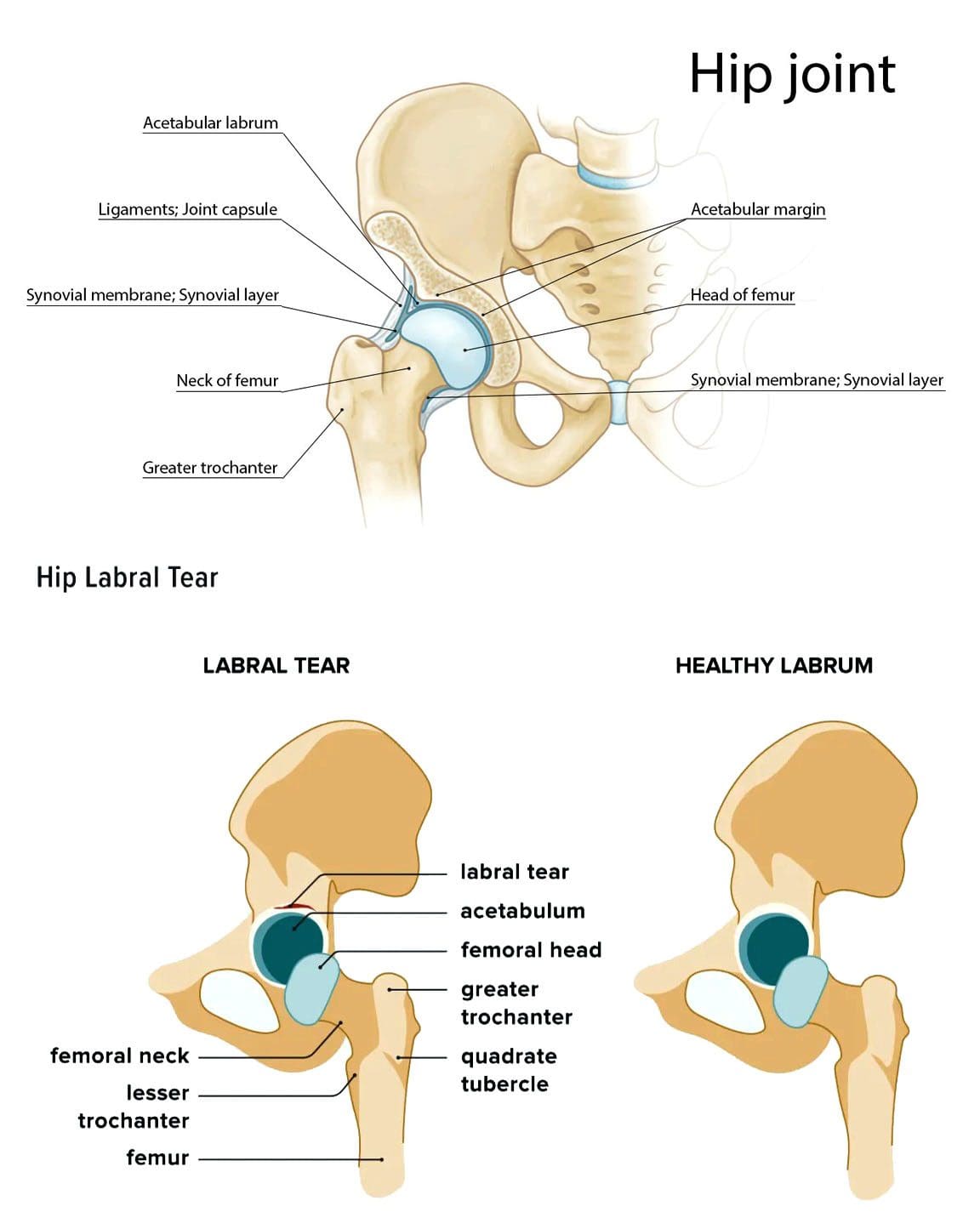 Symptoms
Symptoms are similar regardless of the type of tear, but where they are felt depends on whether the tear is in the front or the back. Common symptoms include:
Hip stiffness
Limited range of motion
A clicking or locking sensation in the hip joint when moving.
Pain in the hip, groin, or buttocks, especially when walking or running.
Night discomfort and pain symptoms when sleeping.
Some tears can cause no symptoms and can go unnoticed for years.
Hip Labral Tear Tests
A hip labral tear can occur anywhere along the labrum. They can be described as anterior or posterior, depending on which part of the joint is affected:
Anterior hip labral tears: The most common type of hip labral tear. These tears occur on the front of the hip joint.
Posterior hip labral tears: This type appears on the back of the hip joint.
Tests
The most common hip labral tear tests include:
The Hip Impingement Test
The Straight Leg Raise Test
The FABER Test - stands for Flexion, Abduction, and External Rotation.
The THIRD Test - stands for the Hip Internal Rotation with Distraction.
Hip Impingement Tests
There are two types of hip impingement tests.
Anterior Hip Impingement
This test involves the patient lying on their back with their knee bent at 90 degrees and then rotated inward towards the body.
If there is pain, the test is considered positive.
Posterior Hip Impingement
This test involves the patient lying on their back with their hip extended and their knee flexed and bent at 90 degrees.
The leg is then rotated outward away from the body.
If it results in pain or apprehension, it is considered positive.
Straight Leg Raise Test
This test is used on various medical conditions that involve back pain.
The test begins with the patient sitting or lying down.
On the unaffected side, the range of motion is examined.
Then the hip is flexed while the knee is straight on both legs.
The patient may be asked to flex the neck or extend the foot to stretch nerves.
The FABER Test
It stands for Flexion, Abduction, and External Rotation.
The test begins with the patient lying on their back with their legs straight.
The affected leg is placed in a figure four position.
The physician will then apply incremental downward pressure to the bent knee.
If there is hip or groin pain, the test is positive.
The THIRD Test
This stands for - the Hip Internal Rotation with Distraction
The test begins with the patient lying on their back.
The patient then flexes their knee to 90 degrees and turns it inward around 10 degrees.
The hip is then rotated inward with downward pressure on the hip joint.
The maneuver is repeated with the joint slightly distracted/pulled apart.
It is considered positive if the pain is present when the hip is rotated and diminished pain when distracted and rotated.
Chiropractic Treatment
Chiropractic treatment involves hip adjustments to realign the bones around the hip and up through the spine, soft tissue massage therapy to relax the muscles around the pelvis and thigh, targeted flexibility exercises to restore range of motion, motor control exercises, and strengthening exercises to correct muscular imbalances.
---
Treatment and Therapy
---
The information herein is not intended to replace a one-on-one relationship with a qualified healthcare professional or licensed physician and is not medical advice. We encourage you to make healthcare decisions based on your research and partnership with a qualified healthcare professional. Our information scope is limited to chiropractic, musculoskeletal, physical medicines, wellness, sensitive health issues, functional medicine articles, topics, and discussions. We provide and present clinical collaboration with specialists from a wide array of disciplines. Each specialist is governed by their professional scope of practice and their jurisdiction of licensure. We use functional health & wellness protocols to treat and support care for the injuries or disorders of the musculoskeletal system. Our videos, posts, topics, subjects, and insights cover clinical matters, issues, and topics that relate to and directly or indirectly support our clinical scope of practice.* Our office has reasonably attempted to provide supportive citations and identified the relevant research study or studies supporting our posts. We provide copies of supporting research studies available to regulatory boards and the public upon request.
We understand that we cover matters that require an additional explanation of how it may assist in a particular care plan or treatment protocol; therefore, to further discuss the subject matter above, please contact Dr. Alex Jimenez or contact us at 915-850-0900.
Dr. Alex Jimenez DC, MSACP, CCST, IFMCP*, CIFM*, ATN*
email: coach@elpasofunctionalmedicine.com
Licensed in: Texas & New Mexico*
References
Chamberlain, Rachel. "Hip Pain in Adults: Evaluation and Differential Diagnosis." American family physician vol. 103,2 (2021): 81-89.
Groh, M.M., Herrera, J. A comprehensive review of hip labral tears. Curr Rev Musculoskelet Med 2, 105–117 (2009). https://doi.org/10.1007/s12178-009-9052-9
Karen M. Myrick, Carl W. Nissen, THIRD Test: Diagnosing Hip Labral Tears With a New Physical Examination Technique, The Journal for Nurse Practitioners, Volume 9, Issue 8, 2013, Pages 501-505, ISSN 1555-4155, https://doi.org/10.1016/j.nurpra.2013.06.008. (https://www.sciencedirect.com/science/article/pii/S155541551300367X)
Roanna M. Burgess, Alison Rushton, Chris Wright, Cathryn Daborn, The validity and accuracy of clinical diagnostic tests used to detect labral pathology of the hip: A systematic review, Manual Therapy, Volume 16, Issue 4, 2011, Pages 318-326, ISSN 1356-689X, https://doi.org/10.1016/j.math.2011.01.002 (https://www.sciencedirect.com/science/article/pii/S1356689X11000038)
Su, Tiao, et al. "Diagnosis and treatment of labral tear." Chinese medical journal vol. 132,2 (2019): 211-219. doi:10.1097/CM9.0000000000000020
Wilson, John J, and Masaru Furukawa. "Evaluation of the patient with hip pain." American family physician vol. 89,1 (2014): 27-34.