The spine is the body's central highway, with the spinal canal as the main lane that handles all the traffic. There are entrances and exits, or spinal cavities, that allow the nerves to branch off the spinal cord and run throughout the body. A traffic jam develops during lane closures, accidents, or construction at an entrance or exit. Lateral recess stenosis causes the narrowing of the spine's lateral recess/Lee's entrance, which can compress nerves, impede nerve circulation, and cause painful symptoms.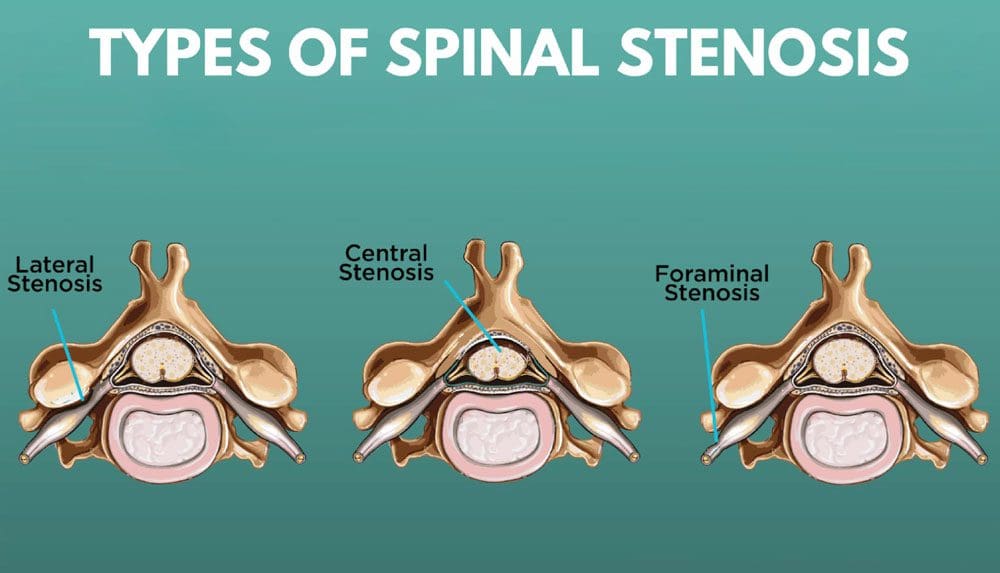 Lateral Recess Stenosis
The spinal column provides a strong and flexible structure for the spinal cord. The nerves travel from the spinal cord through various openings and passageways to the rest of the body. One of the openings is known as the lateral recess. Stenosis means narrowing. When a lateral recess in a vertebra develops stenosis, the nerve in that area can get jammed/pinched with no room to move, causing varying symptoms and sensations.
Symptoms
Depending on where the stenosis is taking place (neck, middle or low back), common symptoms of lateral recess stenosis can include:
Back pain that can spread out to other areas.
Cramping that can spread out to other sites.
Radiating pain that worsens with movement and eases with rest.
Numbness or weakness of the legs or arms.
Electrical tingling sensations down the leg or arm.
Causes
The National Institute of Health lists the major causes:
Natural Wear and Tear
Natural aging with gradual degeneration remains the most common cause of stenosis.
Congenital - Born With Stenosis
Disease
Rheumatoid arthritis
Tumors
Natural Aging Process
Traumatic Injury
Automobile crashes and accidents
Work Injuries
Sports injuries
Treatment
Lateral recess stenosis has no current cure, but there are options to treat stenosis symptoms.
Chiropractic and Physical Therapy
A chiropractic physical therapy team can relieve symptoms, restore function, and strengthen the muscles.
Muscle groups around the stenosis area are built up to take the pressure off of the area, alleviating symptoms.
Medications
A doctor or spine specialist may recommend or prescribe medication to ease symptoms. These include:
Tylenol - acetaminophen.
NSAIDS - Advil/ibuprofen or Aleve/naproxen.
Muscle relaxers
Steroid Injections
According to a study, neurogenic claudication is the main reason for disability and loss of independence in the elderly.
Neurogenic claudication describes pain and weakness in the buttocks and legs during physical activity that originates from the nerves, not the vessels.
This can happen from inflammation and swelling around a compressed nerve.
A steroid injection can decrease inflammation for several months.
Surgery
If activity modification, NSAIDs, bracing, and physical therapy don't work or provide adequate relief, a doctor or specialist could recommend surgery.
---
Back Problems Chiropractor
---
The information herein is not intended to replace a one-on-one relationship with a qualified healthcare professional or licensed physician and is not medical advice. We encourage you to make healthcare decisions based on your research and partnership with a qualified healthcare professional. Our information scope is limited to chiropractic, musculoskeletal, physical medicines, wellness, sensitive health issues, functional medicine articles, topics, and discussions. We provide and present clinical collaboration with specialists from a wide array of disciplines. Each specialist is governed by their professional scope of practice and their jurisdiction of licensure. We use functional health & wellness protocols to treat and support care for the injuries or disorders of the musculoskeletal system. Our videos, posts, topics, subjects, and insights cover clinical matters, issues, and topics that relate to and directly or indirectly support our clinical scope of practice.* Our office has reasonably attempted to provide supportive citations and identified the relevant research study or studies supporting our posts. We provide copies of supporting research studies available to regulatory boards and the public upon request.
We understand that we cover matters that require an additional explanation of how it may assist in a particular care plan or treatment protocol; therefore, to further discuss the subject matter above, please feel free to ask Dr. Alex Jimenez or contact us at 915-850-0900.
Dr. Alex Jimenez DC, MSACP, CCST, IFMCP*, CIFM*, ATN*
email: coach@elpasofunctionalmedicine.com
Licensed in: Texas & New Mexico*
References
American College of Rheumatology (n.d.) "Spinal Stenosis" https://www.rheumatology.org/I-Am-A/Patient-Caregiver/Diseases-Conditions/Spinal-Stenosis
Arthritis Foundation (n.d.) "Corticosteroids" https://www.arthritis.org/drug-guide/corticosteroids/corticosteroids
Drug Design, Development and Therapy (2014) "Steroid for epidural injection in spinal stenosis: a systematic review and meta-analysis" https://doi.org/10.2147/DDDT.S78070
Lee, Seung Yeop, et al. "Lumbar Stenosis: A Recent Update by Review of Literature." Asian spine journal vol. 9,5 (2015): 818-28. doi:10.4184/asj.2015.9.5.818
Liu, Kuan, et al. "Steroid for epidural injection in spinal stenosis: a systematic review and meta-analysis." Drug design, development, and therapy vol. 9 707-16. Jan 30, 2015, doi:10.2147/DDDT.S78070
Medline Plus (n.d.) "Achondroplasia" https://medlineplus.gov/genetics/condition/achondroplasia/
Microspine (n.d.) "Endoscopic Decompression" https://www.microspinemd.com/microspine-surgery/endoscopic-decompression/
National Institutes of Health (n.d.) "Spinal Stenosis" https://www.niams.nih.gov/health-topics/spinal-stenosis
Northwest Medical Center (2022) "Lateral Recess/Foraminal Stenosis" https://nw-mc.com/lateral-recessforaminal-stenosis/
NSPC Brain and Spine Surgery (n.d.) Lateral Recess Stenosis https://nspc.com/lateral-recess-stenosis/
Raja A, Hoang S, Patel P, et al. Spinal Stenosis. [Updated 2022 Jul 17]. In: StatPearls [Internet]. Treasure Island (FL): StatPearls Publishing; 2022 Jan-. Available from: https://www.ncbi.nlm.nih.gov/books/NBK441989/