Mindful eating involves paying attention to what and how individuals eat, helping to become more aware of the body's natural hunger and satisfaction cues. The process can help individuals become aware of the reasons behind their hunger and help to reduce cravings, control portion sizes, and develop long-term healthy eating habits.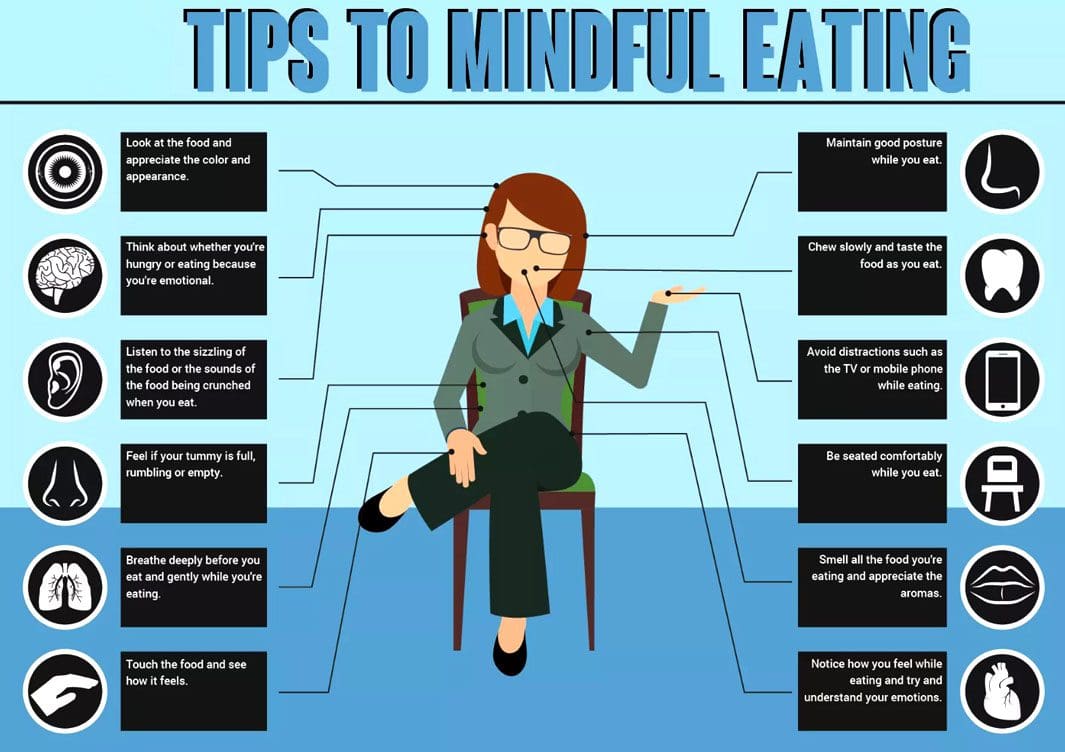 Mindful Eating
It's easy to rush through meals and snacks without pausing to enjoy the experience while refueling the body. Like meditation, individuals focus on what they are eating, how it smells, tastes, and the bodily sensations experienced. It is a way of checking in with the mind and body throughout a meal or snack. Mindful eating puts the individual in touch:
With the foods.
Hunger levels.
Determine if it is true:
Hedonic hunger - emotional, stressful, conditioned, celebratory, etc.
Benefits
Individuals do not have to go all-in but can adopt some principles of slowing down and tuning into the body to improve health. Benefits include:
Better Digestion
Slowing down and chewing food properly makes it easier to digest.
Improved Nutrition
Fast foods can cause a feeling of sluggishness and bloating.
Eating nutrient-packed meals provides more energy.
Improved nutrition means improved immune system health.
The awareness reinforces making healthier choices.
Satisfaction After Meals
Rushing to finish a meal means not enjoying the flavors and texture factors that can generate a sense of fullness and satisfaction.
Training the mind and body to be truly satisfied with meals and snacks leads to less stress and less craving.
Healthier Food Relationship
The body needs food physiologically for fuel and nourishment.
Individuals also develop emotional attachments to food associated with experiences and memories.
Addressing all aspects and influences in food relationships allows individuals to become more aware of their learned behaviors, perceptions, emotions, and mindsets.
Identifies behaviors that are not beneficial so the individual can work to improve them.
Improved Cardiometabolic Health
Mindful or intuitive eating has been shown to improve:
Blood sugar levels in pregnant women.
Inflammatory markers in postmenopausal women.
Lipid and blood pressure in overweight adults.
Food Consumption Health
Put away electronics and set aside time and space for eating only.
Eat in a setting where you are relaxed.
Eating in the car, in front of a computer while working, or on the phone doesn't give full attention to the eating process and, as a result, can cause the individual to eat more or eat foods that are not healthy.
Sit down and take a few deep breaths before starting the meal.
If emotions are running high and are geared towards eating, see if you can acknowledge and express those emotions rather than eat through them.
This will help the digestive process and get the most out of the meal.
Eat a palette of colors, sample various salty, sweet, spicy, and umami/savory flavors, and take in the food with all the senses.
Not eating a variety of flavors at a meal can cause a feeling of missing something that can lead to unhealthy cravings.
Eat with others, as sharing food can enrich everyone involved and help focus on the experience, not the amount of food consumed.
Chew thoroughly, as digestion begins in the mouth, where enzymes are secreted in saliva to break down food.
Not properly chewing and making the food smaller can cause indigestion and other digestive problems.
Listen to your body and recognize when you have had enough or want more.
Waiting five minutes before getting another serving can help the body become more attuned to hunger and fullness cues.
---
Eat Mindfully
---
The information herein is not intended to replace a one-on-one relationship with a qualified healthcare professional or licensed physician and is not medical advice. We encourage you to make your own healthcare decisions based on your research and partnership with a qualified healthcare professional. Our information scope is limited to chiropractic, musculoskeletal, physical medicines, wellness, sensitive health issues, functional medicine articles, topics, and discussions. We provide and present clinical collaboration with specialists from a wide array of disciplines. Each specialist is governed by their professional scope of practice and their jurisdiction of licensure. We use functional health & wellness protocols to treat and support care for the injuries or disorders of the musculoskeletal system. Our videos, posts, topics, subjects, and insights cover clinical matters, issues, and topics that relate to and directly or indirectly support our clinical scope of practice.* Our office has reasonably attempted to provide supportive citations and identified the relevant research study or studies supporting our posts. We provide copies of supporting research studies available to regulatory boards and the public upon request.
We understand that we cover matters that require an additional explanation of how it may assist in a particular care plan or treatment protocol; therefore, to further discuss the subject matter above, please feel free to ask Dr. Alex Jimenez or contact us at 915-850-0900.
Dr. Alex Jimenez DC, MSACP, CCST, IFMCP*, CIFM*, ATN*
email: coach@elpasofunctionalmedicine.com
Licensed in: Texas & New Mexico*
References
Cherpak, Christine E. "Mindful Eating: A Review Of How The Stress-Digestion-Mindfulness Triad May Modulate And Improve Gastrointestinal And Digestive Function." Integrative medicine (Encinitas, Calif.) vol. 18,4 (2019): 48-53.
Espel-Huynh, H M et al. "A narrative review of the construct of hedonic hunger and its measurement by the Power of Food Scale." Obesity science & practice vol. 4,3 238-249. 28 Feb. 2018, doi:10.1002/osp4.161
Grider, Hannah S et al. "The Influence of Mindful Eating and/or Intuitive Eating Approaches on Dietary Intake: A Systematic Review." Journal of the Academy of Nutrition and Dietetics vol. 121,4 (2021): 709-727.e1. doi:10.1016/j.jand.2020.10.019
Hendrickson, Kelsie L, and Erin B Rasmussen. "Mindful eating reduces impulsive food choice in adolescents and adults." Health psychology: official journal of the Division of Health Psychology, American Psychological Association vol. 36,3 (2017): 226-235. doi:10.1037/hea0000440
Morillo Sarto, Hector, et al. "Efficacy of a mindful-eating program to reduce emotional eating in patients suffering from overweight or obesity in primary care settings: a cluster-randomized trial protocol." BMJ open vol. 9,11 e031327. 21 Nov. 2019, doi:10.1136/bmjopen-2019-031327
Nelson, Joseph B. "Mindful Eating: The Art of Presence While You Eat." Diabetes spectrum: a publication of the American Diabetes Association vol. 30,3 (2017): 171-174. doi:10.2337/ds17-0015
Warren, Janet M et al. "A structured literature review on the role of mindfulness, mindful eating and intuitive eating in changing eating behaviors: effectiveness and associated potential mechanisms." Nutrition research reviews vol. 30,2 (2017): 272-283. doi:10.1017/S0954422417000154