Claudication is muscle pain that presents when the body is active and stops when the body is at rest, also known as intermittent claudication. Individuals typically report dull aching, cramping, tingling, and/or numbness. Vascular claudication is caused by circulatory problems like poor blood circulation and peripheral artery disease. Still, spinal conditions can also cause neurogenic claudication caused by problems with the spine and nervous system.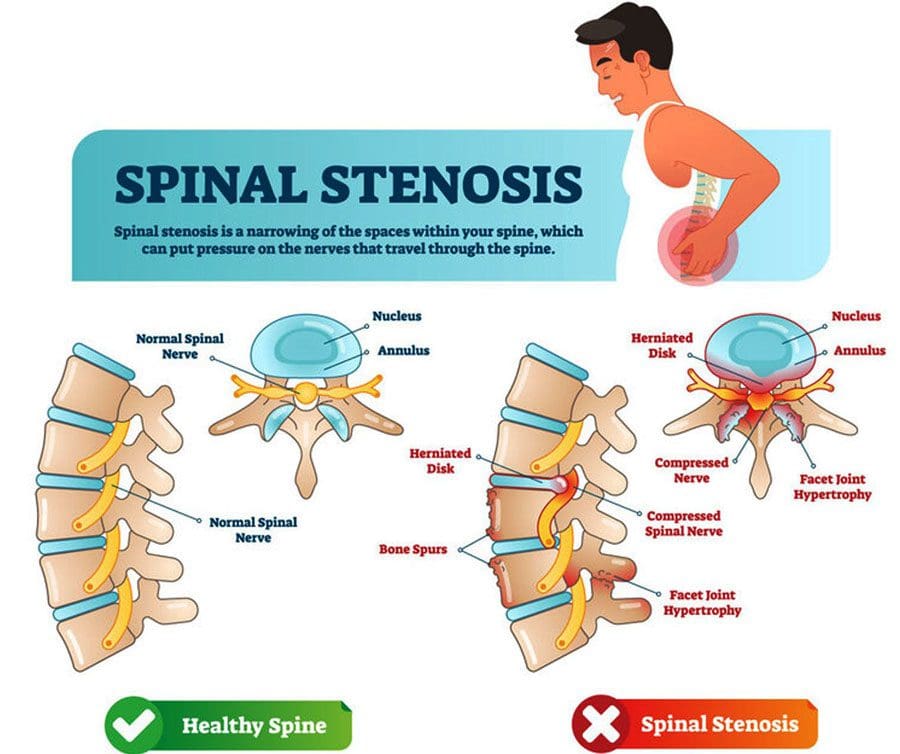 Neurogenic Claudication
Sciatica is the usual suspect when thigh, hip, buttock, calf, or total leg pain or other sensations are present; however, it could be spinal stenosis with neurogenic claudication. Spinal stenosis is sometimes called pseudo claudication, a narrowing of the space around the low back, which can put pressure on the spinal cord directly and compress the blood vessels around the spine, cutting off oxygen-carrying blood. Pain can start in the lower back and circulate down the legs and cause weakness, tingling, or numbness in the legs and feet. The most common areas of spinal compression include:
The lateral recess
The foramen are the openings on the sides of the spine where nerves exit and connect to the peripheral nervous system.
The narrowing can occur in any of these areas, with the most common cause being lumbar spinal stenosis brought on by lumbar degenerative disease.
Symptoms
The most common symptoms of neurogenic claudication include:
Pain in the lower extremities, including the buttocks, thighs, and calf, only manifests with activities like walking or standing around.
Pain that shows up equally on both sides.
There is no pain when sitting or not walking around.
Radiculopathy or nerve pain that radiates down an affected limb. Sciatica is a typical example.
However, the symptoms of claudication and radiculopathy are different.
Claudication will be felt all along the length of the nerve.
Radiculopathy pain is more localized to the buttock, thighs, and calves and can get worse with activity and is generally present even when at rest.
Treatment
Non-surgical treatment of neurogenic claudication includes medication to help control pain, chiropractic manual therapy, non-surgical spinal decompression, physical rehabilitation therapy, and steroid shots to reduce inflammation. A doctor will recommend stretching, strengthening exercises, and types of activities to help improve the body's ability to support itself. This could include swimming, walking, and stationary cycling. However, conservative treatment might not be an option for individuals with more severe cases. If conservative treatment options don't work, surgery could be recommended. A healthcare provider can help explain treatment options. Successful outcomes have been seen in cases that are diagnosed and treated early.
---
Non-Surgical Spinal Decompression Chiropractor
---
The information herein is not intended to replace a one-on-one relationship with a qualified health care professional, or licensed physician, and is not medical advice. We encourage you to make your own healthcare decisions based on your research and partnership with a qualified healthcare professional. Our information scope is limited to chiropractic, musculoskeletal, physical medicines, wellness, sensitive health issues, functional medicine articles, topics, and discussions. We provide and present clinical collaboration with specialists from a wide array of disciplines. Each specialist is governed by their professional scope of practice and their jurisdiction of licensure. We use functional health & wellness protocols to treat and support care for the injuries or disorders of the musculoskeletal system. Our videos, posts, topics, subjects, and insights cover clinical matters, issues, and topics that relate to and support, directly or indirectly, our clinical scope of practice.* Our office has made a reasonable attempt to provide supportive citations and has identified the relevant research study or studies supporting our posts. We provide copies of supporting research studies available to regulatory boards and the public upon request.
We understand that we cover matters that require an additional explanation of how it may assist in a particular care plan or treatment protocol; therefore, to further discuss the subject matter above, please feel free to ask Dr. Alex Jimenez or contact us at 915-850-0900.
Dr. Alex Jimenez DC, MSACP, CCST, IFMCP*, CIFM*, ATN*
email: coach@elpasofunctionalmedicine.com
Licensed in: Texas & New Mexico*
References
Colak, Ahmet, et al. "A less invasive surgical approach in the lumbar lateral recess stenosis: a direct approach to the medial wall of the pedicle." The European spine journal: official publication of the European Spine Society, the European Spinal Deformity Society, and the European Section of the Cervical Spine Research Society vol. 17,12 (2008): 1745-51. doi:10.1007/s00586-008-0801-z
Munakomi S, Foris LA, Varacallo M. Spinal Stenosis And Neurogenic Claudication. [Updated 2022 Feb 12]. In: StatPearls [Internet]. Treasure Island (FL): StatPearls Publishing; 2022 Jan-. Available from: https://www.ncbi.nlm.nih.gov/books/NBK430872/
Cleveland Clinic. (2021) "Claudication." https://my.clevelandclinic.org/health/diseases/21972-claudication