Any vehicle crash, collision, or accident can cause various injuries, with back pain issues as a primary injury or a side effect from other injuries. Usually, injury symptoms begin right after the collision, but in other cases, individuals may not start experiencing symptoms until hours, days, or even weeks later. This is from the adrenaline that rushes throughout the body during the collision/fight or flight response delaying the injury symptoms. There are reports of individuals who walk away from an accident unscathed but require urgent medical treatment a short while later. Chiropractic care can provide manual and spinal motorized decompression benefits.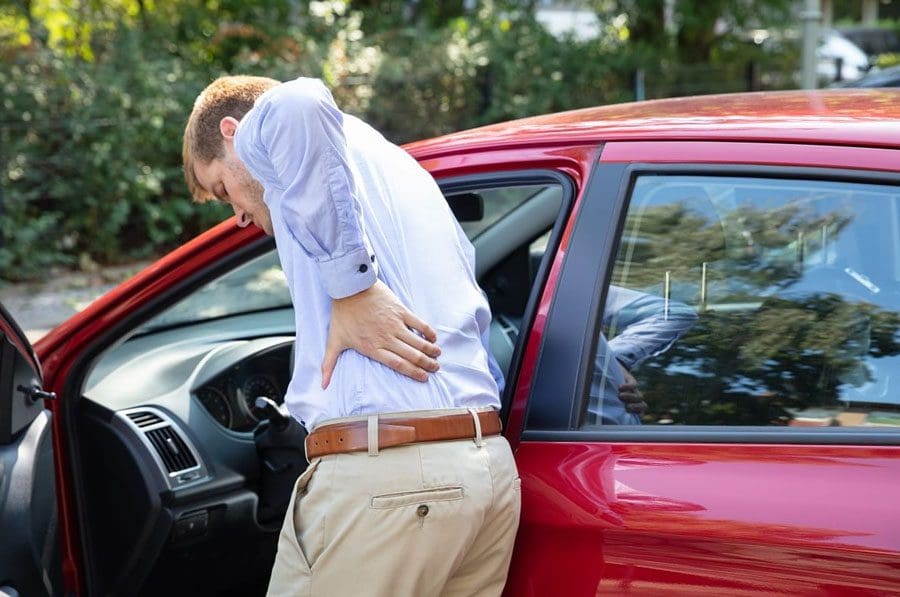 Head Injuries
Head injuries occur when drivers and/or passengers hit their heads on the steering wheel, windows, dashboard, metal frame, and sometimes each other.
A head injury is considered a severe condition that can cause concussions, skull fractures, comas, hearing loss, cognitive and memory issues, and vision problems.
A significant head injury can cause extensive and costly medical treatment with the possibility of long-term medical care.
Neck Injuries
Neck injuries are common in vehicle collisions.
The most common is whiplash, with the head and neck-snapping from indirect blunt force, like being rear-ended.
Whiplash can cause significant damage to the ligaments and muscles, like swelling and neck pain, and temporary paralysis of the vocal cords.
Injury patterns of whiplash can differ depending on the speed, force, and overall health of the individual involved.
Back Injuries
Back injuries can range in severity from sprains to significant damage involving the nerves and/or the spinal cord.
If the damage is severe, it can lead to loss of sensation in the body, loss of limb control, or permanent paralysis.
Disc herniation/s can lead to disability, muscle weakness, tingling and numbness in the limbs, and radiating body pain.
Chest and Torso Injuries
Vehicle collision forces can result in severe chest injuries that include broken ribs.
Broken ribs might not sound dangerous by themselves; they can puncture the lungs leading to other injuries and internal bleeding.
Traumatic cardiac arrest can occur from the force of the impact.
Other injuries include:
Abdominal injuries to internal organs.
Damage to the pelvis.
Broken Bones
The legs, feet, arms, and hands are frequently injured, broken, and sometimes dislocated.
Motorcyclists are also at a higher risk for significant injury that includes:
Multiple fractures, internal injury, head injuries, and severe ligament damage.
Pedestrians struck by a vehicle have an increased risk for a combination of all injuries at once.
Non-Surgical Decompression Benefits
Chiropractors are trained to identify and treat injuries from vehicle collisions.
Non-surgical spinal decompression gently stretches the spine using a motorized traction device to help reposition the spine and remove the pressure.
As the pressure is taken off, the spinal discs regain their natural height, relieving the pressure on the nerves and other spinal structures.
Optimal healing is promoted by an improved circulation of nutrients, water, and oxygen to the injury site.
Decompression helps to strengthen the muscles in the affected area.
It provides positive spinal structural changes.
Improves nervous system function.
Non-surgical decompression is a tool for correcting injuries and relieving pain, allowing optimal health for the individual.
---
DOC Decompression Table
---
The information herein is not intended to replace a one-on-one relationship with a qualified health care professional, or licensed physician, and is not medical advice. We encourage you to make your own healthcare decisions based on your research and partnership with a qualified healthcare professional. Our information scope is limited to chiropractic, musculoskeletal, physical medicines, wellness, sensitive health issues, functional medicine articles, topics, and discussions. We provide and present clinical collaboration with specialists from a wide array of disciplines. Each specialist is governed by their professional scope of practice and their jurisdiction of licensure. We use functional health & wellness protocols to treat and support care for the injuries or disorders of the musculoskeletal system. Our videos, posts, topics, subjects, and insights cover clinical matters, issues, and topics that relate to and support, directly or indirectly, our clinical scope of practice.* Our office has made a reasonable attempt to provide supportive citations and has identified the relevant research study or studies supporting our posts. We provide copies of supporting research studies available to regulatory boards and the public upon request.
We understand that we cover matters that require an additional explanation of how it may assist in a particular care plan or treatment protocol; therefore, to further discuss the subject matter above, please feel free to ask Dr. Alex Jimenez or contact us at 915-850-0900.
Dr. Alex Jimenez DC, MSACP, CCST, IFMCP*, CIFM*, ATN*
email: coach@elpasofunctionalmedicine.com
Licensed in: Texas & New Mexico*
References
Apfel, Christian C et al. "Restoration of disk height through non-surgical spinal decompression is associated with decreased discogenic low back pain: a retrospective cohort study." BMC musculoskeletal disorders vol. 11 155. 8 Jul. 2010, doi:10.1186/1471-2474-11-155
Koçak, Fatmanur Aybala et al. "Comparison of the short-term effects of the conventional motorized traction with non-surgical spinal decompression performed with a DRX9000 device on pain, functionality, depression, and quality of life in patients with low back pain associated with lumbar disc herniation: A single-blind randomized controlled trial." Turkish Journal of physical medicine and rehabilitation vol. 64,1 17-27. 16 Feb. 2017, doi:10.5606/tftrd.2017.154
Macario, Alex, and Joseph V Pergolizzi. "Systematic literature review of spinal decompression via motorized traction for chronic discogenic low back pain." Pain practice: the Official Journal of World Institute of Pain vol. 6,3 (2006): 171-8. doi:10.1111/j.1533-2500.2006.00082.x