As the body gets older, slouching, little to no physical activity, and regular stretching cause muscle fatigue, weakness, tension, leading to poor posture complications. The complications include:
Back and neck pain
Spinal dysfunction
Joint degeneration
Sleep problems
Chronic pain
Posture can be improved along with overall spinal health and a better quality of life through chiropractic treatment. Chiropractic will improve posture through adjustments, postural exercise training and stretching, education on ergonomics, and nutrition to strengthen the body.
Complications Poor Posture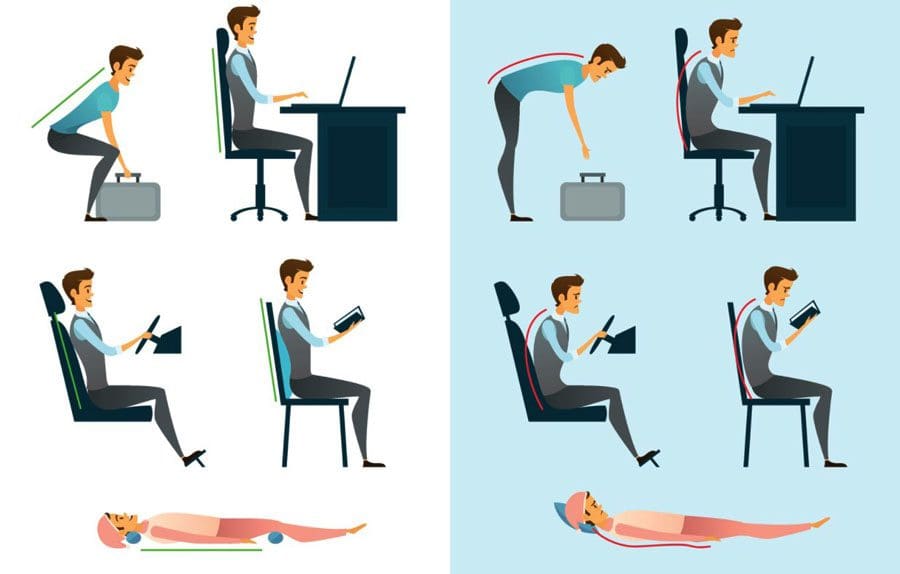 Symptoms
Symptoms vary as they depend on the severity of the case and condition.
Muscle fatigue/weakness
Body aches and soreness
Back pain
Rounded shoulders
Standing and/or walking problems
Headaches
Mechanisms
Poor posture leads to dysfunction and interference with the body's postural mechanisms. These include:
Muscle strength and length
Body positioning nervous system feedback.
Muscle Fibers
Skeletal muscle comprises two types of muscle fiber. They are static or slow-twitch muscles and phasic or fast-twitch muscles. Static muscle fibers are found in the deeper muscle layers. Static fibers burn energy slowly and keep working without tiring. They help the body maintain posture without effort and contribute to balance by sensing the body's position and transmitting the information to the brain. Phasic muscle fibers are used for movement and activity but can quickly run out of energy. Poor posture causes muscle fatigue because the phasic fibers are used rather than the static fibers to maintain the body's proper position.
Muscle Strength and Length
Over time, the body constantly needs support from the phasic muscle fibers. This causes the deeper supporting muscles to waste away because they are not being used. Weak, unused muscles begin to tighten, causing a shortening of muscle length that can compact the spine's bones and cause back complications.
Nervous System Feedback
The deeper layers of muscle sense the body's position in space and relay this information to the brain. The brain does not receive complete transmission if the phasic muscle fibers take over this function. The brain assumes that the body needs to be propped up/corrected to counteract the poor posture effects, triggering further muscle contraction, adding to the fatigue and pain.
Listening To The Body
The objective is to form a habit of regularly listening to what the body is saying. Make minor adjustments while standing and sitting throughout the day/night. Often what happens is individuals become so immersed in their work, school tasks that they ignore any physical discomfort and push through and forget to change positions/move around to get the muscles moving and the blood pumping. If there is muscle tension or fatigue, don't just work through the pain; move into another healthy position.
Posture Improvement
Suggestions include:
Try to avoid sitting in soft chairs.
Switch to ergonomic chairs for any activity that requires sitting for long periods.
Use a lumbar roll to support the lower back when sitting in regular chairs or driving.
Remember to reverse the curve; an example could be if leaning over a desk/workstation, stretch the back in the other direction.
Avoid standing for long periods.
Use a posture app.
---
Body Composition
---
Strength Training
As the body ages, it loses muscle mass, known as sarcopenia. Between the ages of 30 and 80, both men and women can lose 30-50 percent of their muscle strength. Decreasing strength can make it a challenge to lead an active lifestyle or have energy levels to complete the daily errands. Individuals can be reluctant to improve fitness levels through resistance workouts believing there is nothing left after years of inactivity. This is not true as anybody can strength train. With the right mindset, and health coaching team, goals can be set to:
Improve body composition
Improve energy levels
Maintain an active lifestyle
The information herein is not intended to replace a one-on-one relationship with a qualified health care professional, licensed physician, and is not medical advice. We encourage you to make your own healthcare decisions based on your research and partnership with a qualified healthcare professional. Our information scope is limited to chiropractic, musculoskeletal, physical medicines, wellness, sensitive health issues, functional medicine articles, topics, and discussions. We provide and present clinical collaboration with specialists from a wide array of disciplines. Each specialist is governed by their professional scope of practice and their jurisdiction of licensure. We use functional health & wellness protocols to treat and support care for the injuries or disorders of the musculoskeletal system. Our videos, posts, topics, subjects, and insights cover clinical matters, issues, and topics that relate to and support, directly or indirectly, our clinical scope of practice.* Our office has made a reasonable attempt to provide supportive citations and has identified the relevant research study or studies supporting our posts. We provide copies of supporting research studies available to regulatory boards and the public upon request.
We understand that we cover matters that require an additional explanation of how it may assist in a particular care plan or treatment protocol; therefore, to further discuss the subject matter above, please feel free to ask Dr. Alex Jimenez or contact us at 915-850-0900.
Dr. Alex Jimenez DC, MSACP, CCST, IFMCP*, CIFM*, ATN*
email: coach@elpasofunctionalmedicine.com
Licensed in: Texas & New Mexico*
References
Creze, Maud et al. "Posture-related stiffness mapping of paraspinal muscles." Journal of anatomy vol. 234,6 (2019): 787-799. doi:10.1111/joa.12978
Deliagina, Tatiana G et al. "Physiological and circuit mechanisms of postural control." Current opinion in neurobiology vol. 22,4 (2012): 646-52. doi:10.1016/j.conb.2012.03.002
Korakakis, Vasileios et al. "Physiotherapist perceptions of optimal sitting and standing posture." Musculoskeletal Science & practice vol. 39 (2019): 24-31. doi:10.1016/j.msksp.2018.11.004
Pollock, A S et al. "What is balance?." Clinical rehabilitation vol. 14,4 (2000): 402-6. doi:10.1191/0269215500cr342oa
Waters, Thomas R, and Robert B Dick. "Evidence of health risks associated with prolonged standing at work and intervention effectiveness." Rehabilitation nursing: the official journal of the Association of Rehabilitation Nurses vol. 40,3 (2015): 148-65. doi:10.1002/rnj.166