Musculoskeletal Nutrition: Musculoskeletal conditions are non-communicable conditions/disorders and are the most common conditions that chiropractors and physiotherapists treat. Unhealthy lifestyle practices like smoking, an unhealthy diet, and little to no exercise or physical activity impact musculoskeletal disorders and remain the most common causes of physical disability and pain. Musculoskeletal conditions include:
Back pain
Carpal Tunnel Syndrome
Tendonitis - inflammation of the fibrous tissues that connect the muscles to the bones.
Rheumatoid Arthritis
Osteoarthritis
Bone Fractures
Fibromyalgia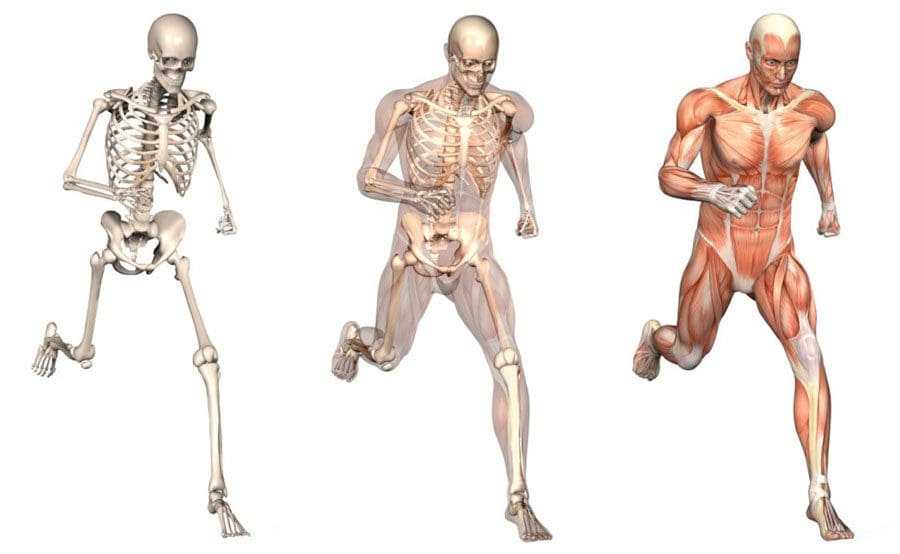 A lack of proper nutrients increases the risk for bone, muscle, and joint disease. A proper diet combined with strengthening and stretching will help with injury recovery and help prevent disorders, injury, and pain. For example, inadequate consumption of calcium and vitamin D intake can lead to osteoporosis. Both nutrients are necessary for musculoskeletal health. Calcium helps build bone tissue, and vitamin D promotes calcium absorption.
Musculoskeletal Nutrition
Even physically active and healthy individuals' can go through inadequate nutrition intake, increasing the risk of injury from its effect/s on rehabilitation and recovery. There are mechanisms to insufficient nutrient intake that can lead to muscle injury.
Intense training causes skeletal muscle breakdown that can worsen from poor dietary protein intake.
Not hydrating the body can compromise blood flow to working muscles, increasing the risk for injury and other health issues.
Hydration influences the amount and composition of joint fluid and helps maintain articular cartilage.
Deficiencies in nutrients like:
Potassium
Iron
Zinc
Magnesium
Chromium
Copper
Vitamins
The lack of micronutrients and their role in bone and muscle metabolism increases the risk for injury and the development of musculoskeletal conditions.
Overall Health
Connective tissue holds the body's bones and muscles together and is essential for joint integrity. Athletes and individuals with physically demanding jobs and lifestyles need to take care of their connective tissues to prevent degradation, injuries, and joint conditions, like arthritis and tendon injuries. It is recommended to have a diet that is:
Low in grains and sugar
High in bone broths
High in quality protein from:
Vegetables
Berries
Meats
Eggs
Fruit
Proper nutrition will help the body build, repair, and maintain healthy connective tissue. Things like:
Achieving optimal health requires all-around healthy lifestyle choices and musculoskeletal nutrition.
---
Body Composition
---
Superfoods
Many nutrient-rich foods can be incorporated into an individual's diet to improve overall well-being. Superfoods are high in antioxidants and contain vast amounts of vitamins and minerals. A superfood is a food rich in compounds that are beneficial to an individual's health. These compounds include:
Phytochemicals - include antioxidants like polyphenols that provide anti-inflammatory properties.
Fiber
Omega-3 fatty acids
Superfoods are recognized by national nutrition guidelines as Powerhouse Fruits and Vegetables or PFV. Antioxidants reduce free radicals and prevent and repair damage caused by oxidative stress. Oxidative stress occurs when free radicals accumulate in the body and can lead to chronic and degenerative illnesses like arthritis, cardiovascular disease, and cancer. A diet rich in antioxidants can expedite recovery time from injury, illness, and physical activity/exercise-induced stress.
Anthocyanins are a type of polyphenol that become antioxidants that help reduce the incidence of chronic disease. They are different types of pigments found in plants, giving fruits and vegetables their vibrant colors. These include:
Black beans
Berries
Cherries
Pomegranates
Peaches
Eggplant
Purple sweet potatoes
A diet rich in anthocyanins can reduce oxidative stress and inflammation, help prevent cardiovascular disease, and control and prevent diabetes.
The information herein is not intended to replace a one-on-one relationship with a qualified health care professional, licensed physician, and is not medical advice. We encourage you to make your own health care decisions based on your research and partnership with a qualified health care professional. Our information scope is limited to chiropractic, musculoskeletal, physical medicines, wellness, sensitive health issues, functional medicine articles, topics, and discussions. We provide and present clinical collaboration with specialists from a wide array of disciplines. Each specialist is governed by their professional scope of practice and their jurisdiction of licensure. We use functional health & wellness protocols to treat and support care for the injuries or disorders of the musculoskeletal system. Our videos, posts, topics, subjects, and insights cover clinical matters, issues, and topics that relate to and support, directly or indirectly, our clinical scope of practice.* Our office has made a reasonable attempt to provide supportive citations and has identified the relevant research study or studies supporting our posts. We provide copies of supporting research studies available to regulatory boards and the public upon request.
We understand that we cover matters that require an additional explanation of how it may assist in a particular care plan or treatment protocol; therefore, to further discuss the subject matter above, please feel free to ask Dr. Alex Jimenez or contact us at 915-850-0900.
Dr. Alex Jimenez DC, MSACP, CCST, IFMCP*, CIFM*, ATN*
email: coach@elpasofunctionalmedicine.com
Licensed in: Texas & New Mexico*
References
Craddock, Joel C, et al. "Vegetarian and Omnivorous Nutrition - Comparing Physical Performance." International journal of sports nutrition and exercise metabolism vol. 26,3 (2016): 212-20. doi:10.1123/ijsnem.2015-0231
Mendonça, Carolina Rodrigues et al. "Effects of Nutritional Interventions in the Control of Musculoskeletal Pain: An Integrative Review." Nutrients vol. 12,10 3075. 9 Oct. 2020, doi:10.3390/nu12103075
Sale, Craig, and Kirsty Jayne Elliott-Sale. "Nutrition and Athlete Bone Health." Sports medicine (Auckland, N.Z.) vol. 49,Suppl 2 (2019): 139-151. doi:10.1007/s40279-019-01161-2
Slavin, Joanne L, and Beate Lloyd. "Health benefits of fruits and vegetables." Advances in nutrition (Bethesda, Md.) vol. 3,4 506-16. 1 Jul. 2012, doi:10.3945/an.112.002154
Tucker, K L et al. "Potassium, magnesium, and fruit and vegetable intakes are associated with greater bone mineral density in elderly men and women." The American journal of clinical nutrition vol. 69,4 (1999): 727-36. doi:10.1093/ajcn/69.4.727