Sciatic nerve injury happens from trauma to the nerve and can cause numbness, tingling, loss of muscle power, and pain. The traumatic experience can be a muscle spasm that pulls and/or pinches the sciatic nerve, force/pressure impact injury, over-stretching injury, or a laceration/cutting injury. A slipped disk, or herniated disk, is the most common cause of irritation on the sciatic nerve. A slipped disk occurs when one becomes slightly dislodged, pushing out from the spine. This places pressure/compression on the sciatic nerve.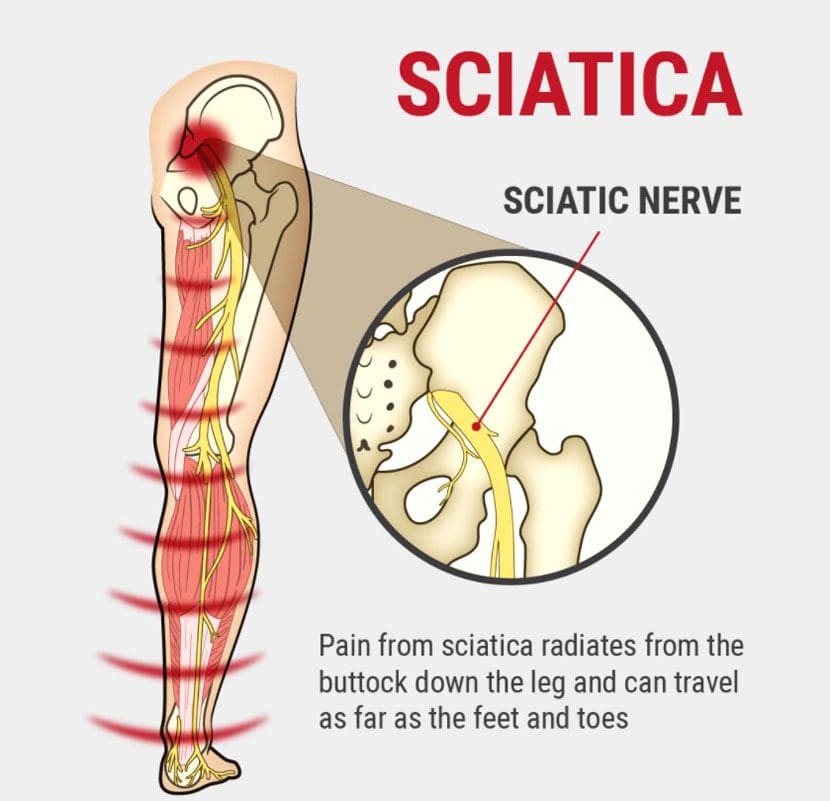 Sciatic Nerve Injury Causes
Trauma
Hip dislocation
Trauma to the lower back, buttocks, or leg from an automobile accident, sports injury, work injury.
Medical treatment causes:
Direct surgical trauma.
Total hip replacement surgery can cause nerve compression and stretch during the procedure, causing damage to the sciatic nerve resulting in dysfunction.
Faulty positioning during anesthesia.
Injection of neurotoxic substances.
Injection injuries via intramuscular injection in the gluteal region. This is a situation where there is a loss of movement and or lack of sensation at the affected lower extremity with or without pain.
Injection palsy can begin suddenly or hours following damage to the sciatic nerve.
A misplaced intramuscular injection at the gluteal region is the most common cause of injury. It is attributed to frequent injections or poor techniques resulting from inadequately trained or unqualified staff.
Dressings that are too tight.
Casts that impinge the nerve.
Faulty fitting orthotics.
Post radiation treatment can cause acute and delayed muscle damage.
Clinical Presentation Symptoms
The common symptoms are pain and abnormal walking gait. Other clinical symptoms include:
Muscular weakness/atrophy
Reflex impairment
Motor and sensory issues like paraesthesia and numbness
Foot drop
Medical History
Complaints of radiating pain in the leg, which follows a sensory nerve pattern.
Pain radiates below the knee, into the foot.
Complaints of low back pain, which is often less severe than leg pain.
Report of electrical, burning, numbing sensations.
Diagnosis
A detailed subjective and objective physical examination is necessary to figure out the severity of the sciatic nerve injury. Diagnostic studies include:
X rays
Electromyography
Magnetic Resonance Imaging
Chiropractic and Physical Therapy Management
Conservative treatment is the first-line approach for managing a sciatic nerve injury.
Pain Management
Exercise and Stretches
Chiropractic and physical therapy exercises and stretches improve nerve regeneration after nerve damage.
Electrical Muscle Stimulation
TENS and Electroacupuncture have been shown to help enhance nerve regrowth.
Bio-laser stimulation can help with nerve nutrition and regeneration.
Joint or Soft Tissue mobilization
Helps to retain muscle, nerve, and soft tissue flexibility and prevent deformity.
Balance Training
Coordination, strength, and flexibility exercises help to restore balance.
Splinting
In the early stages after a sciatic nerve injury, bracing may be needed to prevent deformity and new injury or re-injury risks.
Ankle Foot Orthosis - AFO can help prevent foot drop, muscle damage, and falls risk.
---
Body Composition
---
Optimize Diet for Fat Loss
Individuals that want to lose fat need to create a calorie deficit. Individuals need to consistently eat less than they need for Total Daily Energy Expenditure - TDEE. The safest way to handle a caloric reduction is to reduce calorie intake in small doses like 200-300 calories, for example. After a week or two, perform a body composition analysis. If Fat Mass numbers begin to drop or not, adjust calorie needs accordingly. Restricting calories is the most common way, a deficit can also be created by increasing calorie needs through exercise.
The information herein is not intended to replace a one-on-one relationship with a qualified health care professional, licensed physician, and is not medical advice. We encourage you to make your own health care decisions based on your research and partnership with a qualified health care professional. Our information scope is limited to chiropractic, musculoskeletal, physical medicines, wellness, sensitive health issues, functional medicine articles, topics, and discussions. We provide and present clinical collaboration with specialists from a wide array of disciplines. Each specialist is governed by their professional scope of practice and their jurisdiction of licensure. We use functional health & wellness protocols to treat and support care for the injuries or disorders of the musculoskeletal system. Our videos, posts, topics, subjects, and insights cover clinical matters, issues, and topics that relate to and support, directly or indirectly, our clinical scope of practice.* Our office has made a reasonable attempt to provide supportive citations and has identified the relevant research study or studies supporting our posts. We provide copies of supporting research studies available to regulatory boards and the public upon request.
We understand that we cover matters that require an additional explanation of how it may assist in a particular care plan or treatment protocol; therefore, to further discuss the subject matter above, please feel free to ask Dr. Alex Jimenez or contact us at 915-850-0900.
Dr. Alex Jimenez DC, MSACP, CCST, IFMCP*, CIFM*, ATN*
email: coach@elpasofunctionalmedicine.com
Licensed in: Texas & New Mexico*
References
Kline, D G et al. "Management and results of sciatic nerve injuries: a 24-year experience." Journal of neurosurgery vol. 89,1 (1998): 13-23. doi:10.3171/jns.1998.89.1.0013
Schmalzried, TP et al. "Update on nerve palsy associated with total hip replacement." Clinical Orthopedics and related research,344 (1997): 188-206.
Shim, Ho Yong et al. "Sciatic nerve injury caused by a stretching exercise in a trained dancer." Annals of rehabilitation medicine vol. 37,6 (2013): 886-90. doi:10.5535/arm.2013.37.6.886
Suszyński, Krzysztof et al. "Physiotherapeutic techniques used in the management of patients with peripheral nerve injuries." Neural regeneration research vol. 10,11 (2015): 1770-2. doi:10.4103/1673-5374.170299