Orthopedic massage is part of injury rehabilitation that focuses on the muscles and soft tissues surrounding the joints and ligaments. Pain could be caused post-surgery, an acute injury, or overuse/repetitive motion injury from work or sports. The objective is to:
Decrease pain
Release tension
Restore balance
Increase mobility and flexibility
Preparing the body to return to everyday routines and activities.
Whatever the cause of the muscle damage or injury, an orthopedic massage will lengthen and soften the muscles and ligaments, allowing for a better range of motion of the affected joints.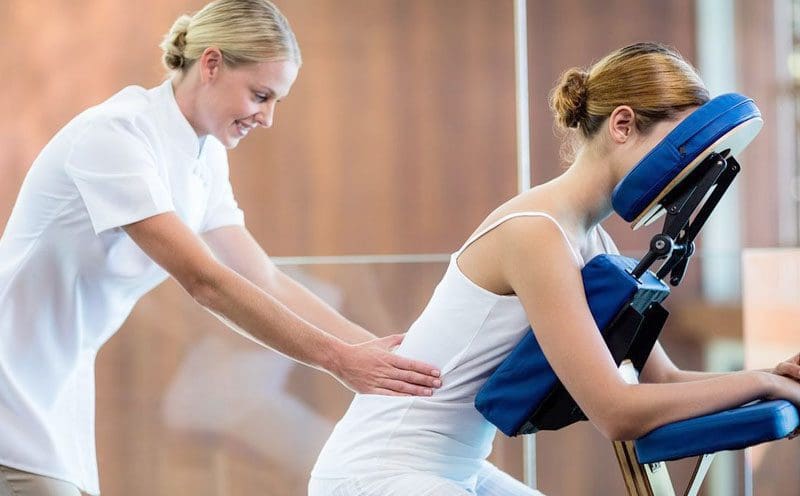 Orthopedic Massage
All massage techniques can improve joint movement and function. Orthopedic massage is specifically designed to return the joints to their normal position function and alleviate pain with movement.
Swedish massage focuses on overall relaxation.
Deep tissue massage reduces deep muscle pain and strain.
Orthopedic massage therapists have an extensive understanding of anatomy, soft tissues, and misalignment of the musculoskeletal system that can cause pain and injury. It is similar to sports massage targeting damaged areas for recovery and rehabilitation from conditions and injuries. Sports massage helps the individual strengthen and retrain the damaged areas back to optimal performance and prevent injury. Orthopedic massage utilizes:
Alignment techniques
Release techniques
Stretch techniques
To expedite thorough body healing.
Massage benefits many symptoms and conditions. It has been shown to help with:
Sprains
Pulled muscles
Torn ligaments
Carpal-tunnel syndrome
Frozen shoulder
Tennis elbow
Tendinitis
Sciatica
Bulging discs
Post-surgery
Techniques
A therapist will look at the range of motion, flexibility, and rotation of the tissues. This will help determine what muscle groups and tendons are involved and which techniques to use. Massage therapists use an assortment of approaches to loosen muscles and tendons. These include:
Active Engagement
This is used to reach deep, hard-to-reach muscles by applying pressure and massaging lengthwise in a perpendicular motion.
It is beneficial for whiplash and/or back pain.
Positional Release
This is a gentle treatment for inflamed muscles and tissues highly sensitive to other techniques.
Soft tissues are manipulated into comfortable positions and held in place for a specific time.
This lengthens and softens tissues to bring pain relief.
Nerve Mobilization
Muscle Energy Release
The therapist provides resistance while the individual voluntarily contracts muscles.
Effective with low back pain.
Trigger Point Therapy
Pressure intervals are held on trigger areas to release lactic acid and promote circulation.
Myofascial Release
Gentle pressure is applied to stretch fascia tissues.
---
Body Composition
---
Brittle Bones
The reason bones become weaker is that bone tissue is living tissue that constantly forms new bone material and absorbs the old bone material. As the body ages, the rate at which bone is reabsorbed becomes faster than newly formed bone material. One reason for rapid bone loss is lack of exercise and physical activity. The Mayo Clinic has stated that individuals that spend a great deal of time sitting, whether at home or work, have an increased risk of osteoporosis than more active individuals. Sitting too much with little to no activity can lead to weakened bones. Just like the muscles, bones get stronger when they are in use. Walking, running, jumping, and getting the body moving along with using some resistance, can increase the strength and durability of the bones.
The information herein is not intended to replace a one-on-one relationship with a qualified health care professional, licensed physician, and is not medical advice. We encourage you to make your own health care decisions based on your research and partnership with a qualified health care professional. Our information scope is limited to chiropractic, musculoskeletal, physical medicines, wellness, sensitive health issues, functional medicine articles, topics, and discussions. We provide and present clinical collaboration with specialists from a wide array of disciplines. Each specialist is governed by their professional scope of practice and their jurisdiction of licensure. We use functional health & wellness protocols to treat and support care for the injuries or disorders of the musculoskeletal system. Our videos, posts, topics, subjects, and insights cover clinical matters, issues, and topics that relate to and support, directly or indirectly, our clinical scope of practice.* Our office has made a reasonable attempt to provide supportive citations and has identified the relevant research study or studies supporting our posts. We provide copies of supporting research studies available to regulatory boards and the public upon request.
We understand that we cover matters that require an additional explanation of how it may assist in a particular care plan or treatment protocol; therefore, to further discuss the subject matter above, please feel free to ask Dr. Alex Jimenez or contact us at 915-850-0900.
Dr. Alex Jimenez DC, MSACP, CCST, IFMCP*, CIFM*, ATN*
email: coach@elpasofunctionalmedicine.com
Licensed in: Texas & New Mexico*
References
Kim, Seung-Kook et al. "Clinical outcomes and cost-effectiveness of massage chair therapy versus basic physiotherapy in lower back pain patients: A randomized controlled trial." Medicine vol. 99,12 (2020): e19514. doi:10.1097/MD.0000000000019514
Klein, Ifat et al. "Lymphatic treatments after orthopedic surgery or injury: A systematic review." Journal of bodywork and movement therapies vol. 24,4 (2020): 109-117. doi:10.1016/j.jbmt.2020.06.034
Loew, Laurianne M et al. "Deep, transverse friction massage for treating lateral elbow or lateral knee tendinitis." The Cochrane database of systematic reviews vol. 2014,11 CD003528. 8 Nov. 2014, doi:10.1002/14651858.CD003528.pub2
Majewski-Schrage, Tricia, and Kelli Snyder. "The Effectiveness of Manual Lymphatic Drainage in Patients With Orthopedic Injuries." Journal of sport rehabilitation vol. 25,1 (2016): 91-7. doi:10.1123/jsr.2014-0222