A typical diet consists of consuming three meals: breakfast, lunch, dinner, and snacks in between. However, this is not always the case, depending on individual eating patterns and habits. Getting started eating healthy and losing body fat does not require severe dietary restrictions, starvation, and constantly exercising. Although achieving rapid weight loss might sound appealing, individuals often end up feeling depressed, tired, and unmotivated after some time. This is the most common cause of not maintaining a healthy balance and achieving optimal health. Individuals can still eat the foods they love by making long-term improvements that include:
Understanding the body's caloric needs
Making smart nutritional choices
Adopting healthy eating habits
Incorporating enough exercise
Having all of the necessary information to make educated and informative choices for the body is the most effective and valuable way to getting started eating healthy.
Getting Started
Healthy eating starts with learning and adopting new ways to eat. This means adding fresh fruits, vegetables, whole grains and cutting back on processed foods with added fat, salt, and sugar. Converting to healthier eating also includes learning about balance, variety, and moderation.
Balance
On most days, aim to eat more:
Grains
Protein foods
Vegetables
Fruits
Dairy
Listen to the body
Eat when hungry
Stop when full and satisfied
Variety
Choose different foods in each food group.
Don't reach for an apple every time when eating fruit.
Eating various foods every day will help you get all the nutrients you need.
Moderation
Don't have too much or too little of one food.
Eating in moderation means all foods can be part of a healthy diet.
Even sweets are okay.
Paying Attention To Foods
Eating healthy will help the body get the right balance of vitamins, minerals, and other nutrients. It will help the body:
Feel its best.
Increase energy levels.
Handle stress better.
Prevent various health problems like:
Heart disease.
High blood pressure.
Type 2 diabetes.
Types of cancer.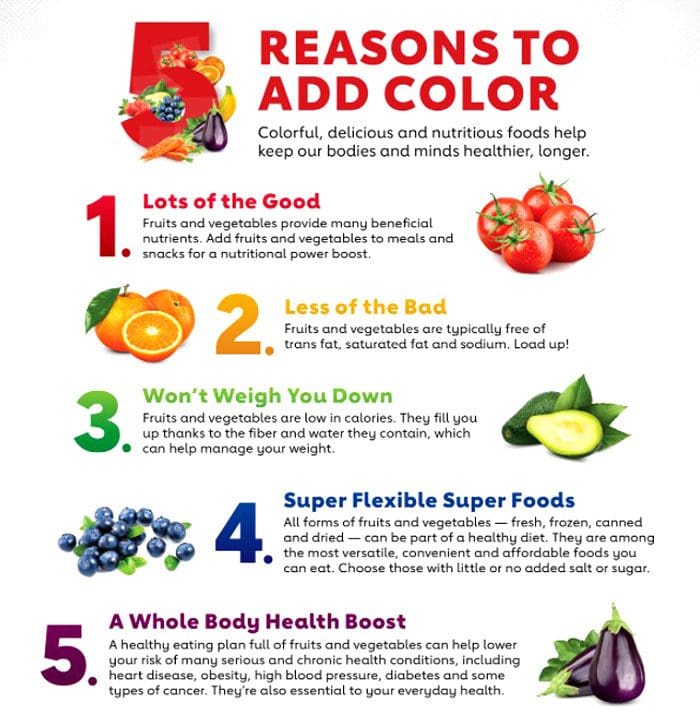 Healthy Eating vs. Going On A Diet
Healthy eating is not the same as going on a diet. It means making adjustments/changes that an individual can live with and enjoy. Diets are temporary, as they are intended to cut out certain types of foods to make the body readjust and lose fat. However, during a diet, individuals can become hungrier and think about food all the time. A common side effect is to overeat after the diet to make up for the foods that are missed. Eating a healthy, balanced variety of foods is more satisfying to the body. Combined with more physical activity can help the individual get to a healthy weight—and maintain the healthy weight.
Make Healthy Eating A Habit
Think about the reasons for healthier eating.
Improving overall health.
Increase energy.
Feel better.
Set an example for kids and family.
Think about small changes that can be made.
Choose the ones that can be maintained.
Don't try to change everything at once.
Set manageable and achievable goals, like having a salad and a piece of fruit each day.
Make long-term goals as well, like having one vegetarian dinner a week.
Get Support
Having a support team can help make the adjustments easier. Family and friends can help make meals, share healthy recipes and cooking tips. For more help, consult a doctor, registered dietitian, or health coach.
---
Body Composition
---
After Lunch Energy Dip
Most individuals have experienced the moment when after having a nice filling lunch then afterward feeling the need to take a nap. Having a sleepy feeling about one hour after lunch, known as the post-lunch dip, decreases:
Alertness
Memory
Vigilance
Mood
A study in the British Journal of Nutrition followed 80 participants over 12 weeks to find whether eating almonds impacted this post-lunch dip. The results found that an almond-enriched high-fat lunch helped reduce memory decline by 58% compared to a high-carbohydrate lunch.
The information herein is not intended to replace a one-on-one relationship with a qualified health care professional, licensed physician, and is not medical advice. We encourage you to make your own health care decisions based on your research and partnership with a qualified health care professional. Our information scope is limited to chiropractic, musculoskeletal, physical medicines, wellness, sensitive health issues, functional medicine articles, topics, and discussions. We provide and present clinical collaboration with specialists from a wide array of disciplines. Each specialist is governed by their professional scope of practice and their jurisdiction of licensure. We use functional health & wellness protocols to treat and support care for the injuries or disorders of the musculoskeletal system. Our videos, posts, topics, subjects, and insights cover clinical matters, issues, and topics that relate to and support, directly or indirectly, our clinical scope of practice.* Our office has made a reasonable attempt to provide supportive citations and has identified the relevant research study or studies supporting our posts. We provide copies of supporting research studies available to regulatory boards and the public upon request.
We understand that we cover matters that require an additional explanation of how it may assist in a particular care plan or treatment protocol; therefore, to further discuss the subject matter above, please feel free to ask Dr. Alex Jimenez or contact us at 915-850-0900.
Dr. Alex Jimenez DC, MSACP, CCST, IFMCP*, CIFM*, ATN*
email: coach@elpasofunctionalmedicine.com
Licensed in: Texas & New Mexico*
References
American Dietetic Association (2009). Position of the American Dietetic Association: Functional foods. Journal of the American Dietetic Association, 109(4): 735–746. Also available online: http://www.eatright.org/About/Content.aspx?id=8354.
Dhillon, Jaapna, et al. "Effects of Almond Consumption on the Post-Lunch Dip and Long-Term Cognitive Function in Energy-Restricted Overweight and Obese Adults." British Journal of Nutrition, vol. 117, no. 3, 2017, pp. 395–402., doi:10.1017/S0007114516004463.
Gallagher ML (2012). Intake: The nutrients and their metabolism. In LK Mahan et al., eds., Krause's Food and the Nutrition Care Process, 13th ed., pp. 32–128. St. Louis: Saunders.
Katz DL (2008). Dietary recommendations for health promotion and disease prevention. In Nutrition in Clinical Practice, 2nd ed., pp. 434–447. Philadelphia: Lippincott Williams and Wilkins.
U.S. Department of Health and Human Services, U.S. Department of Agriculture (2015). 2015-2020 Dietary Guidelines for Americans 8th ed. http://health.gov/dietaryguidelines/2015/guidelines/. Accessed January 12, 2016.