Chiropractic Reset: Traveling is not an easy adjustment as it disrupts the body's internal clock. When flying even just 3 hours, the body can start to experience symptoms like:
Fatigue
Confusion
Insomnia
Joint and muscle pain
Stiffness
Stomach problems
Nausea
Hunger
Bad mood
Not only is the flight a physical challenge, but so are the long lines, backed-up traffic, lost luggage, etc. All take a toll on the mind and body; a chiropractic reset can help restore the body's balance and energy levels.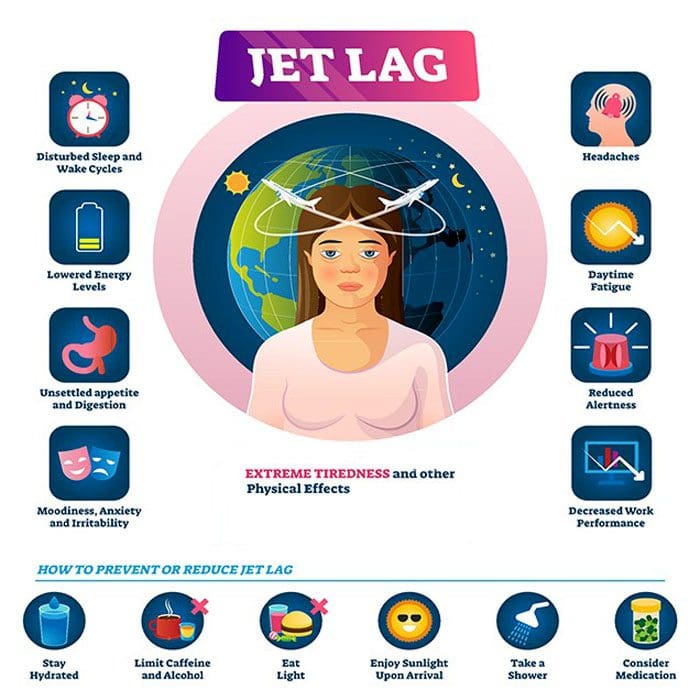 Jet Lag
Jet lag happens when the brain region known as the hypothalamus or center that controls sleep cycles, appetite, and temperature conflicts with travel changes. A survey from international flight attendants found that despite being used to long air travel:
90% had fatigue over the first five days.
94% had a lack of energy/motivation.
93% had broken sleep.
70% had ear, nose, or throat issues.
Scientists have estimated that it takes a full day to recover for every hour of time difference. The direction traveled can affect how intense the symptoms are since it's easier for the body to delay its internal clock than speed it up. Traveling east is more difficult on the body compared to traveling west.
Ways To Limit The Effects
Workout
Get a thorough physical workout the day before you fly.
It doesn't matter; it can be an hour on an elliptical machine, a mile jog, or a vigorous swim.
The objective is to get the lymph system moving to help prevent edema in the legs, hands and flush toxins from the body.
Take a Walk Every Hour
Try and get up at least once an hour for long trips and every half hour for shorter ones.
This will help prevent back pain.
Reduce the risk of blood clots from prolonged sitting and change in cabin pressure.
Bring Familiar Food
Fresh fruit, vegetables can be placed in a ziplock baggie.
Nuts are allowed as long as there are no passengers with severe allergies.
If it's a long flight, include protein-like:
Chicken wings.
Hard-boiled eggs.
Cooked burgers.
All fit the criteria for a long plane flight.
Sleep
Try and get a proper night's rest the night before the flight.
Eye patches and music also work well if available.
Utilize the flying time to increase rest.
Exercise
Flight time can make a difference
If possible, try to get a flight that gets to your destination in the evening.
Then, stay up until 10 pm local time.
If you have to take a nap, set the alarm not to surpass two hours.
Avoid caffeine and alcohol
You don't have to go without alcohol or caffeine, but they should be cut out a few hours before sleeping.
Both can affect the ability to fall asleep, stay asleep, and the quality of sleep.
Change sleep patterns beforehand
In the week leading up to the trip, start adjusting sleep time and wake time to get closer to the new time zone.
This way, upon arrival, the body is basically adjusted.
Skip the big meal
To help the digestive system, try not to eat a massive meal upon arrival.
Allow body functions like sleep and digestion to adjust to the changes.
Bask in the sun
Daylight has a significant effect on the body's clock.
Get outside to wake up the brain to help the body and mind adjust to the daytime hours.
Melatonin
This is a hormone in the body that helps control the circadian rhythm.
Melatonin is dependent on the amount of light the body is exposed to.
When there's light, melatonin release is stopped.
When dark, melatonin release is stimulated.
It is recommended not to take melatonin before leaving, or it will make the jet lag worse.
Wait until landing in the new time zone to supplement one hour before regular sleep time at the new location.
Continue for three nights or until the body has adjusted.
Pycnogenol
Pycnogenol has been studied for its effect of reducing jet lag symptoms.
It reduces cerebral and joint swelling, which leads to fewer short-term memory problems, fatigue, and cardiac issues.
It has been shown to decrease deep vein thrombosis and superficial vein thrombosis, typical side effects of long flights.
Recommendations are to take three times a day for up to five days maximum of seven days after landing.
Chiropractic Reset
Chiropractic reset adjustments the day before and especially after the flight can restore balance to the nervous system and the body. This will help reset sleeping and waking patterns after the stress of flying.
---
Body Composition
---
Metabolic Syndrome
Metabolic syndrome is a name for a set of symptoms and conditions that revolve around cardiovascular health.
Obesity and a high amount of visceral fat are significant risk factors for being diagnosed with metabolic syndrome.
Individuals can prevent metabolic syndrome by:
Focusing on minimizing visceral fat.
Maximizing lean mass leads to weight loss.
A diet that boosts HDL is essential.
Proper body hydration.
Body composition analysis can be thought of as a tool for understanding the approach to preventing the onset of metabolic syndrome. Knowing how to identify the risks can support individuals in making informed decisions on their healthcare journey.
The information herein is not intended to replace a one-on-one relationship with a qualified health care professional, licensed physician, and is not medical advice. We encourage you to make your own health care decisions based on your research and partnership with a qualified health care professional. Our information scope is limited to chiropractic, musculoskeletal, physical medicines, wellness, sensitive health issues, functional medicine articles, topics, and discussions. We provide and present clinical collaboration with specialists from a wide array of disciplines. Each specialist is governed by their professional scope of practice and their jurisdiction of licensure. We use functional health & wellness protocols to treat and support care for the injuries or disorders of the musculoskeletal system. Our videos, posts, topics, subjects, and insights cover clinical matters, issues, and topics that relate to and support, directly or indirectly, our clinical scope of practice.* Our office has made a reasonable attempt to provide supportive citations and has identified the relevant research study or studies supporting our posts. We provide copies of supporting research studies available to regulatory boards and the public upon request.
We understand that we cover matters that require an additional explanation of how it may assist in a particular care plan or treatment protocol; therefore, to further discuss the subject matter above, please feel free to ask Dr. Alex Jimenez or contact us at 915-850-0900.
Dr. Alex Jimenez DC, MSACP, CCST, IFMCP*, CIFM*, ATN*
email: coach@elpasofunctionalmedicine.com
Licensed in: Texas & New Mexico*
References
Belcaro, G et al. "Jet-lag: prevention with Pycnogenol. Preliminary report: evaluation in healthy individuals and hypertensive patients." Minerva cardioangiologica vol. 56,5 Suppl (2008): 3-9.
Herxheimer, Andrew. "Jet lag." BMJ clinical evidence vol. 2014 2303. 29 Apr. 2014
Janse van Rensburg, Dina C Christa et al. "How to manage travel fatigue and jet lag in athletes? A systematic review of interventions." British journal of sports medicine vol. 54,16 (2020): 960-968. doi:10.1136/bjsports-2019-101635
Straub, WF et al. "The effect of chiropractic care on jet lag of Finnish junior elite athletes." Journal of manipulative and physiological therapeutics vol. 24,3 (2001): 191-8.
Zerón-Rugerio, María Fernanda et al. "Eating Jet Lag: A Marker of the Variability in Meal Timing and Its Association with Body Mass Index." Nutrients vol. 11,12 2980. 6 Dec. 2019, doi:10.3390/nu11122980