Acute and chronic sports injuries. Individuals that participate in sports or physical activities have an increased risk of experiencing an injury. These types of damages range from minor to severe and could require medical attention. Acute sports injuries happen suddenly and are usually the result of trauma to the area. A specific, identifiable incident is what causes an acute injury. Chronic sports injuries, also known as repetitive/overuse injuries, happen with time and are not caused by a single incident.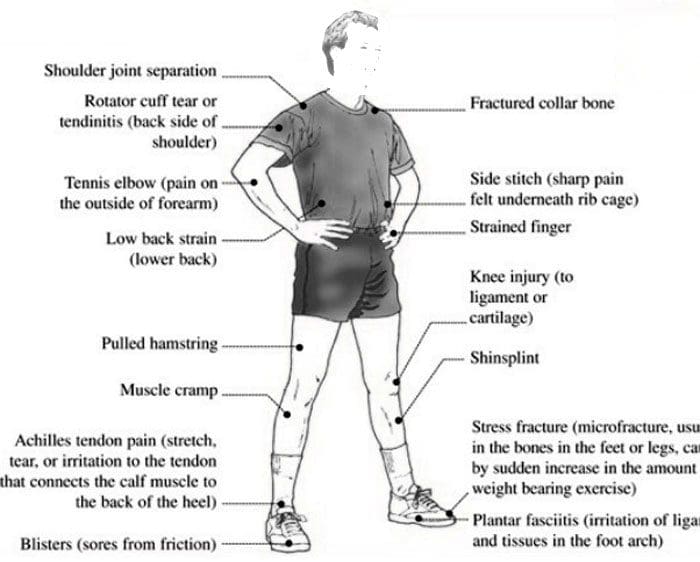 Acute and Chronic Sports Injuries Identification
Acute injuries can be identified by their cause. This could be a falling down during a run, sharp pain that presents in the shoulder after a throw, or a sprained ankle. The ability to focus on one cause usually means it's acute. Acute injuries are characterized by:
Sudden pain in an area where there was none.
Swelling
Redness
Tenderness
Limited range of motion.
The inability of the injured area to support its weight.
A broken bone.
Dizziness
Headache
Nausea
Vomiting
Chronic injuries are different but are usually easy to identify. The pain begins gradually, usually over weeks or months. Repetitive activities like running, throwing, swinging can exacerbate the pain. However, it is difficult to point to a specific issue that first caused the discomfort or pain. Chronic sports injuries are characterized by:
Pain and tenderness in the area, especially during and immediately after activity.
Minor swelling and limited range of motion.
Dull pain when resting.
These two types of injuries have different causes - trauma for acute and wear-and-tear for chronic - they can both result in similar issues. For example, shoulder rotator cuff injuries are common, especially those that repeatedly use their shoulder to swing, throw, swim, etc. The individual needs to undergo a rotator cuff injury test to diagnose the injury correctly, whether the damage is acute or chronic. Chronic injuries can cause acute injuries, and acute injuries can lead to chronic injuries if left untreated.
Examples of Acute and Chronic Sports Injuries
Chronic and acute injuries are common in every type of sport. There's an opportunity for both types of injuries. The most common include:
Acute Injuries:
Sprain and Strains
A.C.L. Tears
Rotator Cuff Tear
Dislocated Shoulder
Broken Bones or Fractures
Concussion
Whiplash
Chronic Injuries:
Runner's Knee
Achilles Tendon Issues
Shin Splints
Swimmer's Shoulder
Lateral epicondylitis tennis elbow
Stress Fractures
Other injuries from trauma, overuse, or both include:
Nonspecific Back Pain
Herniated Disc/s
Spondylolysis
Treatment
Minor acute injuries can be treated with rest, ice, compression, and elevation, aka R.I.C.E. Overuse injuries, are different as the injury has been gradually increasing in its severity, possibly causing scar tissue and ganglion cysts to develop. To prevent the injury from worsening, it's recommended to see a sports injury chiropractor or physical therapist. These professionals can help heal the body and educate the individual on self-care and prevention.
Chiropractic
The musculoskeletal system takes a beating. Chronic injuries usually affect the bones, joints, muscles, or a combination. Chiropractic helps keep the musculoskeletal system limber and in proper alignment. Adjustments include:
Neck adjustments
Arm and hand adjustments
Shoulder adjustments
Knee adjustments
Hip adjustments
Foot adjustments
Physical Therapy
Physical therapy for a chronic injury can help prevent future injuries. A physical therapist helps:
Improve range of motion
Reduces pain and swelling
Increases strength
Whether an athlete or are just staying active and having some fun with sports, acute and chronic injuries can sneak up and worsen if they are not treated properly. Healing with the help of a professional can quicken recovery time and prevent future injuries.
---
Body Composition
---
Maintain Muscle Mass While Losing Fat
Individuals that want to lose weight should focus on losing excess fat tissue, not muscle mass. Studies have shown that diet and exercise are crucial to preserving Skeletal Muscle Mass while losing weight. Losing weight healthily includes:
A healthy balance of cardio and resistance training to burn calories and build muscle.
A caloric deficit diet to burn through extra fat stores.
Get enough protein to support and maintain healthy muscle mass.
The information herein is not intended to replace a one-on-one relationship with a qualified health care professional, licensed physician, and is not medical advice. We encourage you to make your own health care decisions based on your research and partnership with a qualified health care professional. Our information scope is limited to chiropractic, musculoskeletal, physical medicines, wellness, sensitive health issues, functional medicine articles, topics, and discussions. We provide and present clinical collaboration with specialists from a wide array of disciplines. Each specialist is governed by their professional scope of practice and their jurisdiction of licensure. We use functional health & wellness protocols to treat and support care for the injuries or disorders of the musculoskeletal system. Our videos, posts, topics, subjects, and insights cover clinical matters, issues, and topics that relate to and support, directly or indirectly, our clinical scope of practice.* Our office has made a reasonable attempt to provide supportive citations and has identified the relevant research study or studies supporting our posts. We provide copies of supporting research studies available to regulatory boards and the public upon request.
We understand that we cover matters that require an additional explanation of how it may assist in a particular care plan or treatment protocol; therefore, to further discuss the subject matter above, please feel free to ask Dr. Alex Jimenez or contact us at 915-850-0900.
Dr. Alex Jimenez DC, MSACP, CCST, IFMCP*, CIFM*, ATN*
email: coach@elpasofunctionalmedicine.com
Licensed in: Texas & New Mexico*
References
Cava, Edda et al. "Preserving Healthy Muscle during Weight Loss." Advances in nutrition (Bethesda, Md.) vol. 8,3 511-519. 15 May. 2017, doi:10.3945/an.116.014506
https://www.niams.nih.gov/health-topics/sports-injuries
https://link.springer.com/article/10.2165/00007256-199418030-00004
https://journals.lww.com/acsm-csmr/FullText/2010/09000/An_Overview_of_Strength_Training_Injuries__Acute.14.aspx?casa_token=8sCDJWxhcOMAAAAA:CDEFNkTlCxFkl-77MtALBQAkttW0PqWwCj4masQzEcYOJNuwFKyZgHZ9npQoHhWgMKOPSbnkLyfcQACYGpuu7gg
Wörtler, K, and C Schäffeler. "Akute Sportverletzungen und chronische Überlastungsschäden an Vor- und Mittelfuß" [Acute sports injuries and chronic overuse stress damage to the forefoot and midfoot]. Der Radiologe vol. 55,5 (2015): 417-32. doi:10.1007/s00117-015-2855-3
Yang, Jingzhen et al. "Epidemiology of overuse and acute injuries among competitive collegiate athletes." Journal of athletic training vol. 47,2 (2012): 198-204. doi:10.4085/1062-6050-47.2.198