High school football takes a toll on the body. The sport can cause all kinds of injuries that can range from mild - severe. Areas that are commonly injured include:
Head
Neck
Shoulder
Arms
Hands
Spine
Legs
Knees
Ankles
Feet
Chiropractic has become a medically recommended form of treatment and rehabilitation for these injuries but also injury prevention. Today all NFL teams utilize a chiropractic team for players and staff. College teams are also discovering the benefits that chiropractic offers. There are significant benefits that high school football players can attain from chiropractic care.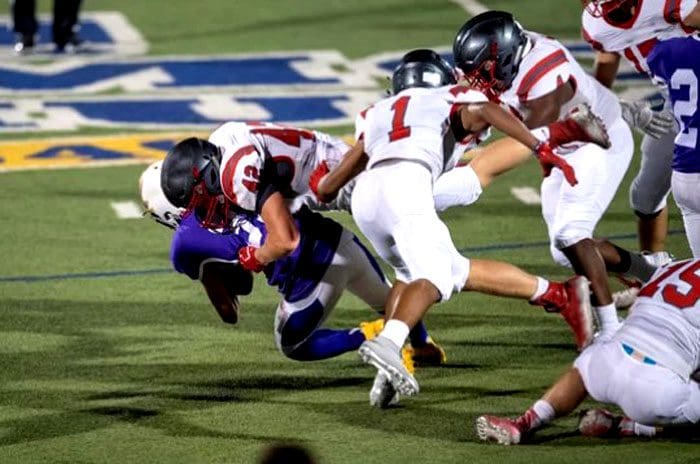 Enhanced Mobility
A chiropractic adjustment, technically known as chiropractic manipulative treatment/CMT, is a primary therapy in sports medicine. It helps to increase flexibility and minimize or eliminate pain during motion/movement. Adjustments have been shown to improve athletic performance.
Injury Prevention
Athletes who regularly use chiropractic experience a decline in sports-related injuries.
Treatment increases flexibility and mobility, allowing for optimal agility that has been linked to preventing injuries. This is because the body is relaxed and stays loose, even when tackled, instead of tensing up, which is a major contributor to strains and injuries.
Enhanced Strength
Chiropractic adjustments also help increase muscular strength, making the body stronger, and more resistant to injury. It has been shown to promote strength in the muscles after a few sessions effectively. The strengthened muscles also help avoid injury by being able to withstand the hits and recover faster. The strengthened body also helps to increase endurance and stamina.
Pain Relief
Many high school players use chiropractic to ease the general pain that comes from general practice and games. Adjustments and massage are highly effective for pain management and alleviate headaches, especially those that come from constant impact to the head and neck. It helps to alleviate soreness, stiffness, and pain from the entire body.
Sports Hernia
Athletes often experience athletic pubalgia. This is one of the most common causes of injury-related groin pain. Chiropractic can relieve the discomfort within 8 weeks in combination with rehabilitative stretches and exercises. Chiropractic plays a critical role in whole-body care, pain relief and keeps the body operating and performing at the highest level.
---
Body Composition
---
Water Intoxication
When an individual overwhelms their body's ability to excrete water and waste products consumed, water intoxication can develop. Water intoxication causes disturbances in the body's electrolyte balance. This can cause a life-threatening condition known as hyponatremia. With a rapid decrease in the sodium levels in the blood, relative to the amount of water, symptoms can develop rapidly:
Early symptoms include:
Confusion
Disorientation
Nausea
Vomiting
Changes in mental state
If left untreated, later symptoms can develop into:
Seizures
Coma
Death
The information herein is not intended to replace a one-on-one relationship with a qualified health care professional, licensed physician, and is not medical advice. We encourage you to make your own health care decisions based on your research and partnership with a qualified health care professional. Our information scope is limited to chiropractic, musculoskeletal, physical medicines, wellness, sensitive health issues, functional medicine articles, topics, and discussions. We provide and present clinical collaboration with specialists from a wide array of disciplines. Each specialist is governed by their professional scope of practice and their jurisdiction of licensure. We use functional health & wellness protocols to treat and support care for the injuries or disorders of the musculoskeletal system. Our videos, posts, topics, subjects, and insights cover clinical matters, issues, and topics that relate to and support, directly or indirectly, our clinical scope of practice.* Our office has made a reasonable attempt to provide supportive citations and has identified the relevant research study or studies supporting our posts. We provide copies of supporting research studies available to regulatory boards and the public upon request.
We understand that we cover matters that require an additional explanation of how it may assist in a particular care plan or treatment protocol; therefore, to further discuss the subject matter above, please feel free to ask Dr. Alex Jimenez or contact us at 915-850-0900.
Dr. Alex Jimenez DC, MSACP, CCST, IFMCP*, CIFM*, ATN*
email: coach@elpasofunctionalmedicine.com
Licensed in: Texas & New Mexico*
References
Hession, E F, and G D Donald. "Treatment of multiple lumbar disk herniations in an adolescent athlete utilizing flexion distraction and rotational manipulation." Journal of manipulative and physiological therapeutics vol. 16,3 (1993): 185-92.
Pritchett, J W. "A statistical study of physician care patterns in high school football injuries." The American journal of sports medicine vol. 10,2 (1982): 96-9. doi:10.1177/036354658201000206
Shane, Eric R et al. "Sports chiropractic management of concussions using the Sports Concussion Assessment Tool 2 symptom scoring, serial examinations, and graded return to play protocol: a retrospective case series." Journal of chiropractic medicine vol. 12,4 (2013): 252-9. doi:10.1016/j.jcm.2013.08.001