More individuals are reporting extreme levels of stress. Studies indicate that an increasing number of individuals are feeling worried, anxious, or depressed regularly from various stressors. Maintaining the body's health includes:
Following a balanced diet
Getting enough exercise
Taking vitamins or supplements to ensure the body gets what it needs for optimal function.
However, research has found that a sudden increase in stress, specifically stress associated with anger, can trigger:
Heart attacks
Sudden death
This type of stress can affect individuals that did not know they had heart disease. Intense short-term stress can have dangerous effects on the body's health, leading to chronic stress. Chronic stress continues at a low level for weeks, months, or years. It can significantly change the way the body functions. Stress management is very important for overall well-being. Learning how to handle stress properly is the goal.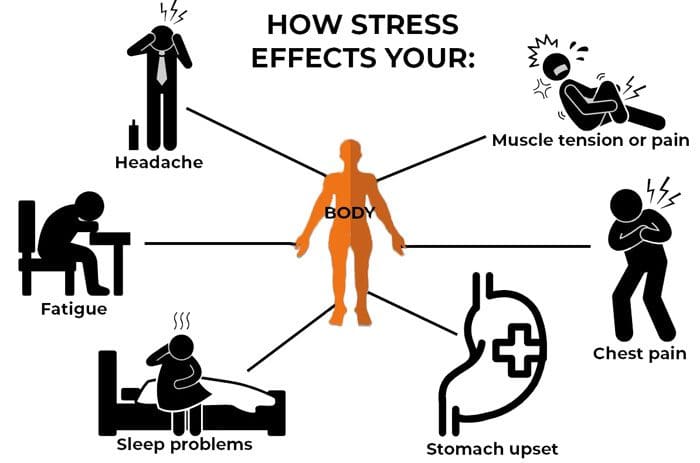 Poor Stress Management
When stress hits it triggers the brain to release various hormones. These hormones increase heart rate and raise blood pressure. This comes from evolution that helped early humans escape from predators and stay safe from different types of physical danger. This same stress reaction is what we go through, however, it is not to escape danger but to deal with work, family, school, commuting, and social issues, etc. And when the stress response happens on a regular basis it can have serious and long-term effects on the body's ability to function properly. Stress includes mental, behavioral, and physical symptoms. The effects of stress that are most familiar are related to mood. Mood changes that can result from chronic low-level stress include:
Feelings overwhelmed
Increased anxiety
Generalized anxiety that is not connected with anything specific
Unmotivated or unfocused
Sadness
Depression
Irritability
Impatience
Unusually quick to anger
Restlessness
These mood changes can be tied to changes in behavior. The following behaviors are associated with increased stress levels:
Alcohol and/or drug abuse
Starting or increasing tobacco use
Eating changes - undereating or overeating
Withdrawing from friends and family
Avoiding social interaction
Little to no physical activity
Physical effects that are associated with long-term stress.
Chronic stress that lasts for a long period can affect the whole body. The immune system, digestive system, sleep cycles, etc. Physical symptoms include:
Tension in the neck and back
Persistent headaches
Stomach aches
Constant fatigue, even after waking up
Sleeping pattern changes
Insomnia
Muscle pain
Changes in libido
Being more prone to infections because of a weakened immune system
Chest pain
Learning Healthy Stress Management
Mental health is now an important part of living a healthy life. Stress comes from all kinds of different places. We can't always change these moments, but we can change our reactions to reduce the negative effects and results. To manage stress, it is important to know what is causing it.
It could be an argument with a boss, co-worker, family member, or significant other.
Work deadlines
School grades, teachers, kids, etc
Bills
Repairs
Clearly identifying the main stressors will help individuals anticipate them and form a plan. There are different ways of dealing with it. The different strategies need to be researched and tried by individuals to see what works for them. Think about what helps the mind and body relax and unwind. A few recommended ways include:
Watching favorite shows or movies
Listening to music
Spend time with friends or family
Make time for yourself to do something you love - alone time
Unplug from devices like phones, tablets, or computer
Play a sport
Practice yoga
Physical activity
Take a nature hike
Write, paint, sculpt, knit, sew, crafts, make music, play instrument/s - real media or digital
Meditate and practice mindfulness techniques
These are strategies that can be incorporated into regular daily life. Be sure to set time aside to focus on mental wellbeing. Learn to recognize the signs when getting overwhelmed. Don't hesitate to ask for help when needed. This can be a support system or mental health professional. This is to empower individuals to take better care of themselves in both body and mind.
---
Body Composition
---
Setting Attainable Goals
Individuals that have trouble achieving health goals might want to look at the goals themselves. Individuals typically have a general idea of their fitness journey. However, it is hard to reach those goals without a map. Losing weight or getting healthy is the goal but these goals are not measurable. This is too broad that can be different things to different people. Trying to accomplish a vague goal makes it hard to plan, making it happen, or seeing progress. A recommended strategy for goal setting is to use the SMART system. The acronym stands for:
Specific
Measurable
Attainable
Realistic
Timed
When goals fall into these parameters, it provides a clear picture of what is trying to get accomplished and the ability to plan accordingly. An example could be: An individual will work out at home or the gym for one hour, five days a week for one month. This is a specific and measurable goal when compared to I'm going to work out more. This provides clear guidelines of what needs to happen to achieve success.
The information herein is not intended to replace a one-on-one relationship with a qualified health care professional, licensed physician, and is not medical advice. We encourage you to make your own health care decisions based on your research and partnership with a qualified health care professional. Our information scope is limited to chiropractic, musculoskeletal, physical medicines, wellness, sensitive health issues, functional medicine articles, topics, and discussions. We provide and present clinical collaboration with specialists from a wide array of disciplines. Each specialist is governed by their professional scope of practice and their jurisdiction of licensure. We use functional health & wellness protocols to treat and support care for the injuries or disorders of the musculoskeletal system. Our videos, posts, topics, subjects, and insights cover clinical matters, issues, and topics that relate to and support, directly or indirectly, our clinical scope of practice.* Our office has made a reasonable attempt to provide supportive citations and has identified the relevant research study or studies supporting our posts. We provide copies of supporting research studies available to regulatory boards and the public upon request.
We understand that we cover matters that require an additional explanation of how it may assist in a particular care plan or treatment protocol; therefore, to further discuss the subject matter above, please feel free to ask Dr. Alex Jimenez or contact us at 915-850-0900.
Dr. Alex Jimenez DC, MSACP, CCST, IFMCP*, CIFM*, ATN*
email: coach@elpasofunctionalmedicine.com
Licensed in: Texas & New Mexico*
References
Bailey, Ryan R. "Goal Setting and Action Planning for Health Behavior Change." American journal of lifestyle medicine vol. 13,6 615-618. 13 Sep. 2017, doi:10.1177/1559827617729634
Carlson, Linda E et al. "Integrative Approaches to Stress Management." Cancer journal (Sudbury, Mass.) vol. 25,5 (2019): 329-336. doi:10.1097/PPO.0000000000000395
Jamison, J R. "Stress management: an exploratory study of chiropractic patients." Journal of manipulative and physiological therapeutics vol. 23,1 (2000): 32-6. doi:10.1016/s0161-4754(00)90111-8
Jamison, J. "Stress: the chiropractic patients' self-perceptions." Journal of manipulative and physiological therapeutics vol. 22,6 (1999): 395-8. doi:10.1016/s0161-4754(99)70085-0