Baastrup's syndrome is named after Christian Ingerslev Baastrup. He discovered and described the condition in 1933. In this syndrome, pain and inflammation are triggered when the spinous processes of two adjacent vertebrae begin to touch each other. This is where the term kissing spine came from. Most back and neck pain is attributed to inflammation or degeneration of the spinal vertebrae, discs, muscles, and nerves. This is a spinal condition that can cause problems with age. If experiencing pain that worsens when arching the back, consult a professional chiropractor. A physical examination and imaging could reveal the spine is going through this underdiagnosed condition.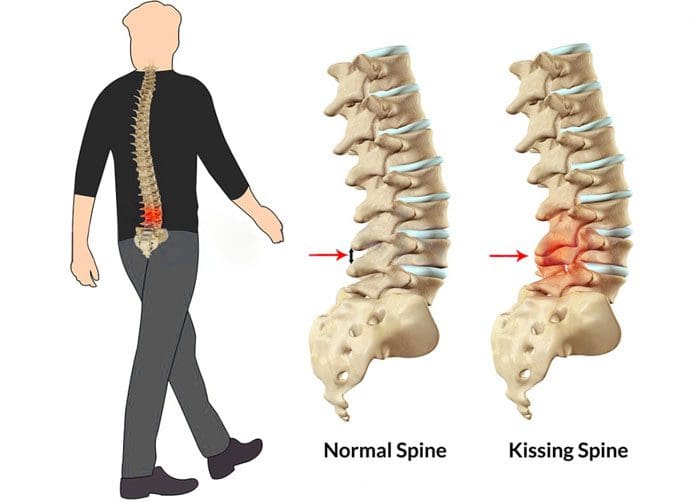 Kissing Spine
Spine problems mostly involve the vertebrae and the discs. However, the spine has other components, which include spinous processes. These are thin segments of bone that protrude off the back of each vertebra. Kissing spine syndrome, also known as Baastrup's disease, or interspinous bursitis, happens when these spinous processes begin to move close together and touch/kiss. Pain and inflammation can be triggered by this.
It is believed to develop as a result of degeneration in the spine that comes with age. As vertebral discs break down from all the wear and tear of life, this can cause the spinous processes to move closer together and touch. This typically develops in the lumbar spine/lower back, but can also affect the cervical spine/neck. The most common symptom of kissing spine syndrome is back pain that worsens when touched or arching the back. For some individuals slumping forward or rounding the back, can help diminish the pain.
When the spinous processes touch, they begin abrasively rubbing against each other. This wears them down and can lead to other types of spinal degeneration. Over time secondary problems can begin to present including neurological conditions caused by compressed nerves. The condition is common in older adults from the natural wear and tear on their spines. But young individuals specifically athletes, can develop the syndrome.
Poor posture
Obesity
Spinal injury/s are additional risk factors.
Diagnosing the condition involves a physical exam and imaging scans to confirm that the spinous processes are in fact touching.
Chiropractic Care
A chiropractor can help manage the pain caused by degenerative disc disease and kissing spine syndrome. Treatment protocols for kissing spine syndrome include:
Spinal adjustments
Physical therapy massage
Spinal manipulation
Stretches
Exercises
Anti-inflammatory diet
Spinal decompression techniques can open the spinal segments so that the spinous processes don't touch. Manipulations can facilitate proper joint mobility and alleviate inflammation. Physical therapy exercises and stretches will help stretch the spine and the supportive tissues. If experiencing neck or low back pain, contact Injury Medical Chiropractic and Functional Medicine Clinic. Our spine specialists will listen, discuss, and develop a personalized treatment plan. We provide non-invasive approaches for long-term pain management and spinal correction for lasting comfort.
---
Body Composition
---
The Paleo Diet
The Paleo diet consists of eating foods that would have been available to humans before modern agriculture was established. If the food was not available to these human ancestors and they did not eat it, then it is not part of the Paleo diet. This includes eating:
Lean meats
Fish
Vegetables
Fruits
Eggs
Nuts
The Paleo cuts out foods like:
Grains
Legumes
Dairy
Sugars
Processed oils
One study published in the American Journal of Clinical Nutrition compared the Paleo diet to other control diets based on United States nutritional guidelines. The researchers found that the Paleo diet generated improvements in waist circumference, triglyceride levels, and blood pressure.
Disclaimer
The information herein is not intended to replace a one-on-one relationship with a qualified health care professional, licensed physician, and is not medical advice. We encourage you to make your own health care decisions based on your research and partnership with a qualified health care professional. Our information scope is limited to chiropractic, musculoskeletal, physical medicines, wellness, sensitive health issues, functional medicine articles, topics, and discussions. We provide and present clinical collaboration with specialists from a wide array of disciplines. Each specialist is governed by their professional scope of practice and their jurisdiction of licensure. We use functional health & wellness protocols to treat and support care for the musculoskeletal system's injuries or disorders. Our videos, posts, topics, subjects, and insights cover clinical matters, issues, and topics that relate to and support, directly or indirectly, our clinical scope of practice.* Our office has made a reasonable attempt to provide supportive citations and has identified the relevant research study or studies supporting our posts. We provide copies of supporting research studies available to regulatory boards and the public upon request. We understand that we cover matters that require an additional explanation of how it may assist in a particular care plan or treatment protocol; therefore, to further discuss the subject matter above, please feel free to ask Dr. Alex Jimenez or contact us at 915-850-0900.
Dr. Alex Jimenez DC, MSACP, CCST, IFMCP*, CIFM*, CTG*
email: coach@elpasofunctionalmedicine.com
phone: 915-850-0900
Licensed in Texas & New Mexico
References
Philipp LR, Baum GR, Grossberg JA, Ahmad FU. Baastrup's Disease: An Often Missed Etiology for Back Pain. Cureus 8(1): e465. Published January 22, 2016. https://www.cureus.com/articles/3982-baastrups-disease-an-often-missed-etiology-for-back-pain. Accessed December 20, 2018.
Filippiadis DK, Mazioti A, Argentos S, et al. Baastrup's disease (kissing spines syndrome): a pictorial review. Insights Imaging. 2015 Feb; 6(1): 123–128. Published online January 13, 2015. https://link.springer.com/article/10.1007/s13244-014-0376-7 Accessed December 20, 2018.