Eating healthy and spinal health are interconnected. Eating healthier will help to lose weight, and provide a healthier body mass index. This means more muscle mass, especially when integrated with more protein. The spine sustains and supports the whole torso and upper body. When weight increases in these areas it can cause an array of issues like subluxations, curvature problems, sciatica, and more. The extra muscle mass takes the added stress from any extra weight off of the spine. Strong muscles can carry the weight of the body, taking the pressure off the spine and keeping it healthy and operating in top form.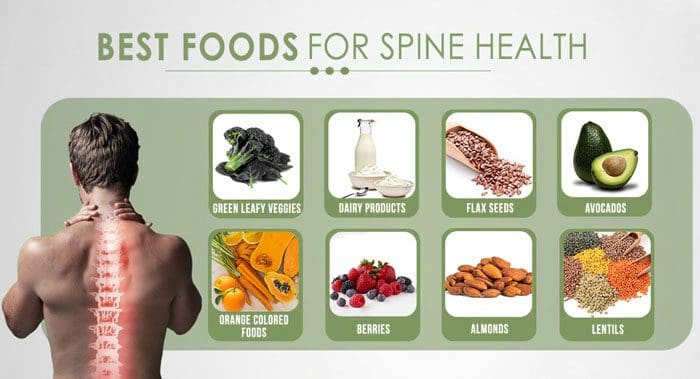 Making Healthy Adjustments
No matter where an individual is on their healthy eating plan, there are common practices that work for many and helps improve their diet. This involves integrating healthy food groups into the diet in different ways, and not giving up when mistakes are made, but learning from them. When developing new healthy habits it takes time, diligence, practice, and research to eat the right foods.
Fruits and Veggies
It is easier and tastier to forget the nutritious foods and go for the carbs, fats, etc. Rather than trying to add more vegetables, or eating fruit as a snack every day can be tough. An easier, and better way to integrate fruits and vegetables into one's diet is to substitute the carbs and fats for fruits and veggies in the main meals every day.
This could be spiralized zucchini, squash, or no-carb spaghetti instead of pasta spaghetti.
Instead of ice cream try real fruit sorbet.
Mashed cauliflower instead of white rice or mashed potatoes.
There are plenty of substitutes that are healthier and just as tasty and as the real thing.
Healthy recipes out there that can give you ideas on how to do this.
The benefit of substituting fruits and vegetables, rather than just adding them to a diet is individuals increase their health by reducing unhealthy dietary elements and adding healthy new ones at the same time. However, this does not mean doing it all at once. The goal is to gradually substitute these nutritious foods into everyday dishes for maximum health benefits.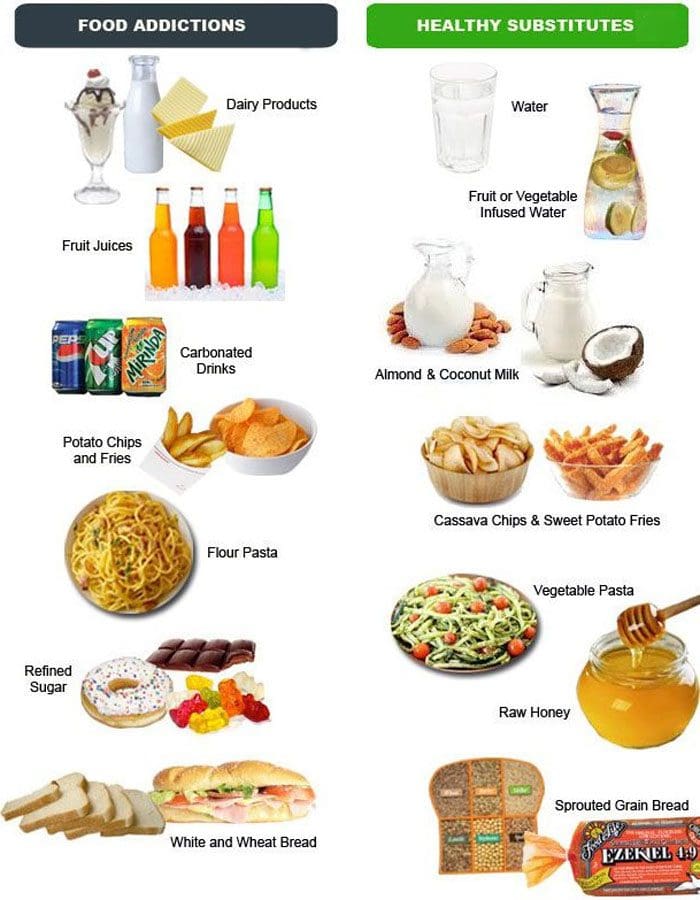 More Fiber and Protein
It is important that the body gets enough fiber and protein as a healthy energy source. Many individuals can become dependent on:
Ingesting unhealthy foods all day every day takes a significant toll on the body. This includes:
Blood sugar
Weight
Energy
Mood
Fiber and protein are important because the two regulate the body's systems to promote healthy bodily functions. Fiber helps the digestive system and regulates carbohydrate breakdown. This means the energy obtained from any carb will last longer and will not increase blood sugar when integrated with fiber. Most individuals know that protein builds muscle. But it also makes the body feel full much longer than carbs or sugars do. This allows for natural regulation of how much is eaten during the day so an individual does not eat more than the body needs. Carbs and sugars are not filling and can become addictive. This means that they can be eaten all day long without feeling full and just load up with empty calories. A few ways to integrate fiber and protein into a diet:
Breakfast
Eggs
Turkey bacon
Whole wheat/multigrain toast
Lunch
Whole wheat wrap or sandwich
Dinner
Brown rice and beans are loaded with protein and fiber.
A great substitution for vegetarians/vegans for more protein or fiber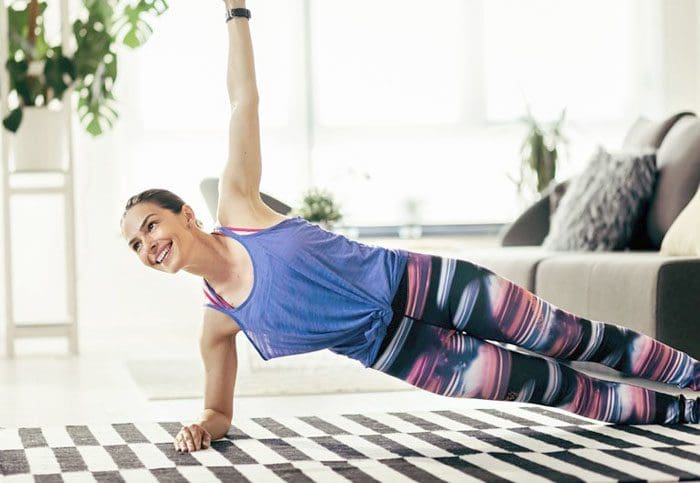 Reduce Sugar Intake
Reducing sugar intake or switching to balanced sugars from fruits, yogurt, etc. A diet high in sugar can wreck the body, causing:
Weight gain
Mood swings
Overeating
Other unhealthy effects
Sugar is fine when practiced in moderation. But when it becomes a daily habit, that's when it can start affecting the body. The objective is to drink more water, and use substitutions when cravings present. Try:
Yogurt instead of ice cream
Healthy fruit drinks instead of soda
Tea instead of wine
Keep the indulgences to once or twice a week if possible.
Eating Healthy Benefits
A few of the benefits from eating healthy that will improve quality of life:
Improved digestive health
Weight loss
Reduced to no back pain
Reduced to no foot pain
Healthy sleep patterns
Less fatigue
Improved focus
Improved brain health
Clear skin
Reduced to no irritability


Body Composition
New Health Issues
Steady weight gain throughout life can lead to adult diabetes. This is brought on by more body fat and muscle loss. Loss of skeletal muscle mass is linked to insulin resistance. The less muscle is available, the less insulin sensitive the body becomes. Loss of muscle can cause other problems with age. One damaging condition, especially for women, is osteoporosis. This happens when old bone is reabsorbed rather than new bone being created. Both men and women can have decreased muscle mass with thinner, weaker bones. This increases the risk of osteoporosis and the risk of serious injury from falls. Prevention includes
Eat sufficient protein throughout the day. It is often best to space out protein intake across meals and not consume all at once to ensure the proper amount is being met daily. Regular body composition monitoring can help. The goal is to minimize muscle mass loss and fat mass gain as the body ages.
Disclaimer
The information herein is not intended to replace a one-on-one relationship with a qualified health care professional, licensed physician, and is not medical advice. We encourage you to make your own health care decisions based on your research and partnership with a qualified health care professional. Our information scope is limited to chiropractic, musculoskeletal, physical medicines, wellness, sensitive health issues, functional medicine articles, topics, and discussions. We provide and present clinical collaboration with specialists from a wide array of disciplines. Each specialist is governed by their professional scope of practice and their jurisdiction of licensure. We use functional health & wellness protocols to treat and support care for the musculoskeletal system's injuries or disorders. Our videos, posts, topics, subjects, and insights cover clinical matters, issues, and topics that relate to and support, directly or indirectly, our clinical scope of practice.* Our office has made a reasonable attempt to provide supportive citations and has identified the relevant research study or studies supporting our posts. We provide copies of supporting research studies available to regulatory boards and the public upon request. We understand that we cover matters that require an additional explanation of how it may assist in a particular care plan or treatment protocol; therefore, to further discuss the subject matter above, please feel free to ask Dr. Alex Jimenez or contact us at 915-850-0900.
Dr. Alex Jimenez DC, MSACP, CCST, IFMCP, CIFM, CTG*
email: coach@elpasofunctionalmedicine.com
phone: 915-850-0900
Licensed in Texas & New Mexico
References
Cena, Hellas, and Philip C Calder. "Defining a Healthy Diet: Evidence for The Role of Contemporary Dietary Patterns in Health and Disease." Nutrients vol. 12,2 334. 27 Jan. 2020, doi:10.3390/nu12020334
Locke, Amy et al. "Diets for Health: Goals and Guidelines." American family physician vol. 97,11 (2018): 721-728.
Warensjö Lemming, Eva, and Liisa Byberg. "Is a Healthy Diet Also Suitable for the Prevention of Fragility Fractures?." Nutrients vol. 12,9 2642. 30 Aug. 2020, doi:10.3390/nu12092642