A whiplash injury can cause pain for months, even years after the accident/incident. It can cause persistent pain in the neck, shoulders, back, as well as, headaches, and sleep problems. Waiting to see if it will go away is not recommended. Chiropractic treatment can effectively and successfully expedite the healing process getting back to normal life as quickly as possible. Chiropractors treat whiplash successfully using a combination of techniques, approaches, and exercises for pain relief, recovery, and long-term spinal health. The extent and severity of the whiplash injury determine what type of chiropractic treatment will be implemented.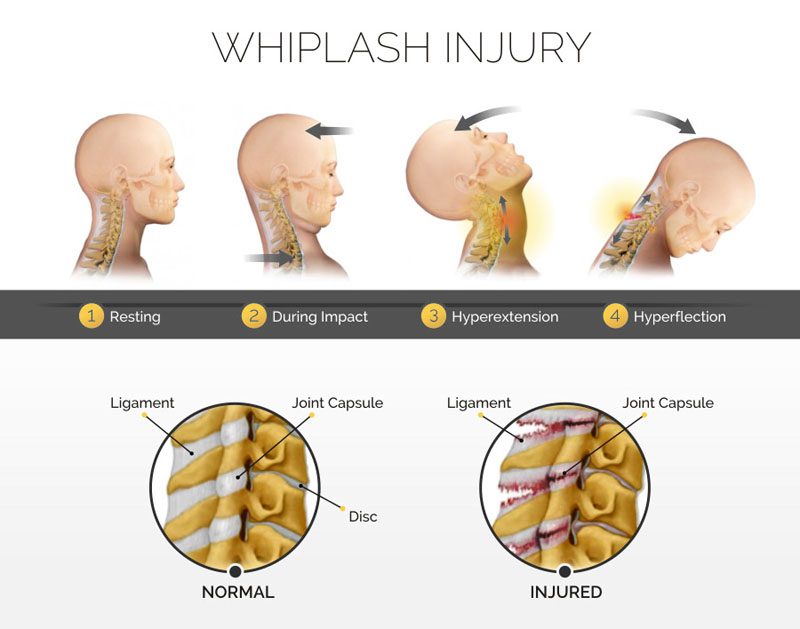 The Severity of a Whiplash Injury
Whiplash injuries are often the result of:
Automobile accidents
Work injuries
Sports
Amusement park rides
It is primarily an injury of the neck muscles and ligaments, but can also damage the vertebral discs. It is not considered a serious or life-threatening injury, but it can cause long-term complications and severe chronic pain. The biggest risk comes from the delayed presentation of symptoms. It can take days and sometimes weeks for the effects of the injury to present. Individuals that are older or those with arthritis are more likely to have severe and long-term issues.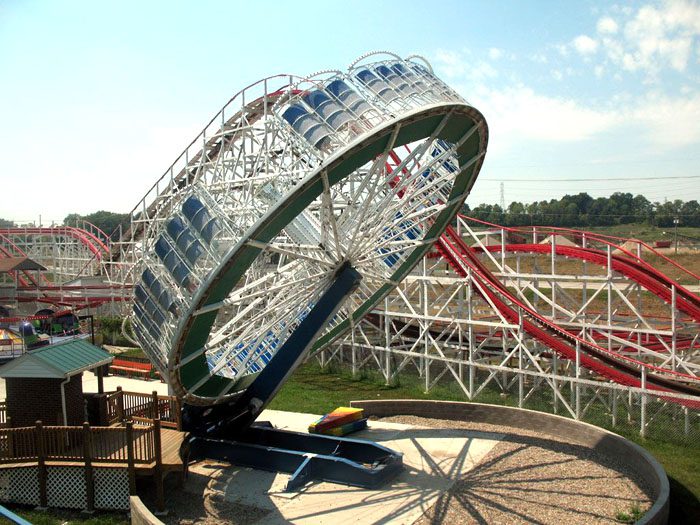 Other Symptoms
Typical symptoms like neck pain, blurry vision, stiffness, and dizziness are well known. These can range from mild to severe, and last for a few days, weeks, or, in severe cases, years. However, there are some symptoms that most don't know about and include:
Consistent pain in the shoulder and upper back
Delayed-onset headaches
Trouble sleeping even without pain
Trouble concentrating
Trouble with memory
Irritability
Fatigue/low-energy
Emergency Care
Individuals should be alert for signs/symptoms that the injury requires immediate medical attention. If any of the following are experienced seek immediate care.
The arms, shoulders, or legs are numb, tingling, and/or weak
The neck pain and stiffness return after going away
Bowel or bladder problems could indicate nerve damage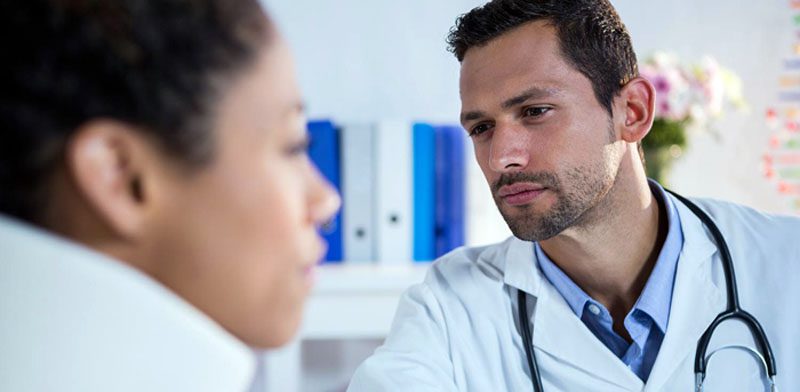 Chiropractic
Chiropractic treatment depends on the individual case. A doctor of chiropractic will determine the right treatment plan by the:
The severity of the pain
Location of the injury
Accompanying symptoms
Medical history
X-rays will be taken of the affected area to rule out any other trauma or injury. The chiropractor will evaluate the entire spine. This is based on how one part of the body influences other areas with the objective being to get the whole body functioning successfully at optimal levels.
Treatment Options
Some of the more common treatments for whiplash include:
Initial
Visiting a chiropractor a short time after the injury means the neck will be inflamed. The doctor will utilize gentle, anti-inflammatory options like:
Cold therapy
Ultrasound
Stretching
Electrical therapy
Laser therapy
Spinal Manipulation
There are different types of spinal manipulation, these include:
Specific Manipulation
This type involves a gentle but firm thrusting, usually done with the hands to the soft tissue areas. It stimulates the nervous system to realign subluxations, and restore mobility/flexibility of the spinal joints and vertebrae.
Flexion Distraction Technique
This is also a hands-on technique that treats slipped and bulging discs. This type of treatment utilizes a pumping motion on the disc/s and not the spine itself.
Instrument Assistance
This treatment is used for patients with degenerative disc disease. Special instrument assistance is often used in combination with hands-on care.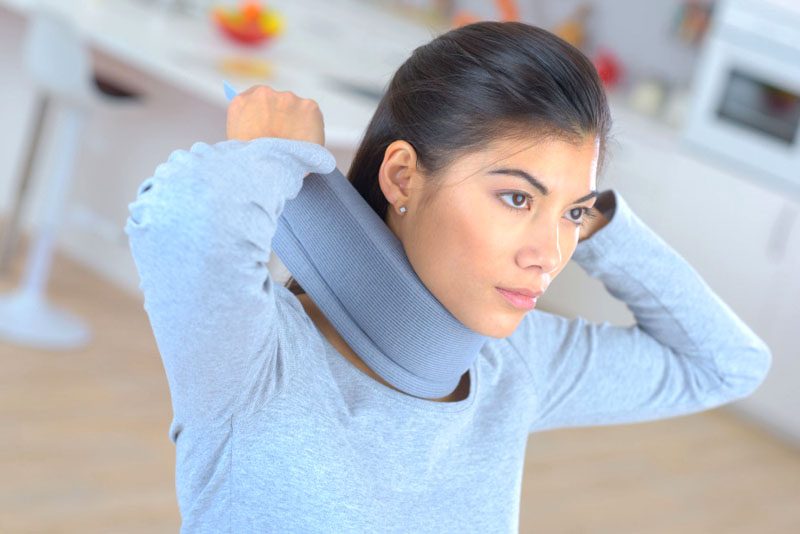 Massage
Massage promotes healing, reduces pain, and improves blood circulation in and around the affected area. It helps relieve tension/stress in the shoulder and neck.
Stretching and Trigger Point Therapy
The muscles and tendons can become tight. A chiropractor will gently stretch the area to relieve pain, ease tension, and reduce tension headaches. Trigger point therapy uses persistent pressure by the chiropractor's fingers. It relaxes and releases the tight areas.
McKenzie Exercises
McKenzie exercises help reduce disc tears common to these types of injuries. The chiropractor will show how to perform these simple movements at home as part of the recovery.
What to do outside of the clinic
A chiropractor will offer tips and guidance on how to successfully avoid worsening the injury or create new injury/s. Stretches and exercises will be recommended to strengthen and maintain flexibility. Depending on an individual's:
Overall health
Posture
Work/Occupation
Lifestyle factors
They will offer recommendations to avoid long-term issues.


Body Composition
Successfully regaining fitness after an injury
It is difficult to predict how long it will take to regain a previous level of fitness after an injury. Retraining to peak condition depends on the injury and how much damage was done. A key factor is to not adopt a sedentary lifestyle. Muscle memory can help as the muscles have special cells in the fibers that can recollect previous movements. This means when back to working out after an extended layoff, the body is able to regain the lost muscle. Some tips to help get back into shape:
Ease back into working out to avoid/worsen the injury
Wait a month before starting a less-intense version of a regular workout
Join a group/fitness class or a health exercise group
Patience and persistence are essential to regaining fitness successfully.
Disclaimer
The information herein is not intended to replace a one-on-one relationship with a qualified health care professional, licensed physician, and is not medical advice. We encourage you to make your own health care decisions based on your research and partnership with a qualified health care professional. Our information scope is limited to chiropractic, musculoskeletal, physical medicines, wellness, sensitive health issues, functional medicine articles, topics, and discussions. We provide and present clinical collaboration with specialists from a wide array of disciplines. Each specialist is governed by their professional scope of practice and their jurisdiction of licensure. We use functional health & wellness protocols to treat and support care for the musculoskeletal system's injuries or disorders. Our videos, posts, topics, subjects, and insights cover clinical matters, issues, and topics that relate to and support, directly or indirectly, our clinical scope of practice.* Our office has made a reasonable attempt to provide supportive citations and has identified the relevant research study or studies supporting our posts. We provide copies of supporting research studies available to regulatory boards and the public upon request. We understand that we cover matters that require an additional explanation of how it may assist in a particular care plan or treatment protocol; therefore, to further discuss the subject matter above, please feel free to ask Dr. Alex Jimenez or contact us at 915-850-0900.
Dr. Alex Jimenez DC, MSACP, CCST, IFMCP, CIFM, CTG*
email: coach@elpasofunctionalmedicine.com
phone: 915-850-0900
Licensed in Texas & New Mexico
References
Dagenais, Simon, and Scott Haldeman. "Chiropractic." Primary care vol. 29,2 (2002): 419-37. doi:10.1016/s0095-4543(01)00005-7
https://www.sciencedirect.com/science/article/abs/pii/S0020138396000964
Ritchie, Carrie et al. "Medical and allied health service use during acute and chronic post-injury periods in whiplash injured individuals." BMC health services research vol. 20,1 260. 30 Mar. 2020, doi:10.1186/s12913-020-05146-0
Ferrari, Robert, and Anthony Science Russell. "Survey of general practitioner, family physician, and chiropractor's beliefs regarding the management of acute whiplash patients." Spine vol. 29,19 (2004): 2173-7. doi:10.1097/01.brs.0000141184.86744.37