A good portion of the population deals with night back pain. But there is another group that can attribute their back pain to sleep apnea. The American Academy of Sleep Medicine says that 26% of adults between 30 and 70 have this disorder. Sleep apnea back pain can turn into a vicious cycle. Unrestful sleep caused by sleep apnea can make an individual more susceptible to pain. Back pain can cause sleep problems, and the cycle begins again.
Sleep Apnea
Sleep apnea is a chronic sleep disorder in adults in which breathing repeatedly stops and starts. Symptoms include:
Excessive sleepiness during the day
Snoring
Abrupt waking during sleep
Risk factors include:
Obesity
Smoking
Diabetes
Narrow airway
History of sleep apnea in family
There is ongoing research about risk factors for sleep apnea.
The Sleep Apnea and Back Pain Connection
Back pain could be a symptom of a vertebral fracture. Sleep apnea has been found to be associated with a higher risk of vertebral fractures. Research has found a connection between obstructive sleep apnea and vertebral fractures in women. The study found that women with a history of obstructive sleep apnea had an increased risk of vertebral fracture compared to individuals with no history of sleep apnea. Research is looking into how sleep apnea impacts bone health, specifically in the vertebrae. Doctors believe there are multiple ways in which sleep apnea can affect bone health like:
Low oxygen levels
Acidosis or a build-up of acid in the blood after intermittent hypoxia or a lack of oxygen in the tissues
Increased inflammation
Modulation/variation of sex hormones
Lifestyle Adjustments and Treatment
There are sleep apnea treatments that include lifestyle changes that can help to lessen the effects and alleviate back pain.
Around 70% of individuals with sleep apnea are obese. This is according to the Obesity Medicine Association.
Smoking can increase the severity of sleep apnea by lowering the functionality of the airway causing inflammation.
CPAP machines or continuous positive airway pressure, have proven to be beneficial in dealing with sleep apnea.
Treatment options need to be discussed with a healthcare provider if diagnosed with this condition. Sleep apnea treatment is important because if left untreated it can lead to serious health issues increasing the risk for:
High blood pressure
Heart disease
Type 2 diabetes
Metabolic syndrome
Post-surgery complications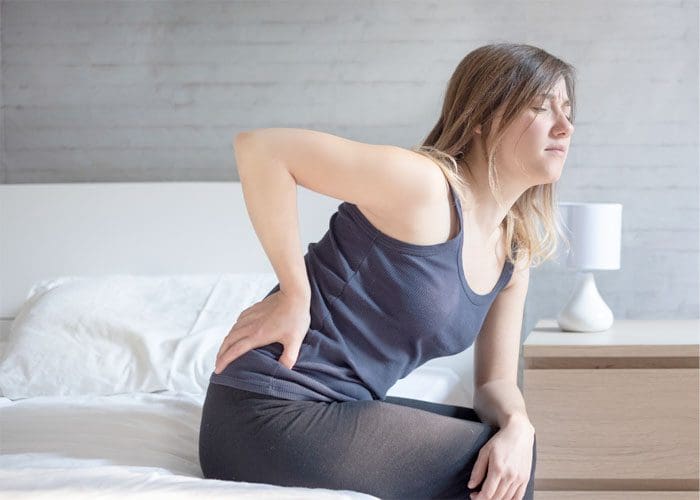 Better Sleep
If experiencing sleep apnea neck or back pain, make an appointment to see a doctor for an accurate diagnosis. A treatment plan that works for the individual will be developed to ease symptoms, resulting in back pain alleviation and better sleep.
Body Composition
Proper Sleep and Fat Loss
Losing fat mass is strongly linked to proper sleep. For the body to lose fat the body needs to be in a caloric deficit, which means more energy gets used than the amount of energy the body takes in. This can be accomplished by restricting calories through diet and burning more calories through exercise. This can be referred to as calories in/calories out.
Losing sleep can sabotage fat loss goals significantly altering the body's hormonal profile. This includes hormones that regulate appetite. Ghrelin is associated with hunger, and leptin is associated with feeling full. Ghrelin spikes right before a meal prompting an individual to eat. Losing sleep interferes with the body's ghrelin/leptin balance. This results in an increase in ghrelin and a reduction in leptin levels.
Disclaimer
The information herein is not intended to replace a one-on-one relationship with a qualified health care professional, licensed physician, and is not medical advice. We encourage you to make your own health care decisions based on your research and partnership with a qualified health care professional. Our information scope is limited to chiropractic, musculoskeletal, physical medicines, wellness, sensitive health issues, functional medicine articles, topics, and discussions. We provide and present clinical collaboration with specialists from a wide array of disciplines. Each specialist is governed by their professional scope of practice and their jurisdiction of licensure. We use functional health & wellness protocols to treat and support care for the musculoskeletal system's injuries or disorders. Our videos, posts, topics, subjects, and insights cover clinical matters, issues, and topics that relate to and support, directly or indirectly, our clinical scope of practice.* Our office has made a reasonable attempt to provide supportive citations and has identified the relevant research study or studies supporting our posts. We provide copies of supporting research studies available to regulatory boards and the public upon request. We understand that we cover matters that require an additional explanation of how it may assist in a particular care plan or treatment protocol; therefore, to further discuss the subject matter above, please feel free to ask Dr. Alex Jimenez or contact us at 915-850-0900.
Dr. Alex Jimenez DC, MSACP, CCST, IFMCP, CIFM, CTG*
email: coach@elpasofunctionalmedicine.com
phone: 915-850-0900
Licensed in Texas & New Mexico
References
Intro: Rheumatology International. (May 2013) "Prevalence and severity of insomnia in chronic low back pain patients" https://pubmed.ncbi.nlm.nih.gov/23124732/
How Sleep Apnea and Back Pain are Related: Journal of Bone and Mineral Research. (September 2020) "Obstructive Sleep Apnea and Risk for Incident Vertebral and Hip Fracture in Women" https://asbmr.onlinelibrary.wiley.com/doi/epdf/10.1002/jbmr.4127
Sleep Apnea Treatments: Obesity Medicine Association. (2021) "Obesity and Obstructive Sleep Apnea" https://obesitymedicine.org/obesity-and-sleep-apnea/