Surgery for sciatica
is sometimes necessary if medications, chiropractic, and physical therapy are not working to relieve sciatica symptoms, but don't worry. Individuals sometimes have
sciatica that just does not respond to conservative treatment
can find relief through
surgical procedures
.
Questions begin to pop up
, as to which procedure makes the most sense, what will the experience be like, and how long will it be until you can get back to a normal, pain-free life?
Sciatica
Sciatica is pain that
runs down the longest nerve in the body
, known as the sciatic nerve. Pain starts in the lower back and spreads down one leg, into the calf and possibly the foot. It is
rare but sciatica can occur in both legs
. The pain is mild to severe and feels worse when
sneezing, coughing, bending, and standing/sitting
in certain positions. The pain is often accompanied by
numbness, tingling, or weakness in affected legs.
Sciatica
a set of symptoms caused by other medical problems like an injury, tumor, or the most common
cause around 90% of the time is a herniated disc
in the lower back. The soft-gel center of the disc pushes through the tough exterior, where it can
pinch or press on the sciatic nerve causing pain.
Research shows that sciatica affects 1% to 5% of the population, and around
40% will experience sciatica at some point in their life
.
Men between the ages of 30 and 50 have a higher risk
along with smokers, individuals that sit for a long time, and those that perform physically strenuous work. Doctors and chiropractors can diagnose cases of sciatica with a
medical history and physical exam.
Diagnostic imaging can also be used in some cases.
When it's Time to Consider Surgery for Sciatica
Most individuals with sciatica respond positively with non-surgical treatments like
chiropractic, physical therapy, acupuncture, medication, spinal injection/s, etc
. This makes
spine surgery a rarely needed treatment
for low back and leg pain caused by
sciatic nerve compression
.
But there are situations when surgery for sciatica could be beneficial.
With bowel or bladder dysfunction, this is also rare, but it can happen with spinal cord compression and cauda equina syndrome.
Spinal stenosis, where the doctor believes that surgery is the best approach.
There are neurologic dysfunctions like severe leg weakness
Symptoms become severe and non-surgical treatment is no longer effective
There are
different types of surgical procedures
for spine surgery. A spine surgeon will recommend the best approach for each patient's sciatica. Which procedure they recommend will be
based on the disorder causing sciatica
with the
entire procedure clearly explained so that you understand completely
.
Ask any questions to better understand
the surgeon's recommendation. Remember, the
final decision is always up to you.
A second opinion is recommended before deciding.
Sciatica usually goes away on its own with the majority of cases managed with conservative treatment. Depending on the cause, this could be
heat or ice packs, chiropractic, therapeutic massage, pain medication, stretching exercises, physical therapy, or injections
.
Sciatica for Surgery Options
Surgery for sciatica is performed to relieve the added compression/pressure on the nerves and relieve the pain. Options include a
microdiscectomy and laminectomy
. Each has its similarities and differences when it comes to the preparation, process, and recovery for the operation.
Microdiscectomy
During a
microdiscectomy
, part or all of the herniated disc is removed. Research has shown the effectiveness of relieving pain to be around 80 to 95 percent of patients. The operation is done in a hospital or surgery center and requires about one hour to complete.
General anesthesia
is administered during this procedure.
A surgeon will make an incision over the affected disc.
Skin and tissue covering the disc will be opened and moved for better access. Some of the bone could be taken out as part of the procedure called a laminotomy.
The surgeon will use various tools to remove all or part of the herniated disc.
Once the removal is done, the surgeon will close the incision and send you to a recovery room.
To quicken the healing process patients are encouraged to start walking within hours of the procedure.
Most go home the same day. Some patients will have to stay at the hospital for observation. This could be from other conditions present.
You will not be allowed to operate a vehicle the same day. Therefore a designated driver will be necessary.
Laminectomy
Preparation for a laminectomy is similar to a microdiscectomy.
The lamina is the back part of the vertebrae
, which protects the spinal canal. This procedure
relieves pain by creating space for the nerves to move around
.
The procedure takes about one to three hours from start to finish.
Both sides of the laminae are removed, along with the spinous process in the middle.
The patient lies face-down as the surgeon makes an incision near the affected vertebrae.
Skin and muscles are moved around and various tools/instruments are used to remove all or part of the lamina. Overgrowth of bone or spinal disc could also be removed.
The incision is stitched or stapled, bandaged, and sent to a recovery room.
Just like a microdiscectomy the individual will be encouraged to begin walking the same day.
Most individuals leave the hospital after surgery, however, a one to possible three-night could be required for others.
A driver does need to be designated for the ride home.
A
microdiscectomy is recommended for stenosis caused by a herniated disc
. However, if the s
tenosis is caused by another health issue/condition
like bone spurs developed from arthritis, then a laminectomy could be the best approach. Laminectomies are usually performed on individuals in their 50s or 60s. While micro discectomies vary when it comes to age but are usually performed on younger individuals.
Recovery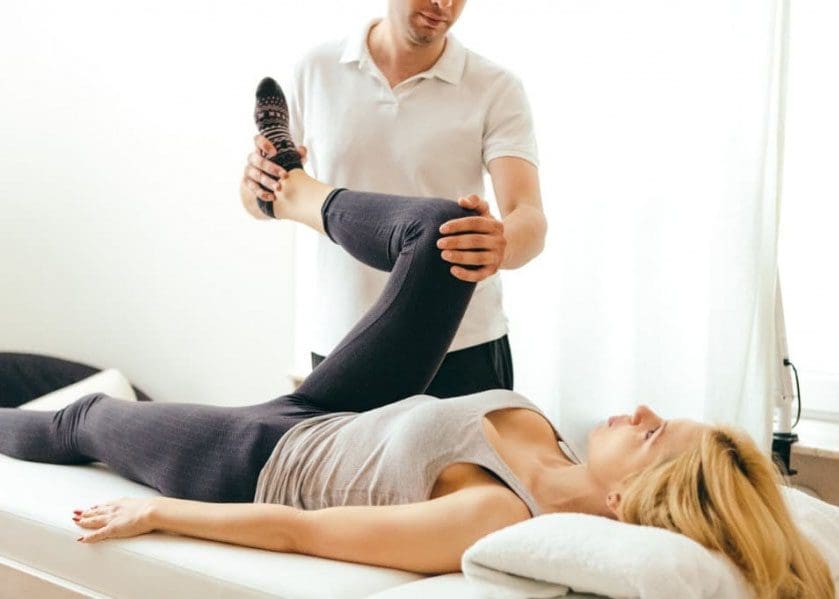 At home,
post-op rules need to be followed
no matter what surgery for
sciatica
was performed. The incision area needs to stay clean and no lifting of heavy objects, bending and sitting for extended times. Surgery for sciatica is considered safe with complications being uncommon. All operations come with risks. These include
nerve damage, blood clots, and infection.
The provider needs to know about unusual symptoms
after the procedure. This could be fever, excess drainage, or pain around the incision area. Pain meds could be prescribed to ease the post-surgery pain, and chiropractic along with physical therapy could be implemented to speed recovery. Individuals are typically cleared to return to work two to four weeks after the procedure. It could be six to eight weeks if their job/occupation is physically demanding and strenuous.
Depending on how complex the spine surgery is an individual could be sitting upright the same day and walking within 24 hours. A course of pain meds could be prescribed to help manage postoperative pain.
Instructions will be given
on how to
sit, rise, get out of bed, and stand
in a careful manner.
The body needs time to hea
l, so a doctor could recommend activity restriction. This could be anything that moves the spine too much. For sure contact sports, twisting, or heavy lifting during recovery are to be avoided. Report any problem/s like fever, increased pain, infection right away.
Spine Surgery Relief
Many individuals benefit from sciatica surgery, but it doesn't work for everyone. A small percentage of
individuals continue to feel discomfort in the weeks/months after
. And sciatica can return in the future and in a different location. Your healthcare provider can help you decide if surgery for sciatica is the right choice for you.
---
Treating Severe & Complex Sciatica Syndromes
---
Dr. Alex Jimenez's Blog Post Disclaimer
The scope of our information is limited to chiropractic, musculoskeletal, physical medicines, wellness, and sensitive health issues and/or functional medicine articles, topics, and discussions. We use functional health & wellness protocols to treat and support care for injuries or disorders of the musculoskeletal system. Our posts, topics, subjects, and insights cover clinical matters, issues, and topics that relate and support directly or indirectly our clinical scope of practice.*
Our office has made a reasonable attempt to provide supportive citations and has identified the relevant research study or studies supporting our posts. We also make copies of supporting research studies available to the board and or the public upon request. We understand that we cover matters that require an additional explanation as to how it may assist in a particular care plan or treatment protocol; therefore, to further discuss the subject matter above, please feel free to ask Dr. Alex Jimenez or contact us at 915-850-0900. The provider(s) Licensed in Texas& New Mexico*