Summer footwear, although light and comfortable can lead to low back pain. Individuals with low back pain conditions/issues should opt for custom flip-flops or sandals. A few tips on how to choose the right summer footwear and avoid back pain. With the temperature going up we're all ready to take out the shorts, t-shirts, and flip-flops or sandals. That's when
back pain can flare-up
.
There are a variety of things that can
generate back pain
like
improper posture, muscle spasms, and various medical issues
. However, everyday shoe choices can also impact the spine and cause back pain. NCBI
studies
backed by podiatrists have found that
unstable shoes, e.g., cheap flip-flops, and sandals can cause low back pain.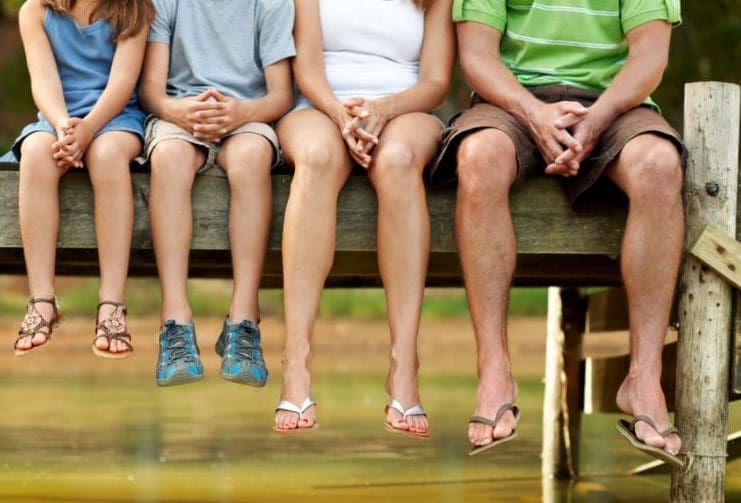 Improper footwear allows
biomechanical abnormalities
affecting the feet to be compounded and worsened. This leads to
increased pain in the knees, hips, and lower back
.
Accurately fitted shoes and orthotics
are some of the best footwear for lower back pain. While flip-flops and sandals unless they are orthotic based offer little to no support.
Summer Footwear Back Pain
Like any type of mechanical system, if there is something wrong in one area, other problem issues begin to arise in other areas. It is the same with the body. If there is an issue with the feet it can affect the knees and hips, rising up to the spine causing back pain.
Summer shoes can worsen any of these underlying issues that often individuals don't even know they had until they see a doctor for their back pain. This usually begins with the foot type. Those with
flat feet
tend to force the
muscles and tendons in the feet to work more
leading to tendinitis.
Arches that have fallen or dropped
and remain unsupported can lead to arthritis development in the knees and the wearing down of the
medial meniscus
.
Knees that do not function properly
place
added stress on the hips and lower back
. This
can lead to disc degeneration
of the intervertebral discs.
Foot Arch Type
Anatomical anomalies like fallen arches/flat feet and
high arches
can cause back pain differently.
Hyperpronation
happens in flat feet causing the arches to collapse. This places
more pressure on the inside of the legs and knees,
which creates more imbalance in the hips and low back.
Hyper supination
happens in high-arched feet causing the arches to rise. This places the pressure on the outside of the legs and knees, leading to muscle imbalances on the outside of the legs along with the hips and low back. Wearing
unsupportive shoes
like flip-flops, sandals, and heels
for a long time,
can cause back pain or make an existing condition worse.
Either
flat feet or high-arched feet
left untreated can lead to long-term injuries and
extended/over wear and tear
of the spine's vertebrae and intervertebral discs. Summer footwear choices can influence discomfort and back pain.
The Right Shoes
Summer footwear that doesn't generate back pain doesn't mean that you have to throw out the flip-flops. Look for shoes or flip-flops that are
highly durable, sturdy, that don't bend in the middle, and only at the toes
.
For those with flat feet look for sufficient arch support to prevent hyperpronation.
Pay attention to the details
of the shoes/flip-flops/sandals.
For example
,
added cushion, or ankle support
could mean the difference between pain and relief. There are sandals that have ankle straps to keep the feet in place. This prevents the feet from slipping out, provides better stability during walks, and can help prevent
tendinitis
.
It is better to avoid anything with a heel, especially sandals or flip-flops that have a
heel/high lift.
These force the individual to
shift their center of gravity forward
forcing the arching of the spine when standing
. This position definitely contributes to back pain.
Customized Footwear
Customized flip-flops or sandals that won't cause any back pain are available with the help of a
podiatrist or a chiropractor that helps and works with podiatrists.
3D-scans can be done to make fully-customized flip-flops that support the arches based on the scan.
The Difference Custom Foot Orthotics Makes
---
Dr. Alex Jimenez's Blog Post Disclaimer
The scope of our information is limited to chiropractic, musculoskeletal, physical medicines, wellness, and sensitive health issues and/or functional medicine articles, topics, and discussions. We use functional health & wellness protocols to treat and support care for injuries or disorders of the musculoskeletal system. Our posts, topics, subjects, and insights cover clinical matters, issues, and topics that relate and support directly or indirectly our clinical scope of practice.*
Our office has made a reasonable attempt to provide supportive citations and has identified the relevant research study or studies supporting our posts. We also make copies of supporting research studies available to the board and or the public upon request. We understand that we cover matters that require an additional explanation as to how it may assist in a particular care plan or treatment protocol; therefore, to further discuss the subject matter above, please feel free to ask Dr. Alex Jimenez or contact us at 915-850-0900. The provider(s) Licensed in Texas& New Mexico*