Spinal stimulation
is a treatment option that could help bring relief from pain and improve the quality of life for individuals dealing with chronic pain, like low
back
, and leg pain. Spinal stimulation can help reduce and manage
chronic pain
that does not alleviate or reduce with physical therapy, pain medications, injections, and other non-surgical treatments/therapies.
It is a form of
neuromodulation
that works by
blocking pain signals that the nerves send out
from reaching the brain. A
spinal stimulator
is a tiny device that is implanted underneath the skin. The
device delivers a very low electrical impulse
that masks/changes pain signals before they reach the brain.
A Spinal Stimulation System
Neurostimulator:
This is the
entire device that is implanted
and sends out electrical impulses through a lead wire to the nerves in the spine.
Lead:
The
thin wire that delivers the electrical impulses
from the neurostimulator.
Remote control:
This turns on/off the stimulator and
increases or decreases the amount of stimulation.
Charger:
Stimulators are rechargeable and normally require
recharging about one hour every two weeks.
Spinal Stimulator Types:
Traditional stimulators
These produce a gentle ringing/tingling sensation that masks the pain.
Burst stimulators
These send out random interval bursts of electrical impulses designed to copy the way the body sends out nerve impulses.
High-frequency stimulators
These reduce pain without generating tingling sensations.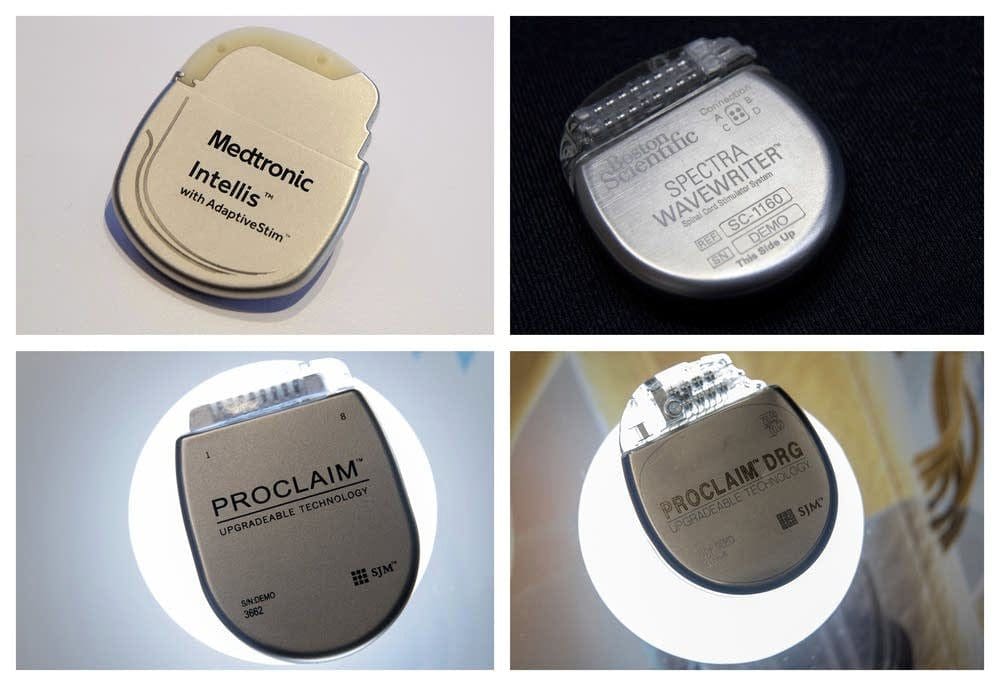 Types of Pain Spinal Stimulation Treats
Spinal stimulation is approved by the U.S. FDA to treat chronic back and leg pain, including
pain that doesn't go away after back surgery
known as
failed back surgery syndrome
.
Chronic neuropathic back and leg pain
are the most common types that stimulation treats. This means back or leg pain
caused by nerve damage
from:
Auto accident
Injury - personal, sports, work
Disease
Acute pain
is like stepping on a sharp piece of glass, where the pain serves as protection letting you know something is wrong and not to continue. Whereas
chronic neuropathic pain lasts for 3 months or more
and does not help protect the body.
Spinal stimulation is also used to treat
complex regional pain syndrome
or CRPS. This is a rare condition that affects the
arms/hands
or
legs/feet
and is believed to be
caused by damage or malfunction of the nervous system
. It is also used in treating
peripheral neuropathic pain
. This is damage to the nerves outside of the spinal cord often in the hands/feet that is caused by an:
Infection
Trauma
Surgery
Diabetes
Other unknown causes
Appropriate Treatment
Spinal cord stimulation should not be used in patients that are
pregnant
,
unable to operate the stimulation system
, went through a failed trial of spinal stimulation, and are at risk for surgical complications. The decision to use spinal stimulation is based on an individual's needs and risks.
Talk to a doctor, spine specialist, chiropractor to see if spinal stimulation could be an option.
Benefits and Risks
The effects of stimulation are different for everyone
. Therefore, it is important to understand that spinal stimulation can help reduce pain, but not completely eliminate it.
The Benefits of Spinal Cord Stimulation
In addition to reducing pain, other benefits of spinal stimulation include:
Better sleep
Improved body function
Increased activity
Improved mobility
Reduced opioid medication/s use
Less need for other types of pain meds
Reduced dependence on braces/bracing
Risks
During the implantation, there is a risk for:
Bleeding
Infection
Pain at the site of incision
Nerve damage
Rarely paralysis
For some individuals,
scar tissue can build up over the electrode
, which can
block the stimulator's electrical impulse
. The
lead wire could move or shift out of position
. This could lead to impulses being sent to the wrong location. The
device itself could shift under the skin
causing pain, making it hard to re-charge or communicate with the remote.
There is a risk that the lead wire could detach or break off causing a malfunction and require a replacement. Also,
individuals could respond well to the stimulation at first
, but later on, they
develop a tolerance
, and so the therapy no longer has the same impact and the pain could get worse because the nerves stop responding.
Take Precautions
Discuss with a
doctor, spine specialist, or chiropractor
what you
can
and
can't
do after the stimulator is implanted and activated. Here are a few precautions:
Do not drive or operate heavy equipment when the stimulator is active.
Stimulation systems could set off metal detectors, which could require manual screening.
MRIs, electrocautery, diathermy, defibrillators, and cardiac pacemakers could have
a
negative interaction
with certain types of stimulators. This could result in injury or damage to the spinal stimulator. Talk to your doctor to determine if a spinal stimulator is a treatment option that will work for you.
---
Weight Loss Techniques - Push Fitness Center
---
Dr. Alex Jimenez's Blog Post Disclaimer
The scope of our information is limited to chiropractic, musculoskeletal, physical medicines, wellness, and sensitive health issues and/or functional medicine articles, topics, and discussions. We use functional health & wellness protocols to treat and support care for injuries or disorders of the musculoskeletal system. Our posts, topics, subjects, and insights cover clinical matters, issues, and topics that relate and support directly or indirectly our clinical scope of practice.*
Our office has made a reasonable attempt to provide supportive citations and has identified the relevant research study or studies supporting our posts. We also make copies of supporting research studies available to the board and or the public upon request. We understand that we cover matters that require an additional explanation as to how it may assist in a particular care plan or treatment protocol; therefore, to further discuss the subject matter above, please feel free to ask Dr. Alex Jimenez or contact us at 915-850-0900. The provider(s) Licensed in Texas
& New Mexico