Being physically fit does not mean t
raining for a triathlon.
Regular light exercise/activity is all that is needed.
Just going for a 30-minute walk around the neighborhood or playing a 20-minute game regularly is highly beneficial to your health. And t
he more active you are the better for your health.
Skating

Bicycling

Jogging

Swimming

Walking

Playing
Regular Activity
Whatever the activity, so long as you get at least 20 minutes of exercise a day will go along way in the future.
Regular activity/exercise can help prevent diseases and injuries, which include
osteoporosis
.
Nothing crazy, just begin to work some activity little by little into a routine. One way is after some
sitting work/schoolwork
once the brain has had enough is the perfect time to go outside and move around. Do some chores that require physical movement, like vacuuming, sweeping, hanging laundry, etc and turn it into a workout. A daily routine of
light to moderate physical activity
strengthens and maintains the body by helping to:
Build healthy bones, muscles, and joints
Control weight
Build lean muscle
Reduce overall body fat
Prevent the development of high blood pressure hypertension
Here are a few suggestions on
how to get 20-30 minutes of daily exercise/activity.
Try an online fitness class.
Check out your local gym for online to see what classes are available.
Family time can become a fun activity/exercise time.
Take a walk with the family, as many are already doing, play basketball, soccer, or other favorite sport together.
Invite friends to be physically active online, maybe playing a workout video game and workout together.
If regular physical activity is difficult or you have a medical condition,
consult your doctor to recommend the appropriate amount of physical activity and exercises that are safe
to perform. But if you are a healthy person, but have not exercised for a while then try for 30 minutes of physical activity a day to keep you healthy and strong.
Core Exercises That Help With Back Pain
Here are some examples of
abdominal exercises
that can help develop strong abs and help with back pain prevention. These exercises and the number of repetitions are only suggestions. Talk to your doctor before trying these exercises, and remember to listen to your body. If it doesn't feel right, stop right away.
Elbow Planks
Lie down on your stomach with your body straight.
Elbows should be at 90-degrees and close to the body's sides.
Rest the forearms on the floor and interlace the fingers.
Gently push your body up using the forearms.
Don't' let the back fall/drop.
Stay straight.
Engage the core muscles during the entire movement.
Hold this position for 30 seconds, release, and repeat 3 times.
Do this once a day.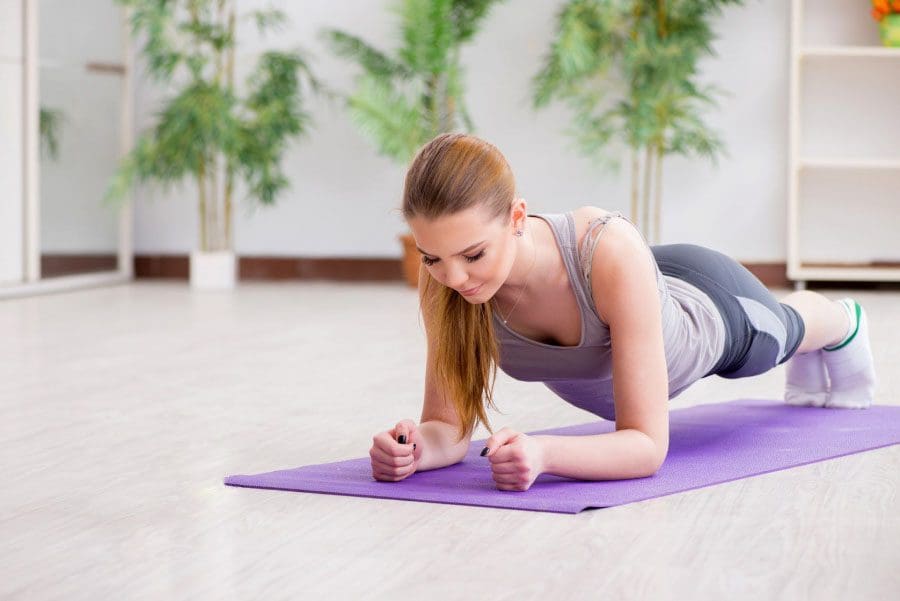 Crunches
Lie on your back with the knees bent and the feet flat on the floor, about hip-distance.
Interlace the fingers of your hands behind your head with the elbows out wide.
Inhale and then as you exhale, use the abdominal muscles and not the neck muscles to slowly raise the head, neck, and back off the floor.
Inhale and slowly lower the upper body back to the floor, and repeat.
Try for 3 sets of 10 crunches every day.
Push-ups
Lie down on the stomach so your body is straight.
Place the hands on the floor a little higher/further than the shoulders.
The hands should be wider than the shoulders.
Lift your body so that you're balanced on the hands and toes.
Maintain a straight back, lower your body to the floor, and slowly bend your elbows until at 90 degrees.
Push back up using arm strength, upper back, and chest muscles, and repeat.
Try for 3 sets of 10 every day.
Once the body becomes stronger, you can go for more reps.
Doing these along with other core exercises you will notice your core strength leading to overall and optimal body strength. Other exercise forms that can help develop core strength while keeping the spine safe are
yoga and Pilates
. A good idea is to work with a
physical therapist/chiropractor that can create a specifically targeted exercise plan
that involves core strengthening and flexibility exercises to keep the spine healthy and help maintain proper posture.
---
Correct Bad Posture with Custom Foot Orthotics
---
NCBI Resources