Elderberry is an ancient plant that has been used for medicinal purposes for centuries. In today's world of medicine, Elderberry is most commonly used to treat cold and flu symptoms. However, Elderberry can also help to reduce headaches, inflammation, and even sciatica.
What Is Elderberry?
Elderberry is a genus of flowering plants. The most common is a tree. All parts of the tree can be consumed and used for health benefits. The flowers are typically white or cream-colored and can be eaten raw or cooked.
The berries have a tendency to be tart and are safest to consume when cooked. The tree bark has also been used as a diuretic.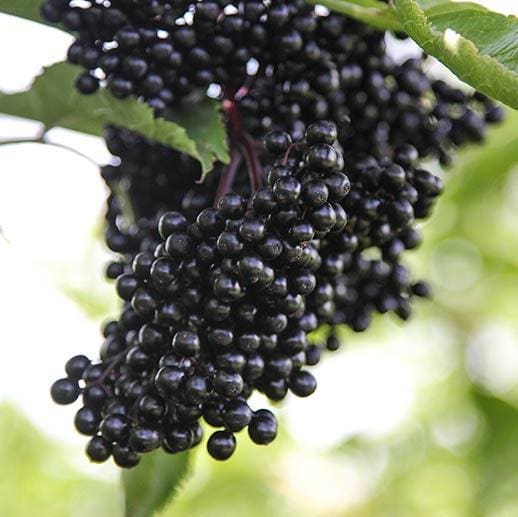 Do You Have These Symptoms?
Inflammation?
Shaky, agitated, have tremors?
Suffering from flu and cold-like symptoms?
Abdominal swelling?
Immune problems?
How Can EdlerBerry Help?
Not feeling well is one of every individual's least favorite things. It can range from coming down with a cold or flu, inflammation, or simply just a headache. All in all, when one these strikes, the first questions we ask ourselves is, "What I can take to relieve this?".
Elderberries have been used to give the body extra immunity due to their health-promoting properties. Just like any other berry, Elderberries are high in antioxidants. The antioxidant properties Elderberry contains is what gives it most of its power.
Humans develop oxidative stress, and when the oxidative stress levels become elevated, the chances for developing diseases such as type 2 diabetes increase. Elderberry can help to reduce the levels of oxidative stress in the body.
Another great quality of Elderberries' antioxidant power is the reduction of inflammation. There was a study done that showed after consumption of elderberry juice, the inflammation and oxidative tissue damage became reduced.
In addition to their high antioxidant value, they contain 60% of the daily recommended intake for Vitamin C.
Elderberry also contains polyphenols, which have been shown to help increase white blood cell count, thus supporting the immune system!
Benefits
There are many products that contain Elderberry to help individuals suffering from headaches, inflammation, and cold and flu symptoms. The company Xymogen makes products that are all-natural, vegan, and free of dairy, soy, and wheat. They have a product containing Elderberry that when taken at the first sign of a cold, can help reduce symptoms and the length of the cold. We are happy to have this amazing product and to be able to provide it to patients.
In total, Elderberries are an all-natural way to overcome not only the cold and flu season but to boose immunity all around. They can also be taken as a preventative measure to help with inflammation.
Elderberry is a great product! It is more of a holistic product and can be used to help patients feel better and recover from inflammation as well as cold and flu symptoms faster. I personally love the fact that is all-natural because the fewer chemicals that enter the body the better. In addition to it being all-natural, I also give elderberry to my young son to help him through cold and flu season and love the fact that I know the ingredients his medicine contains is not harmful. - Kenna Vaughn, Senior Health Coach
The scope of our information is limited to chiropractic, musculoskeletal, and nervous health issues or functional medicine articles, topics, and discussions. We use functional health protocols to treat injuries or disorders of the musculoskeletal system. Our office has made a reasonable attempt to provide supportive citations and has identified the relevant research study or studies supporting our posts. We also make copies of supporting research studies available to the board and or the public upon request. To further discuss the subject matter above, please feel free to ask Dr. Alex Jimenez or contact us at

915-850-0900

.
References:
"Elderberries, Raw Nutrition Facts & Calories." Nutrition Data Know What You Eat., nutritiondata.self.com/facts/fruits-and-fruit-juices/1883/2.
Jimenez, Alex. "Why The Immune System Needs Elderberry." El Paso, TX Doctor Of Chiropractic, 21 Dec. 2019, www.dralexjimenez.com/why-the-immune-system-needs-elderberry/.
Mandl, Elise. "Elderberry: Benefits and Dangers." Healthline, 8 Mar. 2018, www.healthline.com/nutrition/elderberry.
Tiralongo, Evelin, et al. "Elderberry Supplementation Reduces Cold Duration and Symptoms in Air-Travellers: A Randomized, Double-Blind Placebo-Controlled Clinical Trial." Nutrients, MDPI, 24 Mar. 2016, www.ncbi.nlm.nih.gov/pmc/articles/PMC4848651/.