Physical therapists or PT's
are healthcare professionals that help
treat/rehabilitate
patients of all ages with various types of injuries.
Personal
Work
Sports
Auto Accidents
A primary care
physician, physiatrist, orthopaedist, spine surgeon, or neurosurgeon
may refer an individual to a physical therapist as part of a non-surgical
treatment
plan.
A physical therapy program may be an integral part of your after-care following surgery.
PTs practice in various settings like:
Chiropractic clinics
Outpatient clinics
Hospitals
Rehabilitation centers
Gym/Fitness centers
Nursing homes
Wellness Centers
Physical Therapy
Physical therapy aims to:
Improve/maintain functional ability
Build physical strength/endurance
Reduce pain
Prevent further injury
Therapists teach patients how to:
Exercise safely
Improve physical fitness
Move safely
Biomechanics
Ergonomics
Injury prevention
Physical therapists also help patients with physical disabilities like spinal cord injury.
It includes active and passive treatments the therapist administers to the patient.
Treatments include:
Ultrasound
Massage
Myofascial release
Ice
Heat
Some treatments are done prior to active
therapeutic exercise
.
Conditions therapists treat
Sciatica
Whiplash
Rheumatoid arthritis
Degenerative disc disease
Spondylosis (spinal arthritis)
Post spine surgery therapy
Therapists want to help patients
rebuild strength, flexibility, and endurance after any type of intense surgery
, as well as help with any
specific physical necessities
related to post-surgery.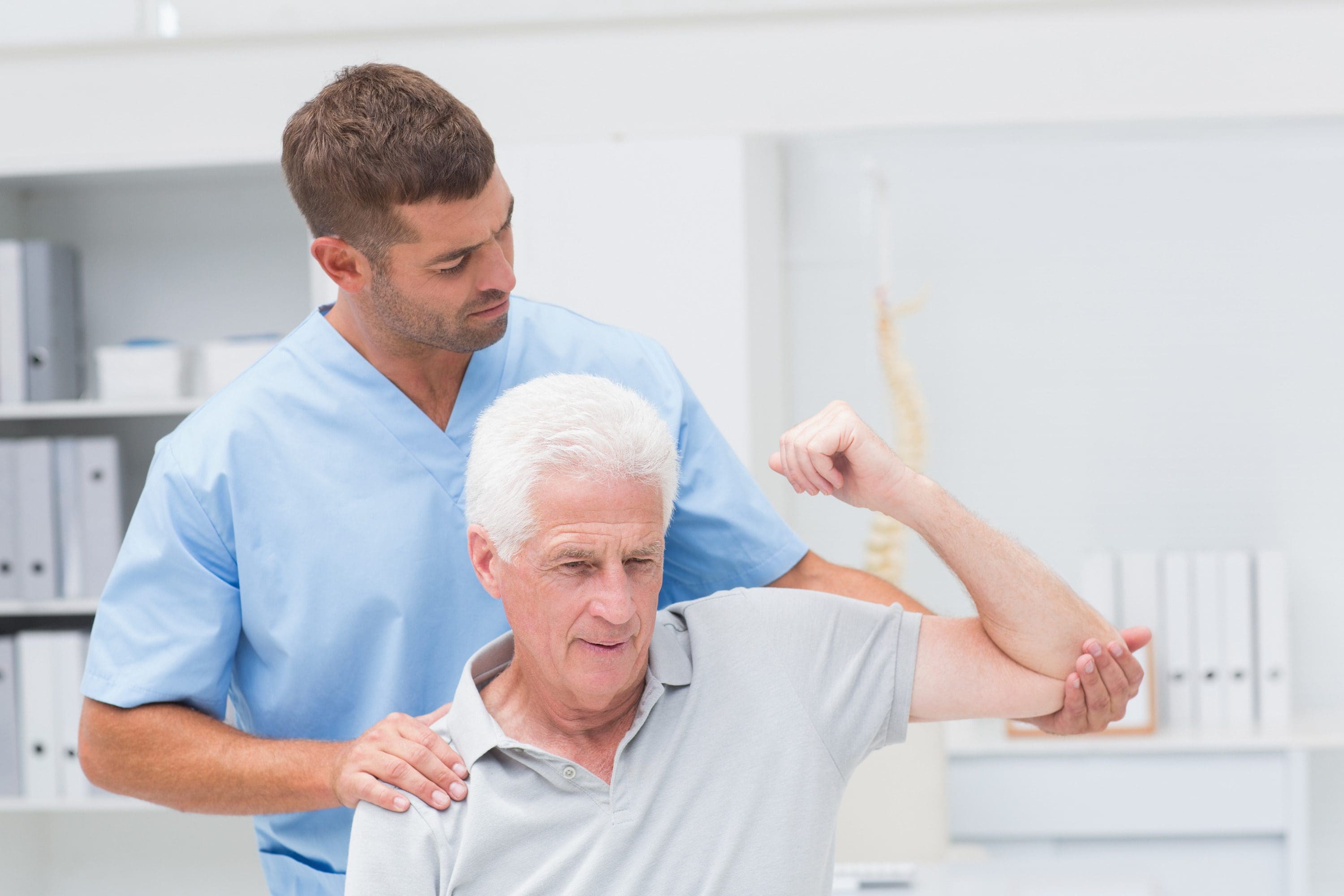 Team Care
Therapists often work directly for or with a doctor/chiropractor to coordinate a treatment plan.
A doctor may send the therapist:
Diagnosis
Current medications
Imaging/scan results
During the consultation, the physical therapist talks about
medical history, diagnosis, and symptoms.
This can include:
Conditions
Medications being taken
Diet
Supplements
Type of Pain like:
The location of the pain that will also include:
Severity
Type
Factors that decrease or increase pain
Training
Physical therapists have completed an
accredited physical therapy program
and passed a
required state licensing examination.
In the United States, physical therapy programs are accredited by the
Commission on Accreditation in Physical Therapy Education
.
The program includes:
Academic learning
Medical ethics
Evidence-based medicine
Clinical application
Therapists graduate with a
Doctor of Physical Therapy (DPT) degree.
The American Board of Physical Therapy Specialties through a series of classes/tests therapists can become board-certified specialists in specific areas like:
Orthopedics
Pediatrics
Geriatrics
Sports
These are just a few, but there are many areas of specialization.
Physical Therapist
Many states allow individuals to go to a physical therapist without a referral from a doctor.
Definitely ask your doctor for a recommendation, but also think about what you want in a therapist.
Things to consider:
Physical therapist's education/training background
Do they treat my condition regularly
Will my insurance cover the therapy
How many sessions will I need
Will, there be a customized home treatment plan
Male or female physical therapist, which is right for you
Take Charge
Physical therapists are valuable
healthcare professionals and members of the medical community.
Physical therapy can be challenging but don't let that get you down, because
they will help get you back to optimal health, along with building a stronger, healthier body.
---
Whiplash Chiropractic Massage Therapy El Paso, TX.
Physical therapist Sandra Rubio describes how whiplash-associated disorders resulting from an automobile accident can cause symptoms of neck pain.
An injury to the cervical spine can damage the complex structures of the neck, including:
Vertebrae
Intervertebral discs
Soft tissues
Tendons
Ligaments
Muscles
Neck pain can come from various structures in the neck including vascular, nerve, airway, digestive, and musculature or it can originate from other areas of the human body.
Most cases can be treated with assistance or
using self-help suggestions and techniques.
---
NCBI Resources
Physical therapy includes both active and passive treatments. Passive treatments help to unwind the body and the physique. As an individual does not need to actively participate, they're known as passive. A physical treatment program may begin with treatments that are passive, but the goal is to get into treatments that are more active.