The most common cause of hypothyroidism is Hashimoto's thyroiditis (or autoimmune hypothyroidism), a form of thyroid inflammation caused when your own immune system attacks your thyroid gland.
What causes hypothyroidism and autoimmune disease Hashimoto's thyroiditis?
But this is not the only cause of hypothyroidism, how or why the disease has been developed by you, might be caused by a variety of reasons. This report gives an explanation of each one of the probable causes of hypothyroidism.
Hashimoto's Thyroiditis
Hashimoto's thyroiditis is a common disorder. It affects as many as 10 million people in the US alone, and roughly 10 percent of women over age 30 have Hashimoto's thyroiditis (the disorder affects women ten times more than males).
Hashimoto's thyroiditis is characterized by thyroid inflammation because of the body's own immune system attacks on the thyroid gland. This causes the tissue of the thyroid to gradually decay, which directly affects the thyroid's ability to function properly. This will result in hypothyroidism because the thyroid gland will then not be able to make the sufficient quantity of thyroid hormone that the body needs to function optimally.
When the body's immune system attacks its own healthier tissue, it is called an autoimmune disease. If you have symptoms of migraines, and have an autoimmune disorder, such as Addison's disease, type 1 diabetes, or rheumatoid arthritis, you need to talk to a healthcare professional right away to properly diagnose you.
Problems with the Thyroid Itself
If your thyroid was surgically removed, you'll also most likely develop hypothyroidism. Before you even begin to experience hypothyroid symptoms your health care provider will start you on a course of hormone replacement therapy. Hypothyroidism may also be caused by congenital thyroid agenesis (being born with no thyroid), and also the degradation of the thyroid by radioactive iodine (radioactive iodine therapy is a common treatment for thyroid cancer patients and patients with hyperthyroidism).
Drugs & Medications
Some medicines may cause hypothyroidism, for example:
Amiodarone: Used to treat heart rhythm conditions, this drug has a high iodine content, which may inhibit the synthesis and release of thyroid hormones and also affect the conversion of T4 to T3, causing hypothyroidism in 5-20% of the patients. Iodine is crucial to thyroid health, but too much or too little can make it stop working.
Anti-thyroid medicines: These medications treat overactive thyroid glands. Doctor oversight is highly important, as taking these drugs at too high a dose can lead to hypothyroidism.
Interferon-alpha: Patients with certain malignant tumors, as well as those with hepatitis C and B, use this medication. A small quantity of individuals develop a thyroid disease, such as hypothyroidism.
Interleukin-2 (IL-2): This medicine may be prescribed to individuals with some metastatic cancers and leukemia. Approximately 2% of patients on this medication develop a thyroid disease.
Lithium: This medication treats depression and bipolar disease. However, because lithium slows the release and creation of thyroid hormones, hypothyroidism is developed by a substantial number of patients, up to 20-30%.
Abnormal Growths in the Thyroid
It's possible that abnormal growths may "invade" the thyroid gland and choose the place of healthy tissue. There are and one instance is an autoimmune disorder called sarcoidosis. Through the entire body , inflamed tissue forms in sarcoidosis. This inflammation can replace. This finally leads to hypothyroidism.
Problems in the Pituitary Gland
An uncommon cause of hypothyroidism may have little do to with the true thyroid gland and more related to the gland that actually controls it, the pituitary gland. A problem from the pituitary gland (such as a tumor) can impact its ability to produce thyroid gland hormones (TSH). Without TSH, the thyroid won't produce and secrete the proper thyroid hormones because it doesn't have the correct "signal" in the pituitary gland.
Genetic Defects
In rare situations, the genes which regulate thyroid hormones might be damaged. This impacts thyroid hormone production, thus. Most causes of hypothyroidism are apparent at birth or early infancy.
Though Hashimoto's thyroiditis is the most frequent cause of hypothyroidism, you may have developed the disease a variety of different ways. What is most important is to begin talking about the next steps to take with your healthcare professional. They will help you to get started on a treatment program that can handle your symptoms.
Symptoms of Hypothyroidism
The most common thyroid disorder is hypothyroidism. Hypo- signifies deficient or under(active), therefore hypothyroidism is an underactive thyroid gland. Recognizing the symptoms of hypothyroidism is important. The earlier you detect the symptoms, the earlier you can receive treatment to manage the disorder.
Common Signs of Hypothyroidism
Below are major symptoms associated with hypothyroidism.
Fatigue
Weakness
Weight gain or difficulty losing weight (despite reduced food intake)
Coarse, dry hair and dry skin
Hair loss
Sensitivity to cold
Muscle cramps and aches
Constipation
Depression
Irritability
Memory loss
Abnormal menstrual cycles
Decreased libido
Slowed speech (severe cases)
Jaundice (severe cases)
Increase in tongue size (severe cases)
You do not need to encounter every one of those symptoms to be diagnosed with hypothyroidism. Every individual's encounter with the disease differs. Even though you might see that your skin and hair are very dry and rough, another patient may be plagued by fatigue and depression.
The thyroid gland hormone (TSH) levels reflects the severity of the hypothyroidism. For example, if you have a TSH level that is relatively lower and a moderate form of hypothyroidism, you may not detect or even have symptoms. That is because your hormone levels haven't decreased to the point of causing a big imbalance in the body. The further hypothyroid you become, the more symptomatic you'll be. The signs of hypothyroidism aren't always noticeable, but it is vital that you know what to be aware of. Recognizing hypothyroidism on will allow you to manage the disease.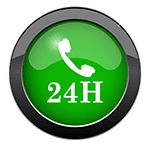 The scope of our information is limited to chiropractic and spinal injuries and conditions. To discuss options on the subject matter, please feel free to ask Dr. Jimenez or contact us at
915-850-0900
.
By Dr. Alex Jimenez
Additional Topics: Wellness
Overall health and wellness are essential towards maintaining the proper mental and physical balance in the body. From eating a balanced nutrition as well as exercising and participating in physical activities, to sleeping a healthy amount of time on a regular basis, following the best health and wellness tips can ultimately help maintain overall well-being. Eating plenty of fruits and vegetables can go a long way towards helping people become healthy.