For individuals looking to increase their antioxidant, fiber, and vitamin intake, can adding pomegranates to their diet help?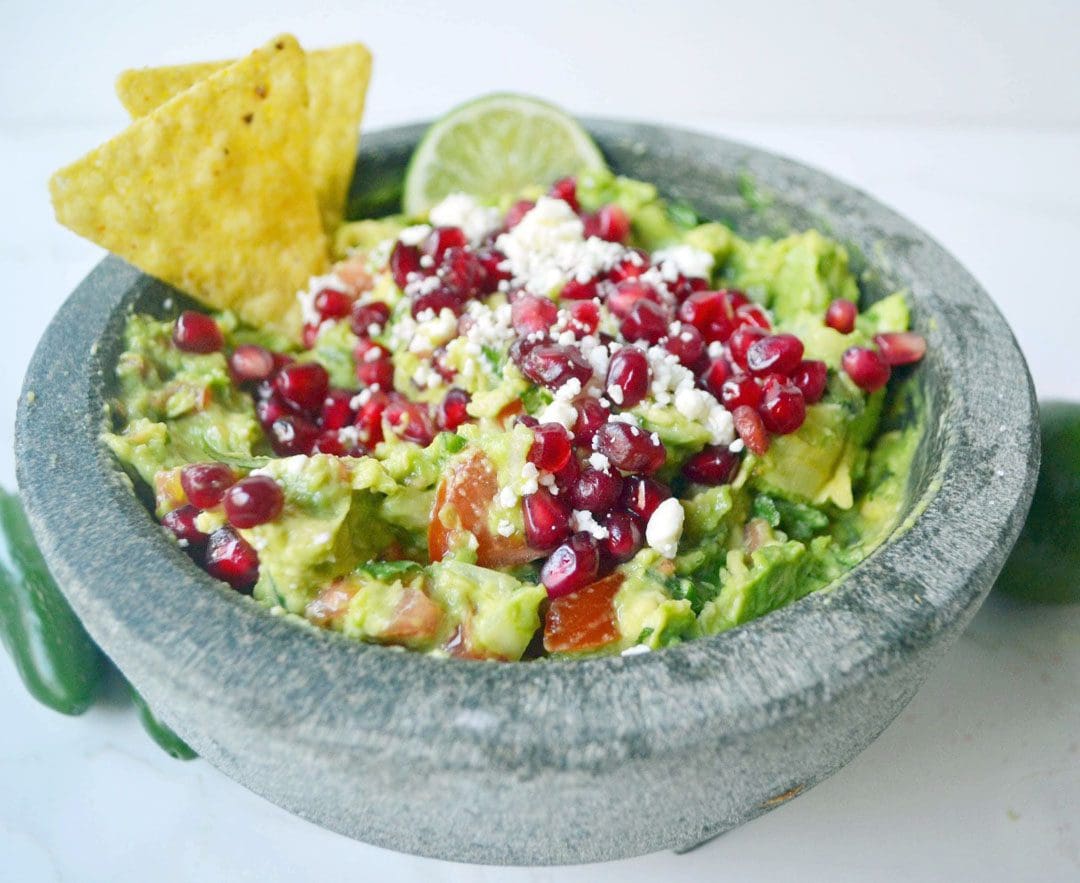 Pomegranates
Pomegranates can amplify various dishes, from breakfasts to sides to dinners, with their balanced blend of mild sweetness, tartness, and crunch from their seeds.
Health Benefits
The fruit has been found to be a healthy source of vitamins, fiber, and antioxidants. A medium-sized fruit contains:
Ways to use a pomegranate include:
Guacamole
Stir in some pomegranate arils before serving. They will provide an unexpected crunch that contrasts deliciously with guacamole's smoothness.
Mash 2 ripe avocados
Mix in 1/4 cup diced red onion
1/4 tsp. salt
1 Tbsp. lemon juice
2 cloves garlic - minced
1/2 cup chopped fresh cilantro
Stir in 1/4 cup pomegranate arils
Serves 6
Nutrition per serving:
144 calories
13.2 grams fat
2.8 grams of saturated fat
103 milligrams sodium
7.3 grams carbs
4.8 grams fiber
1.5 grams protein
Smoothie
Smoothies provide extra nutrition and a healthy snack.
In a blender, mix 1/2 cup pomegranate arils
1 frozen banana
1/4 cup low-fat Greek yogurt
2 tsp. honey
Splash of orange juice
Pour into a glass and enjoy!
Nutrition per serving:
287 calories
2.1 grams fat
0.6 grams of saturated fat
37 milligrams sodium
67.5 grams carbs
6.1 grams fiber
4.9 grams protein
Oatmeal
Enhance oatmeal as pomegranates bounce off other fruits, sweeteners, and butter nicely.
Prepare 1/2 cup oats
Stir in 1/2 of a medium banana, sliced
1 Tbsp. brown sugar
2 Tbsp. pomegranate arils
1/2 tsp. ground cinnamon
Nutrition per serving:
254 calories
3 grams fat
0.5 grams of saturated fat
6 milligrams sodium
52.9 grams carbohydrates
6.7 grams fiber
6.2 grams protein
Brown

Rice

Another way to use pomegranates is on rice.
Cook 1 cup brown rice.
Toss with 1/4 cup pomegranate arils
1 Tbsp. olive oil
1/4 cup chopped, toasted hazelnuts
1 Tbsp. fresh thyme leaves
Salt and pepper to taste
Makes 4 servings
Nutrition per serving:
253 calories
9.3 grams fat
1.1 grams of saturated fat
2 milligrams sodium
38.8 grams carbohydrates
2.8 grams fiber
4.8 grams protein
Cranberry Sauce
Make a tangy and crunchy cranberry sauce.
In a medium saucepan, combine 12 oz. fresh cranberries
2 cups pomegranate juice
1/2 cup granulated sugar
Cook over medium heat - adjust if the mixture gets too hot
Stir frequently for about 20 minutes or until most of the cranberries have popped and released their juice.
Stir in 1 cup pomegranate arils
Serves 8
Nutrition per serving:
97 calories
0.1 grams fat
0 grams of saturated fat
2 milligrams sodium
22.5 grams carbohydrates
1.9 grams fiber
0.3 grams protein
Infused Water
A fruit-infused water can help reach proper hydration.
Place 1 cup pomegranate arils
1/4 cup fresh mint leaves in the insert of a 1-quart infuser water bottle
Mix lightly
Fill with filtered water
Refrigerate for at least 4 hours to let flavors steep
Serves 4
Each serving will offer only trace amounts of nutrients, which depend on how much pomegranate juice infuses into the water.
For any questions about more specific nutrition goals or how to achieve them, consult the Injury Medical Chiropractic and Functional Medicine Clinic Health Coach and/or Nutritionist.
---
Healthy Diet and Chiropractic
---
The information herein is not intended to replace a one-on-one relationship with a qualified healthcare professional or licensed physician and is not medical advice. We encourage you to make healthcare decisions based on your research and partnership with a qualified healthcare professional. Our information scope is limited to chiropractic, musculoskeletal, physical medicines, wellness, sensitive health issues, functional medicine articles, topics, and discussions. We provide and present clinical collaboration with specialists from various disciplines. Each specialist is governed by their professional scope of practice and their jurisdiction of licensure. We use functional health & wellness protocols to treat and support care for the injuries or disorders of the musculoskeletal system. Our videos, posts, topics, subjects, and insights cover clinical matters, issues, and topics that relate to and directly or indirectly support our clinical scope of practice.* Our office has reasonably attempted to provide supportive citations and identified the relevant research studies or studies supporting our posts. We provide copies of supporting research studies available to regulatory boards and the public upon request.
We understand that we cover matters that require an additional explanation of how it may assist in a particular care plan or treatment protocol; therefore, to further discuss the subject matter above, please contact Dr. Alex Jimenez or contact us at 915-850-0900.
Dr. Alex Jimenez DC, MSACP, CCST, IFMCP*, CIFM*, ATN*
email: coach@elpasofunctionalmedicine.com
Licensed in: Texas & New Mexico*
References
FoodData Central. U.S. Department of Agriculture. (2019) Pomegranates, raw.
Zarfeshany, A., Asgary, S., & Javanmard, S. H. (2014). Potent health effects of pomegranate. Advanced biomedical research, 3, 100. https://doi.org/10.4103/2277-9175.129371