A joint is where two bones meet. The two sacroiliac or SI joints connect the spine, pelvis, and hips. This strong joint balances and transmits stress from the upper body to the pelvis and legs. The joints can suffer a sprain causing pain and discomfort symptoms. There can also be the feeling of tightness wrapping around the waist and dull aching across the low back as the surrounding muscles tighten up as a form of protection, also known as muscle guarding. A correct diagnosis is vital to avoid any potentially serious complications. Chiropractors are experts on neuromusculoskeletal problems and can treat, heal, and strengthen the body through various MET, mobilization, and manipulation techniques.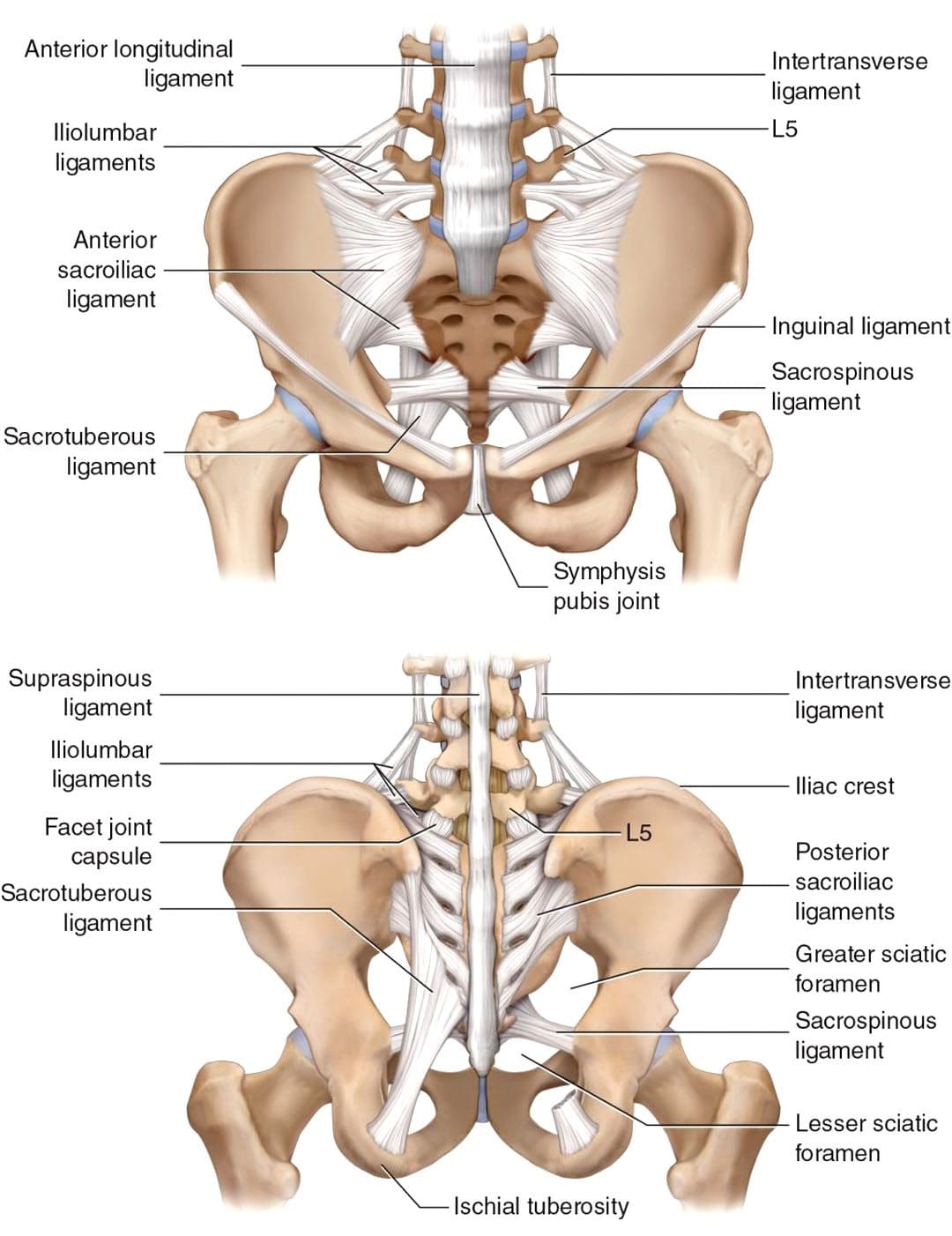 Sacroiliac Sprain
The main function is to balance the upper and lower body forces. The sacroiliac joints are surrounded by muscle, connective tissue, nerves designed to withstand large stresses and a complex system of ligaments, further strengthening the joints.
Injury Causes
Sacroiliac sprains can be caused by direct trauma to the pelvis from a fall or automobile collision or jobs and sports that involve a lot of bending and twisting. However, sometimes there is no distinct cause. Common causes include:
Repetitive microtrauma is excessive/repetitive movements like prolonged twisting, bending, or lifting at work, home, physical activities, and sports.
The joint can be pushed out of alignment.
Muscular imbalance or weakness in the muscles surrounding the sacroiliac joints can cause problems to develop over time, presenting little or no symptoms.
The tissues around a sacroiliac joint also can be stretched or torn.
Trauma such as a fall or road traffic accidents
Problems with the hips, knees, and feet can generate increased pressure on the joint, which can become painful over time due to repetitive strain.
Pregnancy hormones released to promote pelvis relaxation can increase the risk of SI sprain injury.
Excessive stress on the joint can cause microscopic damage to the ligaments surrounding the joint. The joint then becomes inflamed and presents with pain and sensations of discomfort. The body responds by contracting the muscles to prevent further damage. However, the muscle spasms may not stop, resulting in more pain. Referred pain is common from the muscles that go into spasm, with the most affected being the piriformis, gluteal/buttock, and psoas muscles.
Signs and Symptoms
Tenderness over the affected joint and area.
Pain symptoms on one or both sides above the joints and into the buttocks.
Standing or working with increased weight on one leg increases pain symptoms.
Pain after lifting or twisting that develops a little while later.
Pain travels to the back of the leg, front of the thigh, and the groin.
Pain gets worse when sitting and bending forward.
Lying down eases the symptoms.
Most cases report no loss of strength, tingling, or numbing sensations.
Chiropractic Treatment
Chiropractic treatment will relieve the pain symptoms, but there are stages of treatment, each with specific goals before moving to the next.
The objective of the initial stage is to decrease pain and inflammation.
The second stage is stabilizing and restoring proper musculoskeletal function.
Rehabilitation and targeted stretches and exercises will be introduced as the treatment continues.
In the maintenance stage, there should be no pain, and the individual should be able to perform normal daily activities and return to normal life.
Recovery time for a sacroiliac sprain can be 4-6 weeks but can take months to heal completely.
---
Chiropractic Approach for Pain Relief
---
The information herein is not intended to replace a one-on-one relationship with a qualified healthcare professional or licensed physician and is not medical advice. We encourage you to make healthcare decisions based on your research and partnership with a qualified healthcare professional. Our information scope is limited to chiropractic, musculoskeletal, physical medicines, wellness, sensitive health issues, functional medicine articles, topics, and discussions. We provide and present clinical collaboration with specialists from various disciplines. Each specialist is governed by their professional scope of practice and their jurisdiction of licensure. We use functional health & wellness protocols to treat and support care for the injuries or disorders of the musculoskeletal system. Our videos, posts, topics, subjects, and insights cover clinical matters, issues, and topics that relate to and directly or indirectly support our clinical scope of practice.* Our office has reasonably attempted to provide supportive citations and identified the relevant research study or studies supporting our posts. We provide copies of supporting research studies available to regulatory boards and the public upon request.
We understand that we cover matters that require an additional explanation of how it may assist in a particular care plan or treatment protocol; therefore, to further discuss the subject matter above, please contact Dr. Alex Jimenez or contact us at 915-850-0900.
Dr. Alex Jimenez DC, MSACP, CCST, IFMCP*, CIFM*, ATN*
email: coach@elpasofunctionalmedicine.com
Licensed in: Texas & New Mexico*
References
BIDWELL, A M. "Treatment of sacroiliac sprain by manipulation." The Medical World vol. 65,1 (1947): 14-6.
Evans, P. "Sacroiliac sprain." American family physician vol. 48,8 (1993): 1388; author replies 1390.
LeBlanc, K E. "Sacroiliac sprain: an overlooked cause of back pain." American family physician vol. 46,5 (1992): 1459-63.
Sun, Chao, et al. "Cost and outcome analyses on the timing of first independent medical evaluation in patients with a work-related lumbosacral sprain." Journal of Occupational and environmental medicine vol. 49,11 (2007): 1264-8. doi:10.1097/JOM.0b013e318156ecdb