Maintaining a healthy and well-balanced nutritional plan is recommended for overall health. When the body is nourished healthily, it will perform optimally. Stress is part of daily life, and certain foods can enhance the body's ability to handle stress, help target physical and emotional states, and protect the brain. The Injury Medical Chiropractic and Functional Medicine Clinic Team can provide therapeutic massage to increase circulation, and relax the mind and body, adjustments to restore any misalignments, and nutritional support and health coaching for total wellness.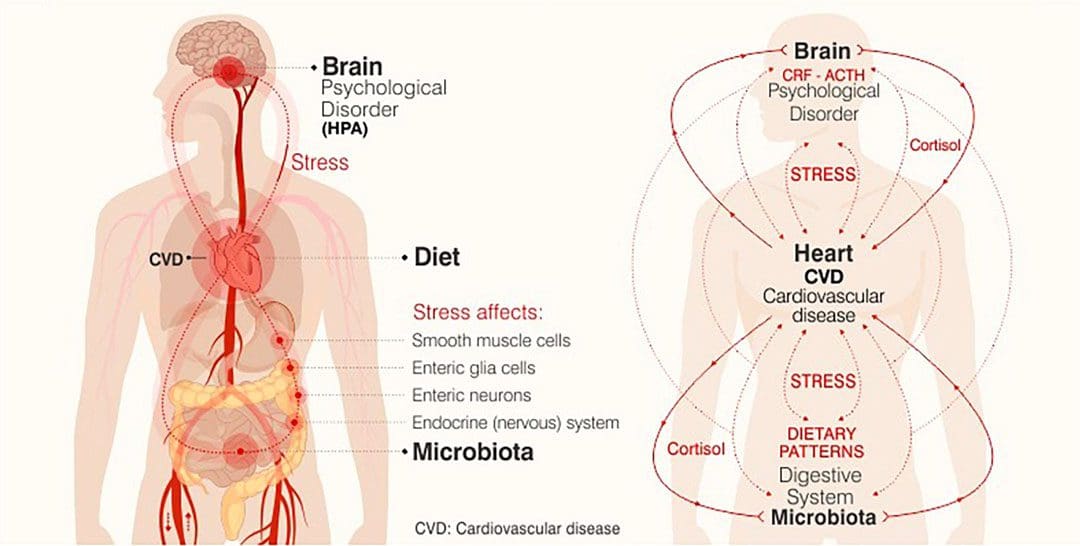 Foods For Stress
Anxiety is a widespread condition affecting millions of individuals. Trying to lower stress levels includes self-care, sleep management, physical activity, and incorporating foods to reduce cortisol levels, the primary hormone responsible for stress.
Cortisol
Cortisol has a variety of functions that include:
Manages how the body uses carbohydrates, fats, and proteins.
Sleep cycle regulation.
Blood pressure regulation.
Increases blood sugar.
Decreases inflammation.
Cortisol is sometimes known as the stress hormone because the adrenal gland releases it when experiencing stress or when the body is under physical stress/inflammation. It is the key to managing the fight-or-flight instinct and is healthy for a short period as a protective mechanism providing the energy needed to respond to short-term stress. However, the long-term release of cortisol generates tension in the body, leading to chronic inflammation and raised blood pressure. Learning how to manage stress is necessary for lowering cortisol levels.
Symptoms
Symptoms vary and are different for everybody.
Physical
Exhaustion.
Sleep problems.
Headaches.
Muscle tension.
Jaw clenching.
Aches and pains.
Chronic illness from a weakened immune system.
Stomach or digestive problems.
High blood pressure.
Chest pain or a feeling like the heart is racing.
Dizziness.
Shaking.
Emotional and mental
Irritability and or anxiousness.
Sadness.
Depression.
Panic attacks.
Foods
The objective is to reduce inflammation, thus reducing cortisol levels. Recommended foods for stress include foods high in magnesium, vitamin B, Omega-3 fatty acids, protein, and foods that benefit the gut. Here are a few.
Magnesium
Magnesium is highly beneficial in reducing inflammation, metabolizing cortisol, and relaxing the mind and body.
Dark chocolate.
Bananas.
Broccoli.
Spinach.
Avocados.
Pumpkin seeds.
Vitamin B
Vitamin B12 can help with the metabolism of cortisol.
Omega-3 Fatty Acid
These foods reduce inflammation.
Olive oil.
Avocados.
Tuna.
Sardines.
Mackerel.
Salmon
Anchovies.
Oysters.
Walnuts.
Chia seeds.
Flax seeds.
Protein
These foods promote balanced blood sugar levels.
Eggs.
Peanuts.
Almonds.
Chicken breast.
Turkey breast.
Lean beef.
Tuna.
Shrimp.
Salmon.
Lentils.
Quinoa.
Probiotic and Fermented
The immune system relies on the gut for immunity. Probiotics and fermented foods can help balance blood sugar and reduce cholesterol.
Sauerkraut.
Kombucha.
Kefir.
Kimchi.
The key to lowering stress is a whole-body approach that includes exercise, proper sleep, and managing chronic diseases like diabetes, hypertension, and obesity, all of which can put the body in a prolonged state of inflammation. Incorporating these foods into a nutritional plan can help relieve stress naturally.
---
Impact of Stress
---
The information herein is not intended to replace a one-on-one relationship with a qualified healthcare professional or licensed physician and is not medical advice. We encourage you to make healthcare decisions based on your research and partnership with a qualified healthcare professional. Our information scope is limited to chiropractic, musculoskeletal, physical medicines, wellness, sensitive health issues, functional medicine articles, topics, and discussions. We provide and present clinical collaboration with specialists from various disciplines. Each specialist is governed by their professional scope of practice and their jurisdiction of licensure. We use functional health & wellness protocols to treat and support care for the injuries or disorders of the musculoskeletal system. Our videos, posts, topics, subjects, and insights cover clinical matters, issues, and topics that relate to and directly or indirectly support our clinical scope of practice.* Our office has reasonably attempted to provide supportive citations and identified the relevant research study or studies supporting our posts. We provide copies of supporting research studies available to regulatory boards and the public upon request.
We understand that we cover matters that require an additional explanation of how it may assist in a particular care plan or treatment protocol; therefore, to further discuss the subject matter above, please contact Dr. Alex Jimenez or contact us at 915-850-0900.
Dr. Alex Jimenez DC, MSACP, CCST, IFMCP*, CIFM*, ATN*
email: coach@elpasofunctionalmedicine.com
Licensed in: Texas & New Mexico*
References
Aucoin, Monique, and Sukriti Bhardwaj. "Generalized Anxiety Disorder and Hypoglycemia Symptoms Improved with Diet Modification." Case reports in psychiatry vol. 2016 (2016): 7165425. doi:10.1155/2016/7165425
Errisuriz, Vanessa L et al. "Perceived stress and dietary choices: The moderating role of stress management." Eating behaviors vol. 22 (2016): 211-216. doi:10.1016/j.eatbeh.2016.06.008
Norwitz, Nicholas G, and Uma Naidoo. "Nutrition as Metabolic Treatment for Anxiety." Frontiers in psychiatry vol. 12 598119. 12 Feb. 2021, doi:10.3389/fpsyt.2021.598119
Serafini, Mauro, and Ilaria Peluso. "Functional Foods for Health: The Interrelated Antioxidant and Anti-Inflammatory Role of Fruits, Vegetables, Herbs, Spices and Cocoa in Humans." Current pharmaceutical design vol. 22,44 (2016): 6701-6715. doi:10.2174/1381612823666161123094235
Zellner, Debra A et al. "Food selection changes under stress." Physiology & behavior vol. 87,4 (2006): 789-93. doi:10.1016/j.physbeh.2006.01.014