It didn't happen at work, school, or exercise, and there haven't been any trips and/or falls, but you can't pinpoint what is causing foot and ankle discomfort and sensations. However, the cause could be originating in the lumbar spinal region. Sciatica is a set of symptoms that refer to pain, numbness, and tingling radiating down the leg from the lower back, affecting the legs, hips, buttocks, and feet. Injury Medical Chiropractic and Functional Medicine Clinic can release the compressed nerve, massage circulation back into the nerve, and restore mobility and function.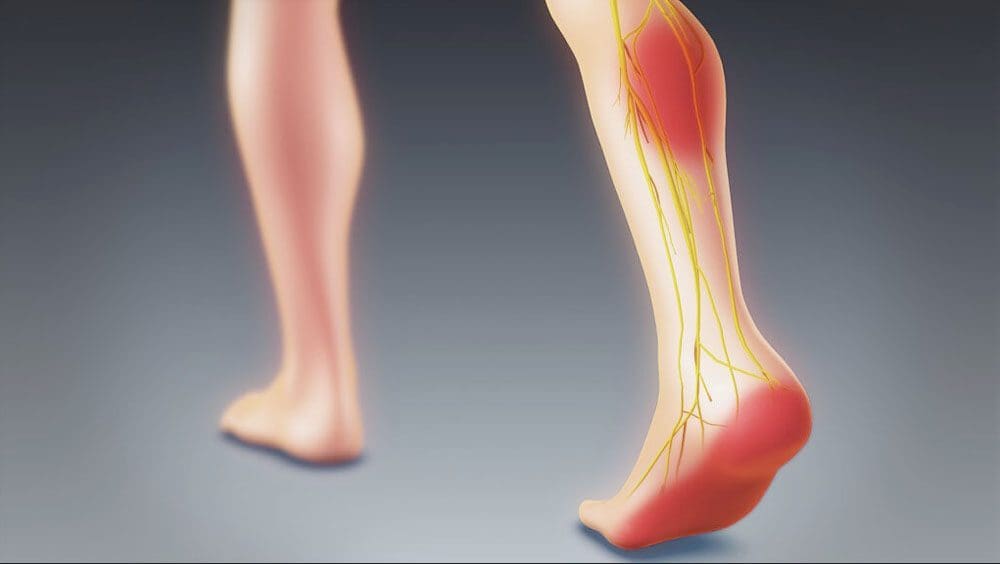 Sciatica Foot and Ankle
Sciatic nerve sensations can run down the back of the leg down into the foot.
Compression or irritation to any nerve roots can present with symptoms in the hip, thigh, calf, and foot.
Sciatica foot and ankle symptoms can accompany numbness and muscle weakness.
Sciatic nerve irritation mostly causes symptoms on the outside of the foot but can spread to other areas.
Nerve Roots
One or more of the lower spine's sciatic nerve roots are being compressed or pinched. The foot symptoms location depends on which nerve root is affected.
If the S1 root is affected, symptoms will radiate to the sole and side of the foot.
If L5 is affected, symptoms will radiate to the top of the foot and the big toe.
If the L4 root is affected, symptoms can radiate to the medial or inside the ankle area.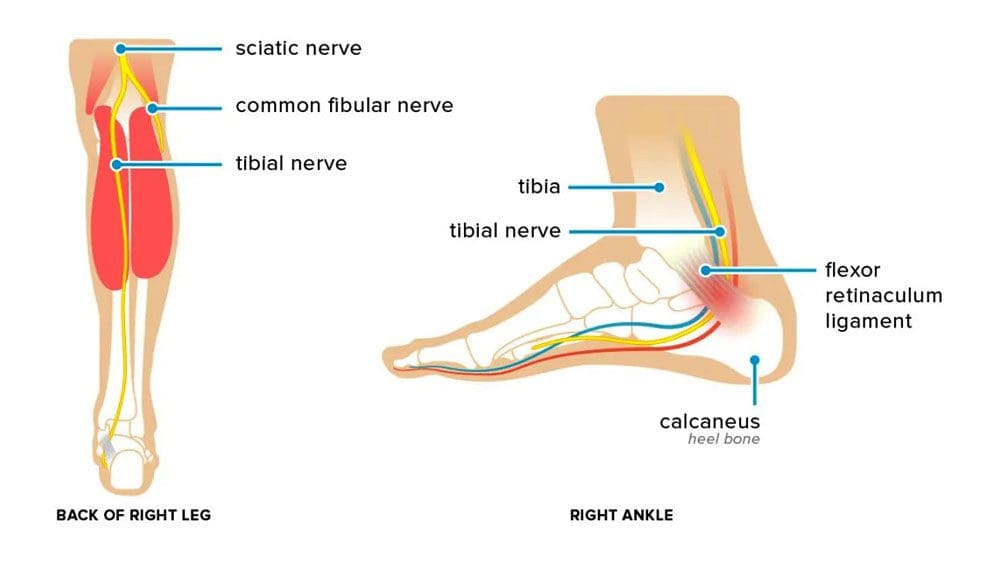 Chiropractic Care and Relief
Foot Massage
A foot massage can be helpful.
A massage therapist finds points around the ankles that are tender.
Tenderness indicates a lymphatic blockage or muscle tension that needs to be worked out.
They will apply varying pressures to massage the muscles and get the circulation flowing.
The therapist will loosen the tarsal and metatarsal bones to loosen the muscles and nerves.
Moving the bones resupplies the joints, forces out inflammatory metabolic waste, opens the space for the nerves, and allows improved lymphatic drainage and blood flow to expedite healing.
Nerve Flossing
Nerve flossing exercises can help stretch and maintain the released nerve.
A chiropractor will perform and train the individual on targeted stretches to the Achilles tendon and plantar fascia.
They will stretch, release, and open the ankle and sciatic nerve.
Injections
A cortisone injection where the nerve is affected can help in certain cases.
Injections of a corticosteroid, an anti-inflammatory medicine, can offer relief for up to three months and are given under local anesthesia.
The medicine reduces the inflammation and swelling around the nerve roots.
Foot Orthotics
Custom foot orthotics can help support a postural foot or ankle problem.
Overpronation is when the ankles collapse inward, which creates an imbalance of leg lengths that affects the hips, pelvis, and spine.
Orthotics can help provide symptom relief.
Nutrition
Part of a treatment plan will include an anti-inflammatory and antioxidant nutritional plan.
A professional nutritionist will make recommendations based on the individual's case.
Magnesium-rich foods are generally recommended for sciatica as this nutrient aids the body in releasing muscle contractions.
99 percent of the body's magnesium is stored in the bones, muscles, and soft tissues, with only 1 percent concentrated in the blood.
Foods rich in magnesium include:
Avocado
Bananas
Apricots
Dried pumpkin seeds
Dairy
Dark chocolate
Dried figs
Black beans
Brown rice
Fish
Spinach
Swiss chard
Yogurt
---
Benefits of Custom Foot Orthotics
---
The information herein is not intended to replace a one-on-one relationship with a qualified healthcare professional or licensed physician and is not medical advice. We encourage you to make healthcare decisions based on your research and partnership with a qualified healthcare professional. Our information scope is limited to chiropractic, musculoskeletal, physical medicines, wellness, sensitive health issues, functional medicine articles, topics, and discussions. We provide and present clinical collaboration with specialists from a wide array of disciplines. Each specialist is governed by their professional scope of practice and their jurisdiction of licensure. We use functional health & wellness protocols to treat and support care for the injuries or disorders of the musculoskeletal system. Our videos, posts, topics, subjects, and insights cover clinical matters, issues, and topics that relate to and directly or indirectly support our clinical scope of practice.* Our office has reasonably attempted to provide supportive citations and identified the relevant research study or studies supporting our posts. We provide copies of supporting research studies available to regulatory boards and the public upon request.
We understand that we cover matters that require an additional explanation of how it may assist in a particular care plan or treatment protocol; therefore, to further discuss the subject matter above, please feel free to ask Dr. Alex Jimenez or contact us at 915-850-0900.
Dr. Alex Jimenez DC, MSACP, CCST, IFMCP*, CIFM*, ATN*
email: coach@elpasofunctionalmedicine.com
Licensed in: Texas & New Mexico*
References
Davis, David, et al. "Sciatica." StatPearls, StatPearls Publishing, 6 May 2022.
Ge, Phillip S et al. "Iatrogenic pseudoaneurysm of the superior gluteal artery presenting as pelvic mass with foot drop and sciatica: case report and review of the literature." Vascular and endovascular surgery vol. 44,1 (2010): 64-8. doi:10.1177/1538574409351990
Hughes, Michael S et al. "Post-traumatic catamenial sciatica." Orthopedics vol. 31,4 (2008): 400. doi:10.3928/01477447-20080401-15
Mayo Clinic. "Sciatica." https://www.mayoclinic.org/diseases-conditions/sciatica/symptoms-causes/syc-20377435?p=1
National Institutes of Health. "Sciatica." https://medlineplus.gov/sciatica.html
Pan, Hung-Chuan, et al. "Magnesium supplement promotes sciatic nerve regeneration and down-regulates inflammatory response." Magnesium research vol. 24,2 (2011): 54-70. doi:10.1684/mrh.2011.0280