Back injuries from vehicle collisions vary from person to person. Common injuries may include strains, sprains, herniated discs, and fractures, and individuals dealing with certain spinal conditions like spinal stenosis may cause the medical condition to accelerate. Still, the force and physical impact the body absorbs during a crash, no matter how minor the accident or how safe the car is, will cause bodily aches and pains with the potential for other spinal conditions. Chiropractic care, massage, decompression, and traction therapy can relieve symptoms and restore mobility and function.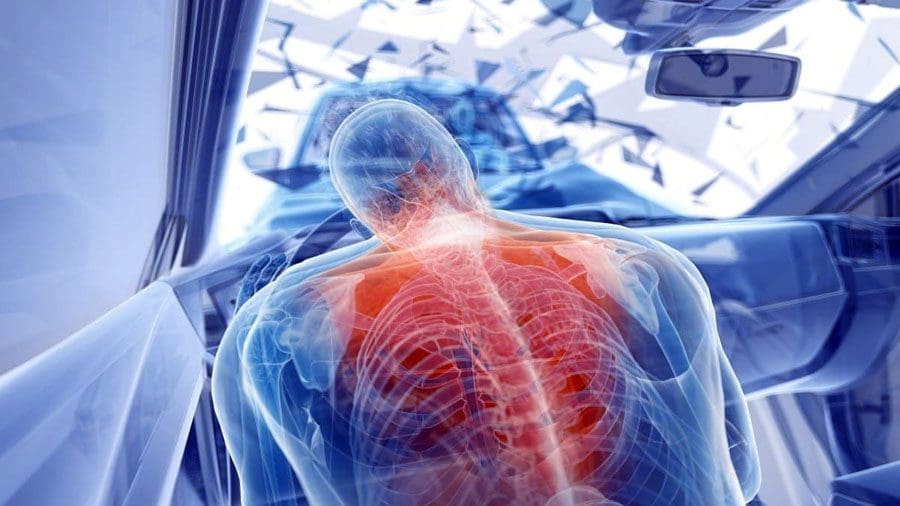 Back Injuries From Vehicle Collisions
Depending on how the impact affects the spine, problems can present in various areas of the back. The violent motion can sprain, strain, and fracture spinal components. Even minor incidents can impact mobility. Symptoms can stem from inflammation, compressed nerves, or fractures. Any damage can have long-lasting effects on the vertebrae, nerve roots, and back muscles. A vehicle collision can affect the following:
Lumbar vertebrae - lower back
Thoracic vertebrae - middle/upper back
Cervical vertebrae - neck
Each area consists of bones, tissues, muscles, nerves, tendons, and ligaments extending from the neck to the pelvis.
The most common back injuries are to the neck and lower back, where the most movement and shifting occurs, often causing nerve damage.
The central placement and rigid structure make middle back injuries less common.
Upper back injuries that connect the rib and chest region can affect breathing.
Soft tissue injuries might not show up immediately.
Symptoms
After a vehicle collision, it's common to feel sore all over. The symptoms can range from manageable discomfort to complete immobility. Individuals may experience the following:
Muscle spasms
The muscle may repeatedly twitch, feel like hard knots, and feel tender to the touch.
Muscle spasms can vary in pain levels from mild to debilitating.
Stiffness
Individuals may not feel as flexible because of the muscle tension that activated during the crash to protect the body.
Stiffness can go away after light stretching or continue throughout the day.
Burning or Shooting Pain
A burning or shooting pain may travel down the back and buttocks through the back of one or both legs.
It can be mild, dull aches and pains that go away quickly or last for days.
Changing positions, such as sitting up after waking up or standing up after sitting, can cause sharp acute pain.
Facet disease may cause neck or shoulder pain.
Discomfort When Walking or Standing
Certain physical activities can cause a throbbing sensation or mild pain when attempting to perform various tasks.
Tingling and/or Numbness
Tense muscles can pinch nerves leading to sensations of tingling or numbness in the legs, feet, arms, or hands.
Head Issues
Headaches, dizziness, or disorientation can present.
Spinal Disorders
Back injuries from vehicle collisions can result in a degenerative disc disorder months or years later. It can also speed up health issues individuals didn't know they had before the crash. As the body ages, previous damage combined with degeneration can result in:
Pinched nerves
Sciatica
Bulging discs
Herniated discs
Spinal stenosis
Degenerative disc disease
Spondylolisthesis
Spinal osteoarthritis
Bone spurs
Degenerative scoliosis
Discogenic pain
Damage to spinal discs causes discogenic pain, often sharp impulses or shooting sensations.
Individuals can experience symptoms in different ways:
Some individuals feel better when standing, sitting, or lying down, while the positions or motions worsen the symptoms for others.
Chiropractic Care and Therapies
Chiropractic treatment can rule out critical issues and expedite recovery time. Benefits include:
Pain Symptom Relief
Chiropractic relieves pain in the affected areas and throughout the body.

Massaging and decompression release endorphins.
Inflammation Alleviation
Micro-tears within the muscles and ligaments are common and cannot be found through a standard x-ray.
Spinal adjustments can bring the spine back into alignment, producing natural anti-inflammatory properties to assist with discomfort and heal the tears.
Scar Tissue Breakdown
Muscles can get scarred, causing stiffness and soreness.
Chiropractic massage targets these areas and breaks down the build-up quicker than if it was left to heal on its own.
Less scar tissue means faster recovery.
Range of Motion and Mobility Restored
Back injuries can result in restricted mobility.
It may be difficult to turn or move when the muscles are inflamed.
Mobilizing the spine through adjustments restores the proper range of motion.
Decreased Medication Use
Prescription pain medications can turn into dependency.
Chiropractic adjustments can ensure that the injury is healed and the pain is not just masked.
Long-Term Benefits
Receiving chiropractic care can help prevent minor injuries from worsening into serious and chronic conditions.
---
Post Whiplash Symptoms
---
The information herein is not intended to replace a one-on-one relationship with a qualified healthcare professional or licensed physician and is not medical advice. We encourage you to make your own healthcare decisions based on your research and partnership with a qualified healthcare professional. Our information scope is limited to chiropractic, musculoskeletal, physical medicines, wellness, sensitive health issues, functional medicine articles, topics, and discussions. We provide and present clinical collaboration with specialists from a wide array of disciplines. Each specialist is governed by their professional scope of practice and their jurisdiction of licensure. We use functional health & wellness protocols to treat and support care for the injuries or disorders of the musculoskeletal system. Our videos, posts, topics, subjects, and insights cover clinical matters, issues, and topics that relate to and directly or indirectly support our clinical scope of practice.* Our office has reasonably attempted to provide supportive citations and identified the relevant research study or studies supporting our posts. We provide copies of supporting research studies available to regulatory boards and the public upon request.
We understand that we cover matters that require an additional explanation of how it may assist in a particular care plan or treatment protocol; therefore, to further discuss the subject matter above, please feel free to ask Dr. Alex Jimenez or contact us at 915-850-0900.
Dr. Alex Jimenez DC, MSACP, CCST, IFMCP*, CIFM*, ATN*
email: coach@elpasofunctionalmedicine.com
Licensed in: Texas & New Mexico*
References
Erbulut, Deniz U. "Biomechanics of neck injuries resulting from rear-end vehicle collisions." Turkish neurosurgery vol. 24,4 (2014): 466-70. doi:10.5137/1019-5149.JTN.9218-13.1
National Spinal Cord Injury Statistical Center. (2020) "Spinal Cord Injury: Facts and Figures at a Glance." https://www.nspine injurysc.uab.edu/Public/Facts%20and%20Figures%202020.pdf
Rao, Raj D et al. "Occupant and Crash Characteristics of Elderly Subjects With Thoracic and Lumbar Spine Injuries After Motor Vehicle Collisions." Spine vol. 41,1 (2016): 32-8. doi:10.1097/BRS.0000000000001079
Rao, Raj D et al. "Occupant and crash characteristics in thoracic and lumbar spine injuries resulting from motor vehicle collisions." The spine journal: official journal of the North American Spine Society vol. 14,10 (2014): 2355-65. doi:10.1016/j.spinee.2014.01.038