Uneven hips can throw the back out of natural alignment and cause back stiffness, tightness, discomfort, and pain. Hips that are off-balance unhealthily affect standing, sitting, sleeping posture, walking gait, and overall movements. Biomechanics issues cause the core and spine stabilizing muscles to become weakened and fatigued from overcompensating to keep the body up and moving. Over time this can lead to chronic pain in the back, hips, knees, and feet. Chiropractic care can restore proper hip and spinal alignment and wellness.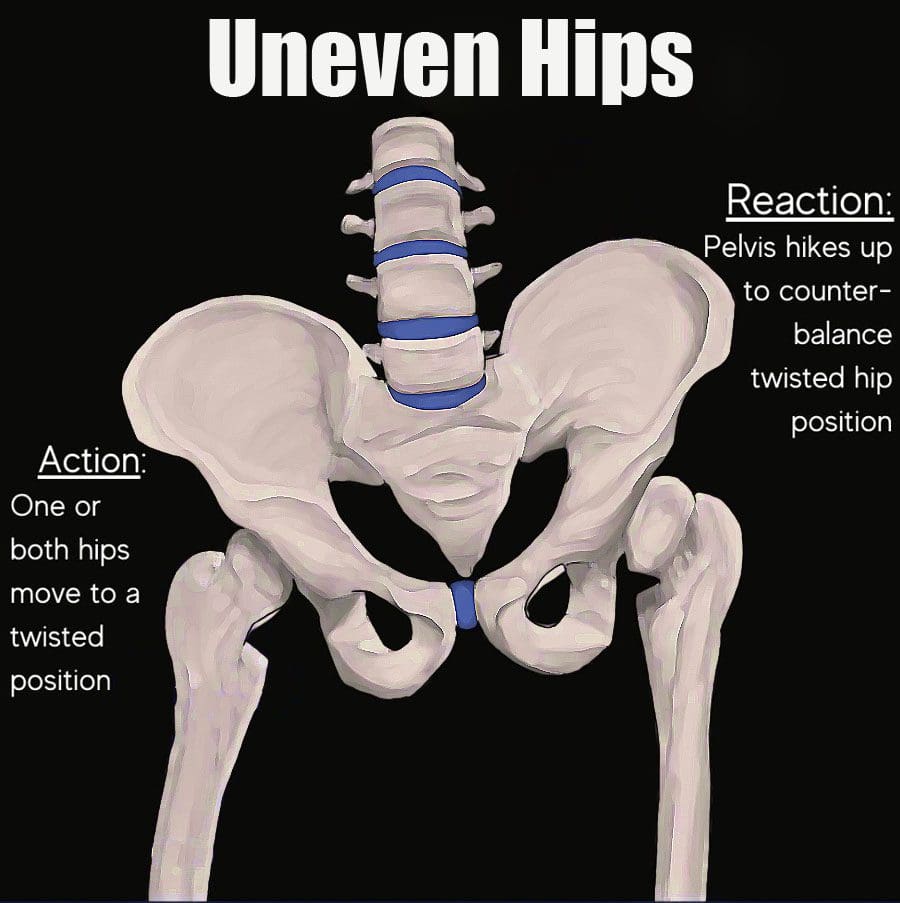 Uneven Hips
Misaligned hips can be caused by work or sports injury, exercise, vehicle collision, and/or general wear and tear. When hips are out of alignment, they have shifted from their centered position. They could be rotated forward or backward, forcing the spine and the lower limbs to compensate, resulting in the spine tilting that can make the legs appear uneven. Discomfort may be one-sided low back pain near the sacroiliac joint, causing a stiff/tight back, limited motion, and/or pain symptoms. Because the spine and lower limbs have to compensate for the unevenness, the shoulders and upper back, connected to the pelvis through the spine, are also affected and result in:
Back pain.
Hip and gluteal muscle pain.
Uneven leg length.
Knee, ankle, and foot issues and pain.
Uneven shoulders.
The shoulder blades can stick out on the side of the lower hip.
Rib discomfort and pain.
The rib cage could protrude out on one side. However, this could be due to advanced scoliosis.
Therapy
Staying active is recommended and includes stretching and core strengthening. General stretches recommended to optimize hip equity include:
Hamstring stretch
For this stretch, lie on a flat surface with your legs extended straight out.
Bend the right leg at the knee, placing the right foot on the ground.
Use a towel, belt, or band to grab and wrap around the left foot.
Keep the hip/buttock on the left side planted on the floor.
Slowly raise the left leg upward as far as possible until you feel the stretch.
Once you feel a stretch or restriction in the hamstring, hold the position for 30 seconds.
Repeat on the other side.
Perform 2 to3 times.
Hip flexor stretch
Kneel on the affected leg and bend the healthy leg out in front with the foot flat on the floor.
Back straight.
Slowly push the hips forward until you feel the stretch in the upper thigh and hip.
Hold the stretch for around 15 to 30 seconds.
Chiropractic Care
Chiropractic treatment is a highly recommended non-surgical option for uneven hips and pelvic tilt. Depending on the severity of the misalignment, underlying issues, and body scanning images, hip alignment treatment could include:
Soft tissue therapeutic massage
Chiropractic muscle release for tight hip flexors, quadriceps, hamstrings, and glutes.
Decompression
Traction
Custom orthotics
Bracing
Posture training
Activity modification
Health Coaching
---
Chiropractic Care For Hip Injury
---
The information herein is not intended to replace a one-on-one relationship with a qualified healthcare professional or licensed physician and is not medical advice. We encourage you to make your own healthcare decisions based on your research and partnership with a qualified healthcare professional. Our information scope is limited to chiropractic, musculoskeletal, physical medicines, wellness, sensitive health issues, functional medicine articles, topics, and discussions. We provide and present clinical collaboration with specialists from a wide array of disciplines. Each specialist is governed by their professional scope of practice and their jurisdiction of licensure. We use functional health & wellness protocols to treat and support care for the injuries or disorders of the musculoskeletal system. Our videos, posts, topics, subjects, and insights cover clinical matters, issues, and topics that relate to and directly or indirectly support our clinical scope of practice.* Our office has reasonably attempted to provide supportive citations and identified the relevant research study or studies supporting our posts. We provide copies of supporting research studies available to regulatory boards and the public upon request.
We understand that we cover matters that require an additional explanation of how it may assist in a particular care plan or treatment protocol; therefore, to further discuss the subject matter above, please feel free to ask Dr. Alex Jimenez or contact us at 915-850-0900.
Dr. Alex Jimenez DC, MSACP, CCST, IFMCP*, CIFM*, ATN*
email: coach@elpasofunctionalmedicine.com
Licensed in: Texas & New Mexico*
References
Kiapour, Ali et al. "Biomechanics of the Sacroiliac Joint: Anatomy, Function, Biomechanics, Sexual Dimorphism, and Causes of Pain." International journal of spine surgery vol. 14, Suppl 1 3-13. 10 Feb. 2020, doi:10.14444/6077
Lee, Jeong-Hoon, et al. "The effect of Graston technique on the pain and range of motion in patients with chronic low back pain." Journal of physical therapy science vol. 28,6 (2016): 1852-5. doi:10.1589/jpts.28.1852
Patel, Rikin V et al. "Pelvic Tilt and Range of Motion in Hips With Femoroacetabular Impingement Syndrome." The Journal of the American Academy of Orthopaedic Surgeons vol. 28,10 (2020): e427-e432. doi:10.5435/JAAOS-D-19-00155
Rivière, C et al. "Spine-hip relations add understandings to the pathophysiology of femoro-acetabular impingement: A systematic review." Orthopaedics & traumatology, surgery & research : OTSR vol. 103,4 (2017): 549-557. doi:10.1016/j.otsr.2017.03.010
Suits, William H. "Clinical Measures of Pelvic Tilt in Physical Therapy." International journal of sports physical therapy vol. 16,5 1366-1375. 1 Oct. 2021, doi:10.26603/001c.27978