Tendons and Ligaments: A tendon is a fibrous flexible, strong tissue similar to a rope that attaches the muscles to the bones. Tendons allow for the movement of the body's limbs and help prevent muscle injury by absorbing muscles' impact when running, jumping, or performing other actions. Ligaments are bands of solid elastic tissue that connect bone to bone, hold structures together and keep them stable, support the joints and limit their movement.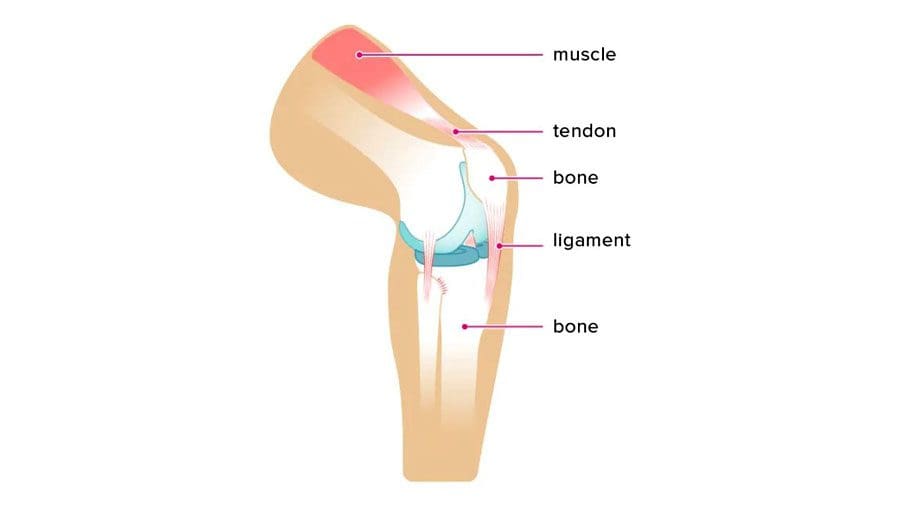 Tendons and Ligaments
Tendons are strong and non-flexible.
Ligaments are flexible and elastic.
Both comprise collagen and living cells, essential in joints and bones and integral to locomotion.
Tendons allow body movement by transmitting force from muscle to bone, allowing the body to stand, walk, and jump.
Ligaments work by allowing for the full range of motion.
Ligaments are around the knees, ankles, elbows, shoulders, and other joints.
Connective Tissue
The collagen connective tissue that makes up tendons and ligaments is the same; their patterns are different.
Tendon fibers are laid out in a parallel pattern.
Tendon connective tissue needs to have more elasticity to help move the muscles.
Ligament fibers are laid out in a crisscross pattern.
Ligament connective tissue stabilizes and strengthens the bones' joint structure.
Tendon Injury
A tendon that gets overstretched or torn is known as a strain. Common areas affected by strains are the:
Strains often result from repetitive work movements, intense physical activity, and sports. Individuals who overuse their bodies without proper rest and muscle repair recovery have an increased risk of injury. Symptoms include:
Inflammation
Swelling
Pain
Cramping
Weakness
Ligament Injury
A ligament that gets overstretched or torn results in a sprain. Sprains can happen suddenly from a fall, awkward movement, or trauma. Sprains commonly occur in the:
Examples include:
Misstep causing the ankle to twist in an awkward position, snapping a ligament and causing unstableness or wobbliness.
There could be a popping sensation or the feeling of a tear when the injury occurs.
Wrist sprains often happen when reaching out and extending the hands to break a fall, and the wrist hyperextending back.
The hyperextension overstretches the ligament.
Symptoms of a sprained ligament include:
Inflammation
Swelling
Bruising
Pain
The joint may feel loose or weak and unable to take on weight.
The intensity of symptoms varies depending on whether the ligament is overextended or torn. Sprains are classified by grade:
Grade 1 - a mild sprain with slight stretching of the ligament.
Grade 2 - a moderate ligament tear, but not a complete tear.
Grade 3 - a complete ligament tear, making the joint unstable.
Chiropractic Care
Tendons and ligaments do not receive full blood circulation like other soft tissues. Depending on the severity of the injury, and the slower transfer of oxygen and nutrients, ligament and tendon injuries can take six to twelve weeks to heal, and repeatedly stressing the injured area from overuse can extend recovery. Chiropractic adjustments, and massage therapy, combined with corrective exercises and stretches, will reduce inflammation, decrease pain, improve the range of motion, increase nerve and muscle function, and strengthen the muscles. Chiropractic treatment involves:
Soft tissue work
Percussive massage
Deep tissue massage
Trigger point therapy
Rest
Ice
Compression
Elevation
Ultrasound
Anti-inflammatory nutritional recommendations
---
Knee Injuries Adjustment
---
The information herein is not intended to replace a one-on-one relationship with a qualified healthcare professional or licensed physician and is not medical advice. We encourage you to make your own healthcare decisions based on your research and partnership with a qualified healthcare professional. Our information scope is limited to chiropractic, musculoskeletal, physical medicines, wellness, sensitive health issues, functional medicine articles, topics, and discussions. We provide and present clinical collaboration with specialists from a wide array of disciplines. Each specialist is governed by their professional scope of practice and their jurisdiction of licensure. We use functional health & wellness protocols to treat and support care for the injuries or disorders of the musculoskeletal system. Our videos, posts, topics, subjects, and insights cover clinical matters, issues, and topics that relate to and directly or indirectly support our clinical scope of practice.* Our office has reasonably attempted to provide supportive citations and identified the relevant research study or studies supporting our posts. We provide copies of supporting research studies available to regulatory boards and the public upon request.
We understand that we cover matters that require an additional explanation of how it may assist in a particular care plan or treatment protocol; therefore, to further discuss the subject matter above, please feel free to ask Dr. Alex Jimenez or contact us at 915-850-0900.
Dr. Alex Jimenez DC, MSACP, CCST, IFMCP*, CIFM*, ATN*
email: coach@elpasofunctionalmedicine.com
Licensed in: Texas & New Mexico*
References
Childress, Marc A, and Anthony Beutler. "Management of chronic tendon injuries." American family physician vol. 87,7 (2013): 486-90.
Fenwick, Steven A et al. "The vasculature and its role in the damaged and healing tendon." Arthritis research vol. 4,4 (2002): 252-60. doi:10.1186/ar416
Leong, Natalie L et al. "Tendon and Ligament Healing and Current Approaches to Tendon and Ligament Regeneration." Journal of orthopedic research: official publication of the Orthopaedic Research Society vol. 38,1 (2020): 7-12. doi:10.1002/jor.24475
https://orthoinfo.aaos.org/en/diseases--conditions/sprains-strains-and-other-soft-tissue-injuries
Scalcione, Luke R et al. "The athlete's hand: ligament and tendon injury." Seminars in musculoskeletal radiology vol. 16,4 (2012): 338-49. doi:10.1055/s-0032-1327007