Kombucha is a fermented tea that has been around for nearly 2,000 years. It became popular in Europe in the early 20th century. It has the same health benefits as tea, is rich in probiotics, contains antioxidants, and can destroy harmful bacteria. Kombucha sales are growing at stores because of its health and energy benefits.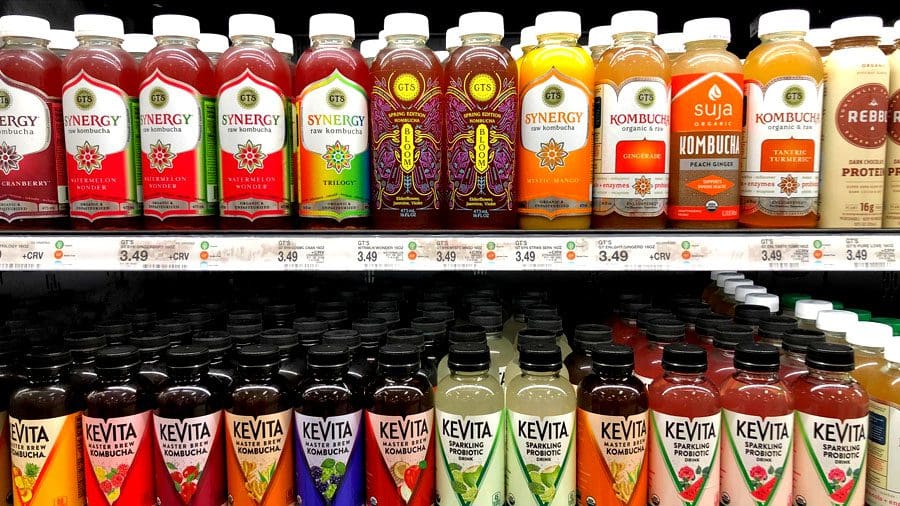 Kombucha
It is typically made with black or green tea, sugar, healthy bacteria, and yeast. It is flavored by adding spices or fruits into the tea while it ferments. It is fermented for about a week, when gases, 0.5 percent of alcohol, beneficial bacteria, and acetic acid are produced. The fermentation process makes the tea slightly effervescent. It contains B vitamins, antioxidants, and probiotics, but the nutritional content will vary depending on the brand and its preparation.
Benefits
The benefits include:
Improved digestion from the fact that fermentation makes probiotics.
Helps with diarrhea and irritable bowel syndrome/IBS.
Toxin removal
Increased energy
Improved immune system health
Weight loss
Helps with high blood pressure
Heart disease
Kombucha, made from green tea, includes the benefits of:
Probiotics
Beneficial bacteria are known as probiotics. These same probiotics are found in other fermented foods, like yogurt and sauerkraut. Probiotics help populate the gut with healthy bacteria that aid digestion, reduce inflammation, and produce essential vitamins B and K. The probiotics improve bowel movements and alleviate nausea, bloating, and indigestion.
Antioxidants
The antioxidants and polyphenols benefits include:
Increased metabolic rate
Reduced blood pressure
Lowered cholesterol
Improved cognitive function
Decreased risk of chronic diseases - cardiovascular disease, type 2 diabetes, and certain cancers.
Anti-Bacterial Properties
The fermentation process produces acetic acid that destroys harmful pathogens like invasive bacteria and yeasts, preventing infection.
The anti-bacterial effect also preserves the beneficial bacteria.
Liver Detoxification
It can help detoxify the liver, which:
Improves overall skin health
Improves liver function
Decreases abdominal bloating and pain
Improves digestion and bladder function
Pancreatic Support
It can improve pancreatic function, which can help protect the body from diseases and illnesses like:
Acid reflux
Abdominal spasms
Numbness
Pancreatic cancer
Joint Support
The tea contains compounds like glucosamines that have been shown to improve joint health and relieve joint pain.
Glucosamines increase hyaluronic acid, lubricating the joints, which helps protect and strengthen them.
Satisfy Soda Craving
The variety of flavors and natural carbonation can satisfy the craving for a soda or other unhealthy beverages.
Injury Medical Chiropractic and Functional Medicine Clinic includes elements of integrative medicine and takes a different approach to health and wellness. Specialists take a comprehensive view of an individual's health, recognizing the need for a personalized treatment plan to help identify what is needed to get healthy. The team will create a customized plan that fits an individual's schedule and needs.
---
Dietitian Explains Kombucha
---
The information herein is not intended to replace a one-on-one relationship with a qualified healthcare professional or licensed physician and is not medical advice. We encourage you to make your own healthcare decisions based on your research and partnership with a qualified healthcare professional. Our information scope is limited to chiropractic, musculoskeletal, physical medicines, wellness, sensitive health issues, functional medicine articles, topics, and discussions. We provide and present clinical collaboration with specialists from a wide array of disciplines. Each specialist is governed by their professional scope of practice and their jurisdiction of licensure. We use functional health & wellness protocols to treat and support care for the injuries or disorders of the musculoskeletal system. Our videos, posts, topics, subjects, and insights cover clinical matters, issues, and topics that relate to and directly or indirectly support our clinical scope of practice.* Our office has reasonably attempted to provide supportive citations and identified the relevant research study or studies supporting our posts. We provide copies of supporting research studies available to regulatory boards and the public upon request.
We understand that we cover matters that require an additional explanation of how it may assist in a particular care plan or treatment protocol; therefore, to further discuss the subject matter above, please feel free to ask Dr. Alex Jimenez or contact us at 915-850-0900.
Dr. Alex Jimenez DC, MSACP, CCST, IFMCP*, CIFM*, ATN*
email: coach@elpasofunctionalmedicine.com
Licensed in: Texas & New Mexico*
References
Cortesia, Claudia et al. "Acetic Acid, the active component of vinegar, is an effective tuberculocidal disinfectant." mBio vol. 5,2 e00013-14. 25 Feb. 2014, doi:10.1128/mBio.00013-14
Costa, Mirian Aparecida de Campos et al. "Effect of kombucha intake on the gut microbiota and obesity-related comorbidities: A systematic review." Critical reviews in food science and nutrition, 1-16. 26 Oct. 2021, doi:10.1080/10408398.2021.1995321
Gaggìa, Francesca, et al. "Kombucha Beverage from Green, Black and Rooibos Teas: A Comparative Study Looking at Microbiology, Chemistry and Antioxidant Activity." Nutrients vol. 11,1 1. 20 Dec. 2018, doi:10.3390/nu11010001
Kapp, Julie M, and Walton Sumner. "Kombucha: a systematic review of the empirical evidence of human health benefit." Annals of epidemiology vol. 30 (2019): 66-70. doi:10.1016/j.annepidem.2018.11.001
Villarreal-Soto, Silvia Alejandra, et al. "Understanding Kombucha Tea Fermentation: A Review." Journal of food science vol. 83,3 (2018): 580-588. doi:10.1111/1750-3841.14068