The game of baseball takes a toll on the body, especially when players advance from little league to high school, college, minor league, and the pros. The most common baseball injuries can range from mild to severe, from normal wear and tear on the joints and muscles to repetitive stress injuries, collisions with other players, getting hit with the ball, or bodily trauma. A chiropractor can provide ideal treatment for players of all ages and levels with decreased downtime and expedited healing and recovery.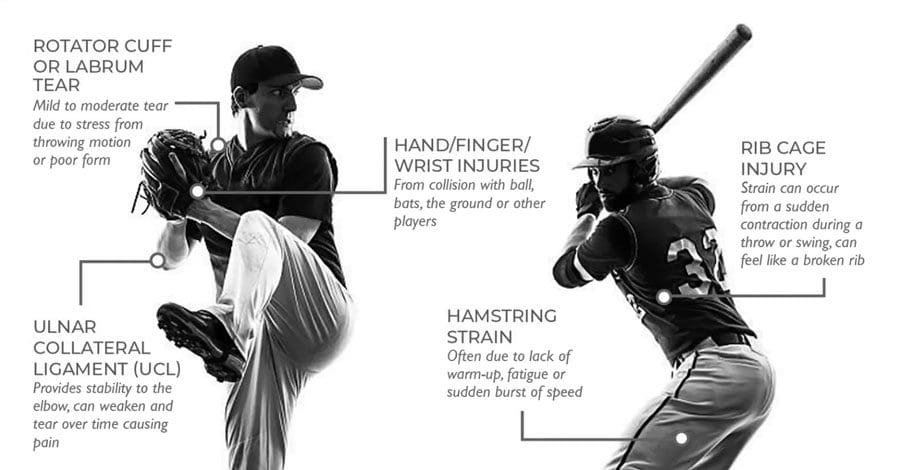 Baseball Injuries
Although there have been a lot of advances in player safety and health, from helmets with face guards to shin and arm padding, the equipment lessens the impact and risks of injury. The game still involves running, sliding, twisting, and jumping, causing the body to maneuver awkwardly. Players often report sliding into first, feeling a pop or twisting to catch a fly ball, and feeling something snap. The most common injuries include:
Torn Labrum
Cartilage surrounding the shoulder joint socket, known as the labrum, often gets torn.
The soft tissue keeps the bones in place and provides stability.
Pitching and throwing motions stress the labrum.
With time, the cartilage begins to overstretch and tear, leading to swelling, shoulder pain, weakness, and overall instability.
Rotator Cuff Tears
The rotator cuff structure involves a complex set of tendons and muscles that stabilize the shoulder.
Pitchers are the most vulnerable, but all players are susceptible.
Cases are caused by not warming up and stretching correctly and repetitive/overuse movements.
Swelling and pain are the most common symptoms.
With a severe tear, a player will lose the ability to rotate the shoulder correctly.
Shoulder Instability or Dead Arm
This is when the shoulder muscles become overly fatigued, and the joint becomes unstable, losing the ability to throw precisely.
The condition is called dead arm by players and trainers.
This type of injury is caused by overuse and repeated stress.
Healing involves letting the shoulder rest for an extended period, but treatment, like chiropractic or physical therapy, could be recommended depending on the severity.
Pitchers Elbow
A pitcher's elbow injury is caused by overuse and sustained/repeated damage to the tendons that rotate the wrist.
Pain and swelling occur along the inside of the elbow and forearm.
Wrist Tendonitis and Trauma
Wrist Tendonitis or tenosynovitis happens when the ligaments and tendons become tender, swollen, ruptured, or torn.
This causes inflammation, pain, and weakness.
Trauma injuries can result from collisions with another player, the ground, or a ball.
Knee Tears and Trauma
Knee injuries can be caused by normal wear and tear, overuse, or traumatic impact.
The fibrous bands are what stabilize and cushion the knee.
Overuse and any awkward movement can cause the tearing of the various ligaments.
The bands can develop micro-tears or complete ruptures, causing inflammation, pain, and instability.
Chiropractic Care and Rehabilitation
Chiropractic treatment and physical therapy have been found to help athletes maintain flexibility and range of motion, rehabilitate the body after an injury, and prevent new injuries or worsening of current injuries.
Chiropractic helps stretch and flex the muscles to stay limber and less prone to injury.
Chiropractic is a natural pain reliever for sore muscles and joint pain.
Physical therapy can strengthen an injured area during recovery and educate on proper form and techniques.
Taping and strapping can help support the elbows, wrists, ankles, and knees, reducing stress.
A combination of treatment approaches can help decrease recovery time so players can get back on the field.
---
Shoulder Adjustment Baseball Injuries
---
The information herein is not intended to replace a one-on-one relationship with a qualified healthcare professional or licensed physician and is not medical advice. We encourage you to make your own healthcare decisions based on your research and partnership with a qualified healthcare professional. Our information scope is limited to chiropractic, musculoskeletal, physical medicines, wellness, sensitive health issues, functional medicine articles, topics, and discussions. We provide and present clinical collaboration with specialists from a wide array of disciplines. Each specialist is governed by their professional scope of practice and their jurisdiction of licensure. We use functional health & wellness protocols to treat and support care for the injuries or disorders of the musculoskeletal system. Our videos, posts, topics, subjects, and insights cover clinical matters, issues, and topics that relate to and directly or indirectly support our clinical scope of practice.* Our office has reasonably attempted to provide supportive citations and identified the relevant research study or studies supporting our posts. We provide copies of supporting research studies available to regulatory boards and the public upon request.
We understand that we cover matters that require an additional explanation of how it may assist in a particular care plan or treatment protocol; therefore, to further discuss the subject matter above, please feel free to ask Dr. Alex Jimenez or contact us at 915-850-0900.
Dr. Alex Jimenez DC, MSACP, CCST, IFMCP*, CIFM*, ATN*
email: coach@elpasofunctionalmedicine.com
Licensed in: Texas & New Mexico*
References
Bullock, Garrett S et al. "Shoulder Range of Motion and Baseball Arm Injuries: A Systematic Review and Meta-Analysis." Journal of athletic training vol. 53,12 (2018): 1190-1199. doi:10.4085/1062-6050-439-17
Lyman, Stephen, and Glenn S Fleisig. "Baseball injuries." Medicine and sport science vol. 49 (2005): 9-30. doi:10.1159/000085340
Matsel, Kyle A et al. "Current Concepts in Arm Care Exercise Programs and Injury Risk Reduction in Adolescent Baseball Players: A Clinical Review." Sports health vol. 13,3 (2021): 245-250. doi:10.1177/1941738120976384
Shitara, Hitoshi, et al. "Shoulder Stretching Intervention Reduces the Incidence of Shoulder and Elbow Injuries in High School Baseball Players: a Time-to-Event Analysis." Scientific reports vol. 7 45304. 27 Mar. 2017, doi:10.1038/srep45304
Wilk, Kevin E, and Christopher A Arrigo. "Rehabilitation of Elbow Injuries: Nonoperative and Operative." Clinics in sports medicine vol. 39,3 (2020): 687-715. doi:10.1016/j.csm.2020.02.010