Experiencing low back pain and diarrhea can be a symptom of a viscerosomatic reflex, somatovisceral reflex, or a combination. A reflex is an involuntary response to nervous system stimulation. A doctor tapping below the knee causes the foot to kick forward is a basic example of a reflex. This is a somatovisceral or body organ reflex. Back pain could be from awkward posture, repetitive motions like bending or twisting, or injury that affects the spinal column. The effects could cause nerve compression and damage that can cause firing misinterpreted signals impacting/damaging internal organ function, causing pain and other symptoms.
However, the damage caused to the compressed/injured organ nerves can also cause back pain symptoms. This is a viscerosomatic or organ body reflex. One study found that a group of chiropractic patients dealing with low back pain also had increased bowel problems, even though there was no specific cause, link, or association between the two. Lower back pain and diarrhea may be completely unrelated, but if symptoms are recurring, there is an increased chance of an underlying medical issue.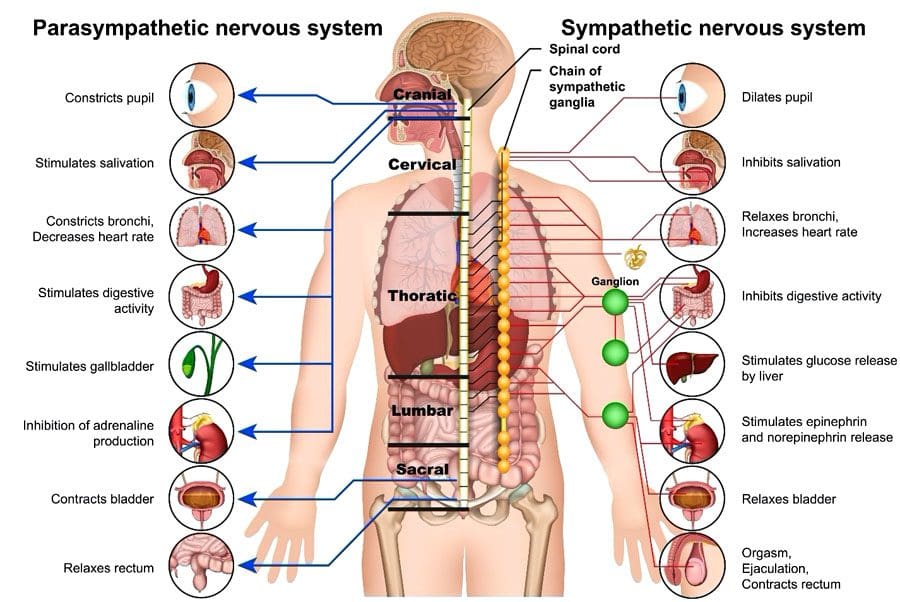 Chiropractic Medicine
Chiropractic medicine is founded on the nervous system's control of the body's organ systems, whose impulse signals travel through the spinal cord. Body systems include the muscles, bones, and all organs. Any problems with the spine and/or nerve changes from normal wear and tear, injury, or infection can affect signal transmissions that can alter system functions. Altered nerve conduction can impact overall health and is referred to as reflex pathways in the nervous system. A somatovisceral reflex is where the musculoskeletal system causes altered nerve conduction creating organ system dysfunction and/or illness. Diarrhea brought on by back pain is an example.
Causes Of Back Pain and Diarrhea
Appendicitis
The appendix extends from the colon in the lower right abdomen. Appendicitis is inflammation of the appendix. The pain usually appears near the belly button and spreads to the right side of the stomach. Some individuals' appendix extends behind the colon, which can also cause low back pain. Symptoms include:
Loss of appetite
Inability to relieve gas
Constipation
Abdominal pain - Moderate to severe
Diarrhea
Fever
Nausea
Vomiting
Appendicitis can be life-threatening and requires immediate treatment; if left untreated, the condition can worsen within hours, causing a rupture that can leak through the abdominal cavity.
Fecal impaction
Fecal impaction is stools that have become hard, dry, and stuck in the rectum and can cause abdominal and low back pressure and pain. It is commonly caused by chronic constipation, which can be associated with dehydration, lack of fiber, physical inactivity, medication side effects, or long-term use of laxatives. Taking laxatives for a long time can cause the intestines to shut off automatic evacuation of the bowels. Although the condition is common in older individuals, it can happen to individuals of any age who experience chronic constipation. Symptoms can include:
Bloating
Cramping
Bladder pressure
Bladder incontinence
Leakage or sudden diarrhea after long-term constipation.
Rectal bleeding
Enteropathic arthritis
Enteropathic arthritis is a chronic inflammatory arthritis associated with inflammatory bowel disease or IBD. Types include:
Ulcerative colitis
Crohn's disease
Different arthritic diseases like ankylosing spondylitis and psoriatic arthritis can cause symptoms like diarrhea and abdominal pain or be associated with developing inflammatory bowel disease. Varying symptoms depend on the bowel disease and arthritis type and include:
Fatigue
Cramping
Joint pain
Joint stiffness
Loss of appetite
Bloody diarrhea
Pancreatic Cancer
The symptoms of pancreatic cancer vary depending on the type, location, and cancer stage. Pancreatic cancers in the early stages usually don't cause signs or symptoms. Possible symptoms can include:
Abdominal pain
Back pain
Poor appetite
Weight loss
Diarrhea
Nausea
Vomiting
Jaundice
Chiropractic is ideal for addressing reflex issues. A doctor of chiropractic adjusts the spine to improve alignment, joint motion, and nerve energy transmission, improving nerve circulation/signal flow, which can help with unrelated health conditions. A chiropractor will locate any areas of spinal misalignment; once identified, a personalized treatment plan will return the correct alignment to the spine, enabling the nervous system to return to optimal function.
---
Decompression Spinal Non-Surgical
---
The information herein is not intended to replace a one-on-one relationship with a qualified health care professional, or licensed physician, and is not medical advice. We encourage you to make your own healthcare decisions based on your research and partnership with a qualified healthcare professional. Our information scope is limited to chiropractic, musculoskeletal, physical medicines, wellness, sensitive health issues, functional medicine articles, topics, and discussions. We provide and present clinical collaboration with specialists from a wide array of disciplines. Each specialist is governed by their professional scope of practice and their jurisdiction of licensure. We use functional health & wellness protocols to treat and support care for the injuries or disorders of the musculoskeletal system. Our videos, posts, topics, subjects, and insights cover clinical matters, issues, and topics that relate to and support, directly or indirectly, our clinical scope of practice.* Our office has made a reasonable attempt to provide supportive citations and has identified the relevant research study or studies supporting our posts. We provide copies of supporting research studies available to regulatory boards and the public upon request.
We understand that we cover matters that require an additional explanation of how it may assist in a particular care plan or treatment protocol; therefore, to further discuss the subject matter above, please feel free to ask Dr. Alex Jimenez or contact us at 915-850-0900.
Dr. Alex Jimenez DC, MSACP, CCST, IFMCP*, CIFM*, ATN*
email: coach@elpasofunctionalmedicine.com
Licensed in: Texas & New Mexico*
References
https://www.arthritis.org/diseases/inflammatory-bowel-disease
https://www.mayoclinic.org/diseases-conditions/pancreatitis/symptoms-causes/syc-20360227
https://www.thieme-connect.de/products/ejournals/abstract/10.1055/s-0032-1301760
Sengupta, Jyoti N. "Visceral pain: the neurophysiological mechanism." Handbook of experimental pharmacology,194 (2009): 31-74. doi:10.1007/978-3-540-79090-7_2
Walden, Anna L et al. "Bladder and bowel symptoms among adults presenting with low back pain to an academic chiropractic clinic: results of a preliminary study." Journal of chiropractic medicine vol. 13,3 (2014): 178-87. doi:10.1016/j.jcm.2014.07.006
Wood, Jackie D. "Neuropathophysiology of functional gastrointestinal disorders." World journal of gastroenterology vol. 13,9 (2007): 1313-32. doi:10.3748/wjg.v13.i9.1313