Many complex spinal surgeries take place in a hospital environment. The individual spends a night or two in the hospital, so medical staff can monitor them if any complications arise. However, outpatient surgeries have increased with new developments in minimally invasive procedures, pain management, and home rehabilitation. The improvements compared to traditional spinal surgical procedures are significant. These advancements have made it possible to perform more complex surgeries outside of a hospital. Outpatient surgeries have:
Accelerated recovery times
Decreased complications
Decreased infections
Healthier overall outcomes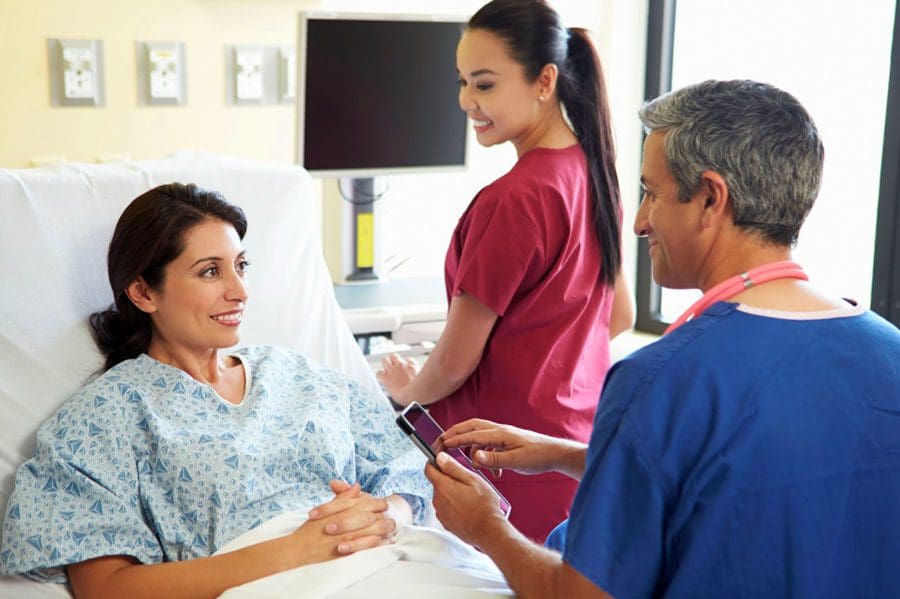 Outpatient Surgery Candidates
Determining if outpatient surgery can be performed effectively depends on the injury/s and/or conditions that the individual is going through. An individual who is debilitated or has underlying medical conditions that increase their risk for complications or do not have support at home to assist with recovery and rehabilitation is recommended to have the surgery done in a hospital. To be considered for outpatient spine surgery, a surgeon looks at:
Age
Disease/s
Condition/s
Overall health
Weight
Individuals must also be a non-smoker or have quit before surgery, as smoking:
Interferes with proper healing
Can accelerate disc degeneration
Can cause ill effects on the spine and other areas of the body
Recovery times vary on a case-to-case basis and procedure type. Most procedures' recovery time is between three weeks and three months.
Ambulatory Surgery Centers
An ambulatory surgery center or ASC is an outpatient clinic that offers surgical procedures. Standard outpatient procedures include:
Abdominal hernia repairs
Cataract surgeries
Skin therapies
Standalone ambulatory surgery centers offer same-day surgical procedures for individuals that meet specific criteria. Medical staff assess the patient's condition and determine recovery at home. If issues arise, the individual can be transferred to a hospital. Some facilities are single-specialty facilities, focusing on one medical specialty, and others are multi-specialty, meaning they offer a range of medical services from:
Orthopedic
Podiatry
Pain management services
Procedures
Anterior Cervical Discectomy and Fusion - ACDF
ACDF is a two-part surgery. First, the surgeon removes part of an intervertebral disc with bulged and compressed nerves from the spinal cord. Because there is less cushion, the vertebrae above and below are fused to prevent and eliminate painful movement. The discectomy:
Provides more accessible access to the vertebrae
Reduces healing time
Causes less pain
ACDF outpatient procedure treats several neck conditions that include:
Cervical spinal stenosis
Cervical radiculopathy
Neck-related degenerative disc disease
Herniated disc
Cervical spinal fracture
Individuals recover in the surgical center for one to several hours following the surgery before returning home. Traditional ACDF procedure takes three weeks to three months to recover.
Lumbar Discectomy
A lumbar discectomy is a minimally invasive procedure that repairs a lower back herniated disc compressing the surrounding nerves. This procedure provides compression relief and allows the nerve to heal. A traditional lumbar discectomy takes four to six weeks to recover.
Lumbar Laminectomy
This minimally invasive procedure removes thickened ligaments and lamina from the lower back. This opens the spinal canal space, relieving pressure and bringing pain relief. The surgery commonly treats lower-back spinal stenosis. A traditional laminectomy takes four to six weeks to recover.
Lumbar Spinal Fusion
Outpatient lumbar spinal fusion permanently connects two or more vertebrae in the lower back. The surgery helps stabilize the spine from severe arthritis or herniated disc removal. Spinal fusion has been found to be effective for correcting certain spinal deformities. The surgery involves a short recovery time at the outpatient center, after which the individual can return home the same day. A traditional or open spinal fusion requires a two-to-three-day hospital stay. After four to six weeks and with a doctor's clearance, individuals can return to light activities, with full recovery requiring six months.
---
Chiropractic Spinal Decompression
---
References
International Journal of Spine Surgery. (April 16, 2021) "The expanding frontier of outpatient spine surgery." https://pubmed.ncbi.nlm.nih.gov/33900984/
Mayo Clinic. (n.d.) "Spinal fusion." https://www.mayoclinic.org/tests-procedures/spinal-fusion/about/pac-20384523
Neurosurgeons of New Jersey. (July 21, 2019) "Lumbar discectomy recovery timeline: Your guide to recovery." https://www.neurosurgeonsofnewjersey.com/blog/lumbar-discectomy-recovery-time/#:~:text=The%20overall%20lumbar%20discectomy%20recovery,discectomy%20recovery%20time%20should%20progress
Rothman Orthopaedics. (March 2, 2017) "Outpatient spine surgery: A new way to look at surgery." https://rothmanortho.com/stories/blog/outpatient-spine-surgery