Headaches and Treatment: Headaches can range from mild, dull aches to severe throbbing pain. They can be episodic and chronic. Tension headaches are the most common that present with pain around the head, scalp, or neck. Migraines are often chronic, with the pain lasting for a few hours to a few days. The location of the headache and the type of pain being experienced can indicate the type of headache. Sources of headaches include, but are not limited to:
Certain kinds of foods
Sounds
Excessive noise
Bright lights
Changes in blood sugar
Too much exercise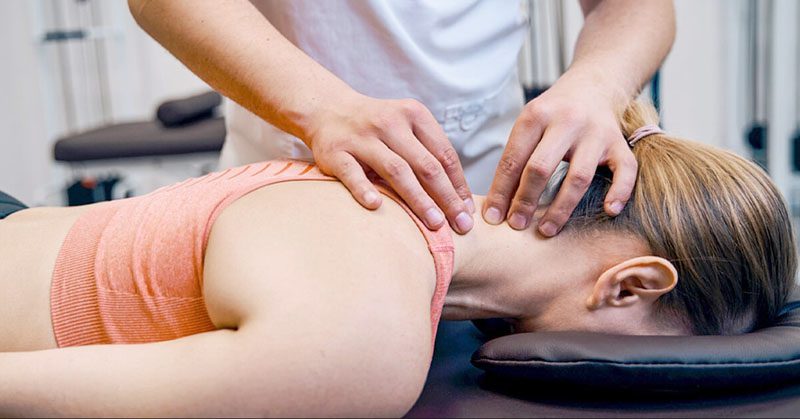 Headache relief can come from over-the-counter medications, prescription medications, rest, and ice/heat packs on the forehead or neck. Research shows that individuals suffering from chronic headaches and migraines benefit more from long-term chiropractic than drug therapy alone. Doctors of chiropractic offer safe, effective, long-term relief. This is because most headaches have a spinal, muscular, or repeated pattern/s, which chiropractors have been trained to identify and treat.
Tension Headaches and Treatment
Tension Headaches are usually worse in the afternoon and evening and are often work, school, and stress-related. The pain is usually felt on both sides of the forehead and/or the top of the neck. These headaches can last for long periods and can be triggered by something as simple as an airplane trip. Tension headaches are caused by tension and trigger points within the muscles that constantly contract and don't relax. Chiropractic adjustments and muscle release techniques have proven to be highly effective.
Migraine Headaches and Treatment
Migraines are broken down into two categories:
A migraine aura usually comes before the onset of a Migraine and consists of:
Visualizing a strange light
Strange smells
Confusing thoughts or experiences
Migraines are more common in women, but they do occur in men. Things that can trigger migraines include but are not limited to:
Medications
Certain foods
Environmental exposure
Sleeping habits
It is recommended to keep a headache journal to:
Account all foods eaten
Sleep patterns
Drinking patterns
Medications
Exercise habits
Stress scenarios
Headache frequency, duration, areas of pain, and discomfort.
Research has shown successful results from chiropractic manipulation applied to individuals suffering from migraine headaches. In addition to chiropractic adjustments, nutrition and supplementation have also shown positive and long-term effects.
Headaches and Treatment Chiropractic
Stress can manifest in many ways that lead to headaches. Chiropractic adjustments can improve acute and chronic neck pain, reducing the number of headaches, whether migraines, tension headaches, or some other kind. Chiropractors adjust the spine's alignment to improve function and alleviate stress on the nervous system using a targeted methodology. This allows the body to function correctly and reduces stress and tension. A chiropractor will also recommend posture, stretches, exercises, and relaxation techniques.
Lifestyle Adjustments
Understanding how lifestyle affects the severity and frequency can be a large part of successful headache prevention. Specific adjustments can include:
Maintain regular sleep patterns.
Go to sleep and wake up at the same time every day.
Exercise regularly.
Aerobic exercise for at least 30 minutes three times a week.
Eat regular healthy meals.
Do not skip meals.
Limit stress by avoiding conflicts and resolving disputes calmly.
Take daily stress breaks.
Do not overuse pain medications, as overuse can make headaches worse.
---
Body Composition
---
Respiratory System
The respiratory system refers to the organs in the body involved in breathing, inhaling oxygen, and exhaling carbon dioxide. These include:
Nose nasal cavity
Throat - pharynx
Voicebox - larynx
Windpipe - trachea
Lungs
The respiratory system is critical because it delivers oxygen to all the body's organs, supporting life-sustaining functions. If oxygen supply is insufficient, the energy production necessary for organ function becomes compromised, leading to poor overall health. The respiratory system is divided into the upper and lower respiratory tracts:
The upper respiratory tract includes the nose, nasal cavity, mouth, throat, and voice box.
The lower respiratory tract consists of the windpipe, lungs, and all sections of the bronchial tree.
When breathing, the hairs/cilia in the nose and trachea prevent bacteria and foreign substances from entering the body.
Occasionally, pathogens will make it past the cilia and enter the body, causing illness.
This is when the immune system goes to work neutralizing any invading pathogens.
The information herein is not intended to replace a one-on-one relationship with a qualified health care professional, licensed physician, and is not medical advice. We encourage you to make your own health care decisions based on your research and partnership with a qualified health care professional. Our information scope is limited to chiropractic, musculoskeletal, physical medicines, wellness, sensitive health issues, functional medicine articles, topics, and discussions. We provide and present clinical collaboration with specialists from a wide array of disciplines. Each specialist is governed by their professional scope of practice and their jurisdiction of licensure. We use functional health & wellness protocols to treat and support care for the injuries or disorders of the musculoskeletal system. Our videos, posts, topics, subjects, and insights cover clinical matters, issues, and topics that relate to and support, directly or indirectly, our clinical scope of practice.* Our office has made a reasonable attempt to provide supportive citations and has identified the relevant research study or studies supporting our posts. We provide copies of supporting research studies available to regulatory boards and the public upon request.
We understand that we cover matters that require an additional explanation of how it may assist in a particular care plan or treatment protocol; therefore, to further discuss the subject matter above, please feel free to ask Dr. Alex Jimenez or contact us at 915-850-0900.
Dr. Alex Jimenez DC, MSACP, CCST, IFMCP*, CIFM*, ATN*
email: coach@elpasofunctionalmedicine.com
Licensed in: Texas & New Mexico*
References
Bryans, Roland et al. "Evidence-based guidelines for the chiropractic treatment of adults with headache." Journal of manipulative and physiological therapeutics vol. 34,5 (2011): 274-89. doi:10.1016/j.jmpt.2011.04.008
Chaibi, A et al. "Chiropractic spinal manipulative therapy for migraine: a three-armed, single-blinded, placebo, randomized controlled trial." European journal of neurology vol. 24,1 (2017): 143-153. doi:10.1111/ene.13166
Côté, Pierre et al. "Non-pharmacological management of persistent headaches associated with neck pain: A clinical practice guideline from the Ontario Protocol for traffic injury management (OPTIMa) collaboration." European journal of pain (London, England) vol. 23,6 (2019): 1051-1070. doi:10.1002/ejp.1374
Daghlas, Iyas et al. "Habitual sleep disturbances and migraine: a Mendelian randomization study." Annals of clinical and translational neurology vol. 7,12 (2020): 2370-2380. doi:10.1002/acn3.51228
Iwasaki, Akiko et al. "Early local immune defenses in the respiratory tract." Nature reviews. Immunology vol. 17,1 (2017): 7-20. doi:10.1038/nri.2016.117