Back pain and soreness are widespread conditions that affect all genders, races, and lifestyles. The causes for back pain are varied from injury, poor posture, arthritis, age, overuse, etc. If back pain is frequent, perhaps the last assumption is that the pain could be caused by cancer. While it's far from the most common causes, cancer back pain is possible, which makes consulting a doctor that will figure out the root cause, especially if there are other non-related symptoms, and treat the back pain very important.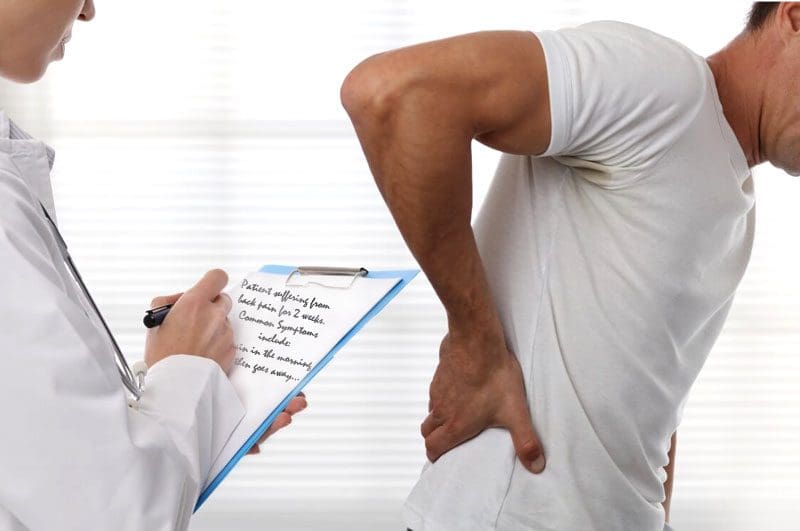 Cancer Back Pain
Back pain that could be caused by cancer usually occurs with other symptoms and include:
Back pain that is not related to movement.
Pain does not get worse with activity.
Back pain usually presents at night or early in the morning and fades away or improves as the day progresses.
Back pain persists even after physical therapy or other treatments.
Changes in bowel movements or blood in urine or stool.
Unexplained, sudden weight loss.
Unexplained fatigue/exhaustion.
Weakness, tingling, or numbness in the arms or legs.
Back pain does not have to be severe to be cancer, as it can range in severity.
Having a family history of cancer and these symptoms can increase the risk.
Types of Cancer That Can Contribute To Back Pain
Types of cancer that can form around, in, and near the spine can cause back pain. These include:
Spinal Tumor
A spinal tumor can grow in the spinal bone or the membranes around the spinal cord.
The spine is a common source for bone metastasis, where cancer starts in one location and spreads to others.
30 to 70 percent of individuals with cancer spreads to the spine, according to the American Association of Neurological Surgeons - AANS.
Lung
Lung cancer is one of the most common cancers that can spread to the spine.
A lung tumor can press on the spine, affecting nerve transmissions.
An individual with lung cancer may notice becoming tired/fatigued more easily, shortness of breath, coughing up blood, and back pain.
Breast
Rare but possible breast cancer symptom.
Breast cancers can metastasize to the back.
Like lung cancers, some breast cancer tumors can press on nerves connected to the spine, causing discomfort and pain.
Gastrointestinal
Cancers of the stomach, colon, and rectum can cause back pain.
The pain radiates from where the cancer is to the back.
Tissue and Blood Cancers
Blood and tissue cancers like:
Multiple myeloma
Lymphoma
Melanoma
Can cause back pain.
Diagnosing Cancer and Back Pain
Medical treatments for back pain-related cancer depend on its type and how advanced it is. A doctor will consider symptoms and medical history when diagnosing possible back pain causes. Because cancer is a rare cause of back pain, a doctor may recommend various treatments before a full cancer work-up. The doctor may order imaging studies and blood testing if the pain persists after chiropractic, physical therapy, or anti-inflammatory medications. These tests will help identify potential cancer markers causing back pain.
Treatments usually include chemotherapy and radiation to shrink a tumor.
A doctor will recommend surgery to remove a tumor.
Chiropractic
Cancer patients have found chiropractic treatment to be effective for:
Pain management.
Flexibility improvement.
Mobility improvement.
Strengthening muscles.
Helping to reduce stress.
Helping the body function more efficiently.
Chiropractic physiotherapy benefits patients undergoing chemotherapy, as it helps the body withstand the debilitating effects of the treatment based on the whole-body approach.
---
Body Composition
---
Don't Hate Dieting
Individuals hate dieting, usually because they go about it the wrong way. Individuals do not need to starve themselves and live at the gym. Reaching quick weight loss goals might sound appealing; however, going through it for an extended time can make individuals feel:
Tired
Depressed
Unmotivated
Individuals can find a nutrition plan/exercise balance that works for them and their lifestyle. For some individuals, dieting alone is effective, but more than likely, they have increased metabolisms. Trying to lose fat by only cutting calories can be difficult for individuals with smaller metabolisms. The goal is to find a balance between diet and exercise. This does not mean having to go on an extreme diet, skip meals, or cut out entire macronutrient groups like fat or carbs, as the body needs both of these nutrients. Finding a sustainable long-term nutrition plan takes planning and support. A dietician, nutritionist, or health coach can offer a variety of nutrition and exercise plans customized to the individual.
The information herein is not intended to replace a one-on-one relationship with a qualified health care professional, licensed physician, and is not medical advice. We encourage you to make your own health care decisions based on your research and partnership with a qualified health care professional. Our information scope is limited to chiropractic, musculoskeletal, physical medicines, wellness, sensitive health issues, functional medicine articles, topics, and discussions. We provide and present clinical collaboration with specialists from a wide array of disciplines. Each specialist is governed by their professional scope of practice and their jurisdiction of licensure. We use functional health & wellness protocols to treat and support care for the injuries or disorders of the musculoskeletal system. Our videos, posts, topics, subjects, and insights cover clinical matters, issues, and topics that relate to and support, directly or indirectly, our clinical scope of practice.* Our office has made a reasonable attempt to provide supportive citations and has identified the relevant research study or studies supporting our posts. We provide copies of supporting research studies available to regulatory boards and the public upon request.
We understand that we cover matters that require an additional explanation of how it may assist in a particular care plan or treatment protocol; therefore, to further discuss the subject matter above, please feel free to ask Dr. Alex Jimenez or contact us at 915-850-0900.
Dr. Alex Jimenez DC, MSACP, CCST, IFMCP*, CIFM*, ATN*
email: coach@elpasofunctionalmedicine.com
Licensed in: Texas & New Mexico*
References
Downie, Aron et al. "Red flags to screen for malignancy and fracture in patients with low back pain: a systematic review." BMJ (Clinical research ed.) vol. 347 f7095. 11 Dec. 2013, doi:10.1136/bmj.f7095
Mabry, Lance M et al. "Metastatic cancer mimicking mechanical low back pain: a case report." The Journal of manual & manipulative therapy vol. 22,3 (2014): 162-9. doi:10.1179/2042618613Y.0000000056
Vasser, Melinda, and Matthew Koroscil. "When Back Pain Turns Deadly: An Unusual Presentation of Lung Cancer." Respiratory medicine case reports vol. 29 101009. 28 Jan. 2020, doi:10.1016/j.rmcr.2020.101009
Verhagen, Arianne P et al. "Red flags presented in current low back pain guidelines: a review." The European spine journal: official publication of the European Spine Society, the European Spinal Deformity Society, and the European Section of the Cervical Spine Research Society vol. 25,9 (2016): 2788-802. doi:10.1007/s00586-016-4684-0