Moving every part of the body freely, without pain or stiffness, is necessary for a high quality of life. As the body ages, it begins to lose its natural flexibility. One of the most common problems with mobility and flexibility is tight and misaligned backs, shoulders, necks, and legs that can cause pain when moving. This means having a limited range of motion that can cause negative body compensation patterns that can lead to further dysfunction and injury. Maintaining healthy mobility requires a conscious effort to keep every joint, muscle, ligament, and tendon in shape. Chiropractic treatment can restore range of motion and strengthen the body.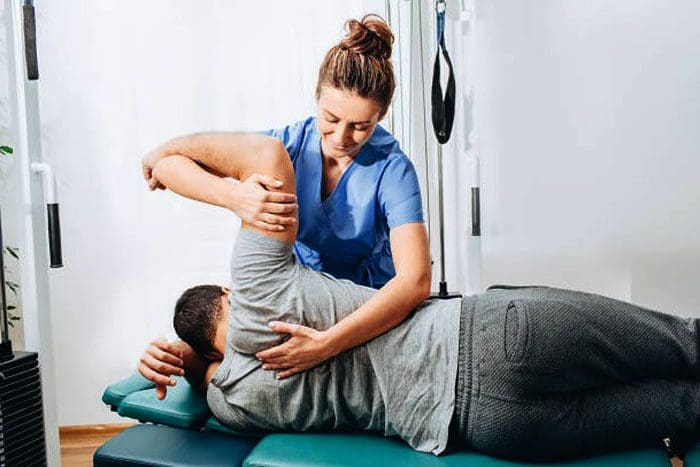 Restore Range of Motion
Range of motion or R.O.M. is the measurement of movement around a joint or body part expressed in degrees. It is tied with the flexibility around a joint and plays a role in moving well without pain or discomfort. After an injury, trauma, or medical problem, the range of motion can be limited. Individuals with back, neck, shoulder, and leg pain feel stiff, tight, and sore in these areas and cannot move freely. Range of motion is vital for physical activity, athletic activity, and preventing injuries. When an individual pushes the body too hard and tries to move in an uncomfortable way, they can cause a tear or sprain, leading to added inflammation, stiffness, and further limited mobility.
Factors That Contribute To A Lack Of Flexibility
Age
Body age impacts flexibility. As the body gets older, it becomes stiff and can begin to present with pain, which restricts movements.
Limited Physical Activity or Exercise
Being sedentary with minimal physical activity contributes to a lack of flexibility, muscle loss, disrupted circulation, and weight gain.
Work
An individual's profession can affect the body's flexibility. A job that has little to no movement regularly, like being seated for most of the time, will contribute to reduced flexibility.
Obesity
Carrying additional body weight can significantly limit movement and decrease flexibility.
Flexibility Improvement
Staying Active
Regular physical activity/exercise will help maintain body health and flexibility. Activities can include:
Sports
Walking
Jogging
Weight lifting
Swimming
Yoga
Regular Stretching
Regular stretching will keep the muscles loose and the joints flexible. Incorporate stretching into a daily routine throughout the day and a wind-down stretch before going to bed.
Maintaining Proper Hydration
When the body is dehydrated, it causes the muscles to stiffen and tighten up, decreasing elasticity. Staying hydrated will help maintain flexibility by re-lubricating the muscles, ligaments, and tendons.
Healthy Diet
Losing excess weight and maintaining a healthy weight range through proper nutrition will reduce inflammation, improve mobility and flexibility.
Chiropractic Restoration
When normal movement is not possible, discomfort and pain will worsen as the muscles become tighter, causing the tendons and ligaments to shorten and stick together, placing added stress on the areas, leading to pain and inflammation. The body was made to be in motion, and when it does not move and stretch out, it stiffens up. Trying to use the muscles even when they are stiff and strained can make the condition worse, limiting the range of motion further causing the slightest movements to cause discomfort and pain. A chiropractor can provide adjustments, soft and deep-tissue massage to the tight areas to loosen the muscles, improve circulation, flexibility, mobility, and restore range of motion.
---
Body Composition
---
Myth Eating at Night Causes Fat Gain
The myth is eating right before sleeping causes the body to turn whatever was eaten straight into fat. However, the fact is that it is not about when an individual eats but rather the calorie intake and exercise level. According to the C.D.C., it's the calories that are burned over a 24-hour period that determine fat gain/loss, and not when those calories are taken in. Far from being a fat gain guarantee, healthy nighttime meals were shown to:
Improve protein synthesis in healthy individuals that ate small meals that were high in nutrients and low in calories before sleeping.
They were shown to build muscle, not fat.
They had no effect on weight gain among overweight and obese individuals that participated in a high-intensity cardiovascular exercise program during the day.
What can make the myth true is when eating and drinking foods/drinks with a high caloric content: This includes:
Alcohol
Carbohydrates
Foods that are filled with calories.
An extra 500-1000 calories after 8 pm is easy to add if not careful. Remember, it's about the calories themselves, not the time.
The information herein is not intended to replace a one-on-one relationship with a qualified health care professional, licensed physician, and is not medical advice. We encourage you to make your own health care decisions based on your research and partnership with a qualified health care professional. Our information scope is limited to chiropractic, musculoskeletal, physical medicines, wellness, sensitive health issues, functional medicine articles, topics, and discussions. We provide and present clinical collaboration with specialists from a wide array of disciplines. Each specialist is governed by their professional scope of practice and their jurisdiction of licensure. We use functional health & wellness protocols to treat and support care for the injuries or disorders of the musculoskeletal system. Our videos, posts, topics, subjects, and insights cover clinical matters, issues, and topics that relate to and support, directly or indirectly, our clinical scope of practice.* Our office has made a reasonable attempt to provide supportive citations and has identified the relevant research study or studies supporting our posts. We provide copies of supporting research studies available to regulatory boards and the public upon request.
We understand that we cover matters that require an additional explanation of how it may assist in a particular care plan or treatment protocol; therefore, to further discuss the subject matter above, please feel free to ask Dr. Alex Jimenez or contact us at 915-850-0900.
Dr. Alex Jimenez DC, MSACP, CCST, IFMCP*, CIFM*, ATN*
email: coach@elpasofunctionalmedicine.com
Licensed in: Texas & New Mexico*
References
Marcano-Fernández, Francesc et al. "Physical outcome measures: The role of strength and range of motion in orthopedic research." Injury vol. 51 Suppl 2 (2020): S106-S110. doi:10.1016/j.injury.2019.11.017
Mortazavi, Fatemeh, and Ali Nadian-Ghomsheh. "Stability of Kinect for a range of motion analysis in static stretching exercises." PloS one vol. 13,7 e0200992. 24 Jul. 2018, doi:10.1371/journal.pone.0200992
O'Sullivan, Kieran et al. "The effect of warm-up, static stretching and dynamic stretching on hamstring flexibility in previously injured subjects." B.M.C. musculoskeletal disorders vol. 10 37. 16 Apr. 2009, doi:10.1186/1471-2474-10-37
Simão, Roberto et al. "The influence of strength, flexibility, and simultaneous training on flexibility and strength gains." Journal of strength and conditioning research vol. 25,5 (2011): 1333-8. doi:10.1519/JSC.0b013e3181da85bf