Neuropathy is a painful condition that causes tingling, numbness, burning sensations in the hands and feet, and other symptoms throughout the body. Neuropathy can make life difficult. There is no cure for neuropathy, but symptoms can be managed with medications, antidepressants, anticonvulsants, and pain relievers. Another treatment option to help relieve neuropathy symptoms is chiropractic.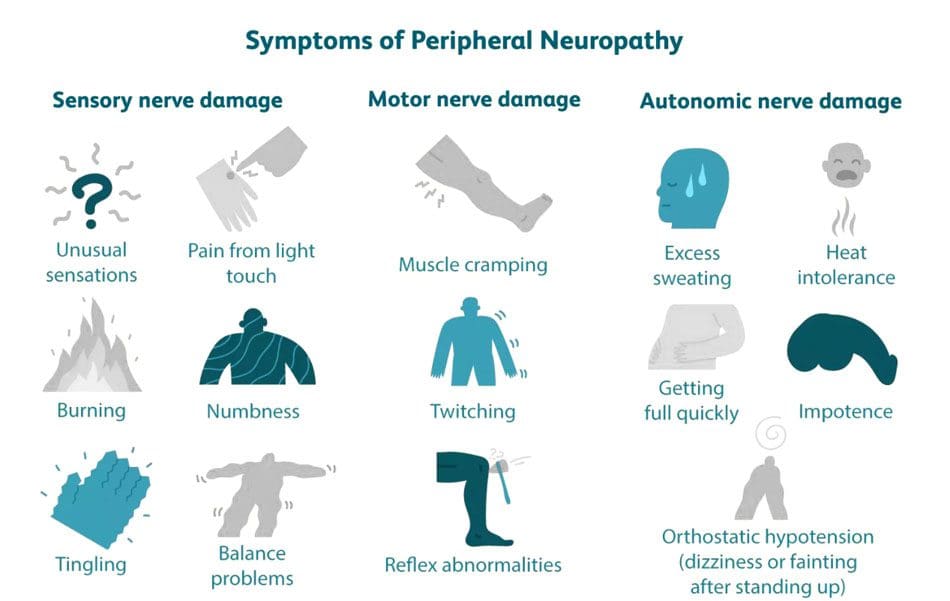 Symptoms
Symptoms vary from individual to individual depending on their health condition and how the nerves have been impacted. Common symptoms include:
Pain
Numbness
Tingling
Pins-and-needles feeling when touching something hot or cold.
Some individuals lose the sense of feeling like clothing on their body, even though it's rubbing against the skin but feel as if it is not there.
Other changes can be familiar objects looking different than usual.
Lessened or heightened sense of smell.
Negative impact on mood.
Protective Sheathing Of The Nerves
Neuropathic pain is caused by damage and degeneration to the nerves or the protective covering/sheathing of the nerves. Various causes include:
Diabetes.
Injury.
Infections.
Medication side effects.
Exposure to toxins.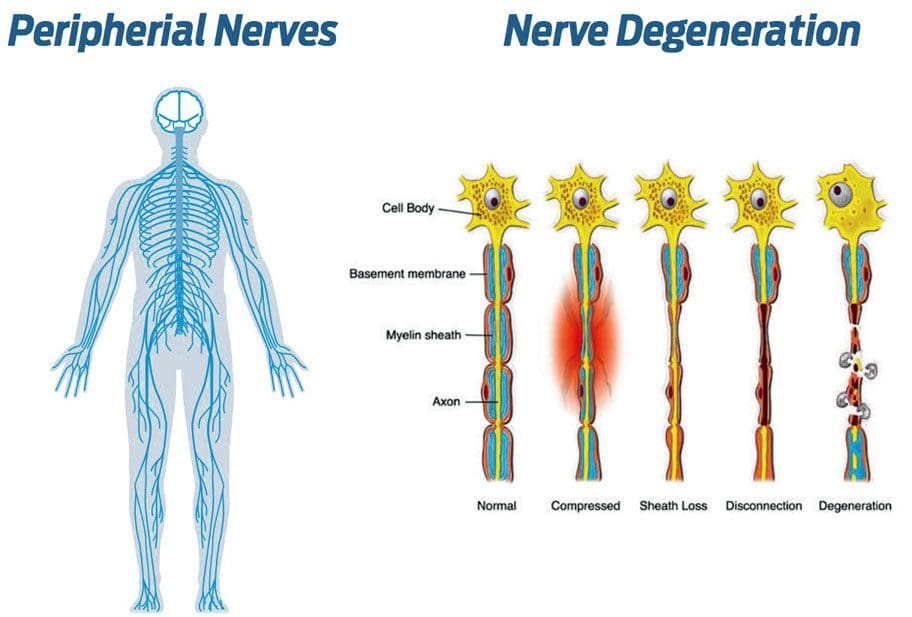 Stages
The symptoms of neuropathy depend on the location and severity of the nerve damage. The stages include:
Numbness and Pain
Stage one consists of numbness and pain.
Some individuals describe a tingling or numbing sensation.
What feels like pinpricks in the hands and/or feet.
This stage can last for months, but most individuals recover within a year.
Constant Pain
Stage two is characterized by continuous pain.
Some individuals may experience shooting pains that come and go.
Intense burning sensations around the waistline.
Numbness on one side of the body with stabbing pain.
This stage can last for a year or more and worsen until the individual is incapacitated.
Nerve Degeneration
Stage three is when nerve degeneration sets in.
Loss of feeling on both sides of the body.
Loss of motor skills like walking and falling over.
Doctors treat the symptoms so they don't get worse.
Loss Of Sensation
The final stage is the loss of sensation.
This occurs when the nerve endings are destroyed and can no longer send messages to the brain.
Treatments To Help Relieve Symptoms
Treatments usually involve:
Antidepressants.
Pain medications.
Anti-seizure medications.
Pain-relieving creams.
All can help manage pain and inflammation.
Chiropractic Can Also Help Relieve Symptoms
Chiropractors use hands-on methods to adjust and realign joints, muscles, spinal discs, and ligaments to function more efficiently and bring relief from pressure on the nerves. Neuropathies are often caused by nerve compression in body areas that have been altered by injury or disease that affects ligaments, discs, spinal muscles, sacroiliac joint dysfunction, hip adhesions, leg length discrepancies, etc. These can contribute to pain and numbness in the peripheral nerves that supply the legs, feet, arms, hands, and neck. While a chiropractor cannot cure neuropathy, they can help relieve symptoms, make it much more manageable, and improve quality of life.
---
Body Composition
---
Common Cold
The common cold, also known as upper respiratory tract inflammation, is the most common infectious respiratory disease because of its effect on the nose and throat. The average adult will catch 2–3 colds a year, according to the CDC. A virus that causes a cold can enter the respiratory tract directly when inhaling droplets expelled from an infected person or by direct skin contact, like touching the face with a hand that came in contact with the virus. Cold symptoms vary but usually include:
Runny or stuffy nose
Sneezing
Coughing
Headaches
Body aches
The duration of a cold differs; however, most individuals with a healthy immune system recover in 7–10 days. However, individuals with a compromised immune system, asthma, or COPD have an increased risk of developing more serious illnesses like bronchitis or pneumonia. Hundreds of viruses can cause colds. Human Rhinoviruses are common culprits and are constantly mutating, which is why there is no cure. Several medications or natural treatments help alleviate cold symptoms; it is recommended to combat the illness effectively through a healthy immune system response. Doctors recommend proper rest, eating a nutrient-rich diet, and maintaining proper H2O hydration to boost the immune system.
The information herein is not intended to replace a one-on-one relationship with a qualified health care professional, licensed physician, and is not medical advice. We encourage you to make your own health care decisions based on your research and partnership with a qualified health care professional. Our information scope is limited to chiropractic, musculoskeletal, physical medicines, wellness, sensitive health issues, functional medicine articles, topics, and discussions. We provide and present clinical collaboration with specialists from a wide array of disciplines. Each specialist is governed by their professional scope of practice and their jurisdiction of licensure. We use functional health & wellness protocols to treat and support care for the injuries or disorders of the musculoskeletal system. Our videos, posts, topics, subjects, and insights cover clinical matters, issues, and topics that relate to and support, directly or indirectly, our clinical scope of practice.* Our office has made a reasonable attempt to provide supportive citations and has identified the relevant research study or studies supporting our posts. We provide copies of supporting research studies available to regulatory boards and the public upon request.
We understand that we cover matters that require an additional explanation of how it may assist in a particular care plan or treatment protocol; therefore, to further discuss the subject matter above, please feel free to ask Dr. Alex Jimenez or contact us at 915-850-0900.
Dr. Alex Jimenez DC, MSACP, CCST, IFMCP*, CIFM*, ATN*
email: coach@elpasofunctionalmedicine.com
Licensed in: Texas & New Mexico*
References
D'Angelo, Kevin et al. "The effectiveness of passive physical modalities for the management of soft tissue injuries and neuropathies of the wrist and hand: a systematic review by the Ontario Protocol for Traffic Injury Management (OPTIMa) collaboration." Journal of manipulative and physiological therapeutics vol. 38,7 (2015): 493-506. doi:10.1016/j.jmpt.2015.06.006
Kissel, Jaclyn A, and Cristina Leonardelli. "Isolated musculocutaneous neuropathy: a case report." The Journal of the Canadian Chiropractic Association vol. 63,3 (2019): 162-170.
Passioti, Maria et al. "The common cold: potential for future prevention or cure." Current Allergy and asthma reports vol. 14,2 (2014): 413. doi:10.1007/s11882-013-0413-5
T Francio, Vinicius. "Chiropractic care for foot drop due to peroneal nerve neuropathy." Journal of bodywork and movement therapies vol. 18,2 (2014): 200-3. doi:10.1016/j.jbmt.2013.08.004