Multiple sclerosis and sciatica can exist side by side or have overlapping symptoms. The sciatic nerve begins at the lower back, then through the hips into the buttocks, and separates into both legs into the feet. Sciatica is a type of pain caused by a compressed/pinched or damaged/injured sciatic nerve. The sensation radiates across the nerve with frequency and severity at varying levels, depending on the individual's body position and/or movement. Individuals with multiple sclerosis can also experience sciatica, believing it's their multiple sclerosis. Neuropathic pain is a common symptom in multiple sclerosis or MS. It is caused by injury or damage to the nerves of the central nervous system and can cause burning, or sharp, stabbing sensations.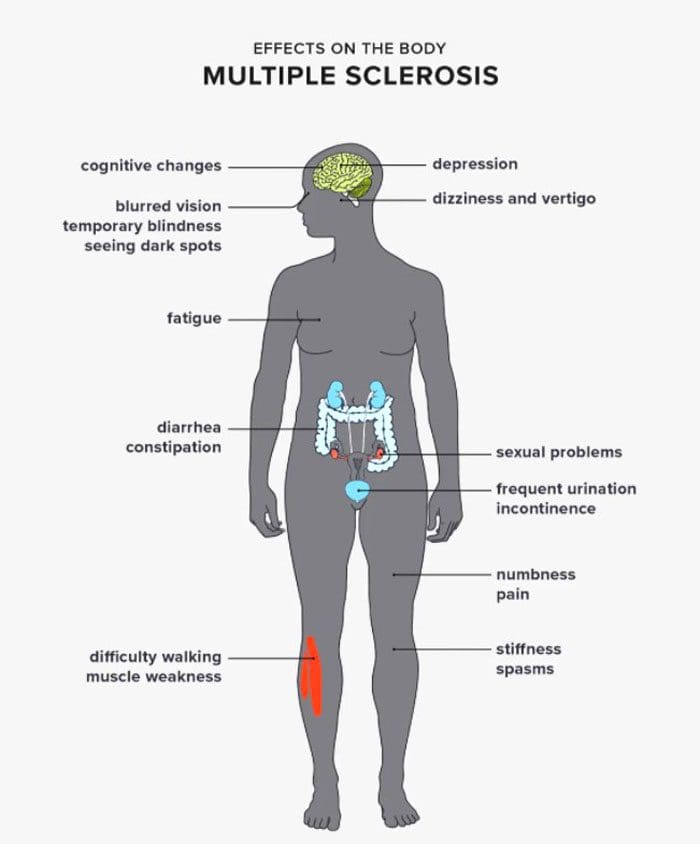 Multiple Sclerosis and Sciatic Nerve Pain Difference
MS is an autoimmune disorder where the immune system attacks the protective layer around nerve fibers known as myelin. This affects the central nervous system pathways that regulate feeling and sensation in the body. It can cause painful sensations that include:
Muscle spasms
Burning, tingling, or aching in the lower legs
Electrical shock-like sensations travel from the back toward the legs.
Migraines
The painful sensations result from the damaged nerve fibers creating interference in the brain's neural pathways.
Sciatica works differently
An autoimmune response does not damage the sciatic nerve's pathway, but an added stress/pressure compresses the sciatic nerve. The pain is usually caused by a quick, jerking, twisting, bending, reaching motion that pinches or twists the nerve. Herniated discs and bone spurs are another common cause, along with being overweight can place intense pressure on the sciatic nerve. The critical difference is that multiple sclerosis causes the central nervous system's signaling pathways to malfunction.
MS and Sciatica
Most individuals, around 40%, will at some point experience some form of sciatica symptoms. This is from age, and all the wear and tear the low back goes through daily. This is why it's not unusual for individuals with MS to experience sciatica as well. MS can cause body changes that affect activity levels.
Decreased mobility can lead to sitting for extended periods that can strain the muscles, tendons, and ligaments, causing sciatica.
There is evidence that the lesions that present from MS can extend to the sciatic nerve.
One study compared 36 individuals with MS to 35 individuals that don't have it.
All of the participants underwent magnetic resonance neurography to obtain high-resolution nerve images.
The research found that those with MS had slightly more lesions on the sciatic nerve than those without MS.
Sciatica Care
It can be challenging to figure out the types of pain being experienced. Sciatica travels down the length of the nerve uniquely and is often felt in only one leg. The pain, tingling, numbness, electrical sensations can present only in the lower back, the buttock, the back of the leg, hamstring, calf, and foot, or in a combination of all the areas. Treatments for sciatica depend on the severity. They include:
Chiropractic
Physical therapy
Posture exercises
Lifestyle adjustments
Physical activity and exercise
Weight loss
Cold and hot packs
Acupuncture
Over-the-counter pain relievers
Medications - anti-inflammatories, muscle relaxants, tricyclic antidepressants, and antiseizure medications.
Steroid injections - corticosteroids
Surgery is a last resort reserved for severe cases that did not improve with other treatments and therapies.
It can be easy to mistake sciatica as a symptom or related condition of multiple sclerosis. Chiropractic can help alleviate sciatica, and although treatment cannot directly treat MS or its symptoms, it can relieve pain and discomfort.
---
Body Composition
---
Diabetic Nephropathy
Diabetic nephropathy or diabetic kidney disease is the result of mismanaged diabetes. Kidney failure is a severe medical emergency and can be fatal if not treated. Chronic low kidney function results in:
Fluid retention in the body.
Inability to filter out metabolites and waste from the blood.
Increased risk of infections.
Common symptoms of diabetic kidney disease include:
Increased blood pressure
This is the result of increased stress on the body.
The kidneys can no longer filter out all the metabolites and excess fluid needed to stabilize the blood pressure.
Proteinuria or protein in the urine
Chronic kidney damage results in the protein being excreted through urine.
Fatigue
Poor kidney function affects every organ in the body.
The organs have to work harder to compensate, leading to fatigue and low energy.
Lower extremity edema
Fluid retention usually presents in the lower extremities.
Puffy, swollen ankles and legs may appear shiny or waxy.
This is common in individuals that have severe diabetic nephropathy.
Shortness of breath
As the fluid builds up in the body, additional weight can get stored on and around the lungs.
This can make breathing very difficult when lying down or when engaged in physical activity.
Impaired cognition
Metabolites in the blood can cause brain damage when not filtered properly.
Memory loss
Mood changes
Loss of consciousness
The information herein is not intended to replace a one-on-one relationship with a qualified health care professional, licensed physician, and is not medical advice. We encourage you to make your own health care decisions based on your research and partnership with a qualified health care professional. Our information scope is limited to chiropractic, musculoskeletal, physical medicines, wellness, sensitive health issues, functional medicine articles, topics, and discussions. We provide and present clinical collaboration with specialists from a wide array of disciplines. Each specialist is governed by their professional scope of practice and their jurisdiction of licensure. We use functional health & wellness protocols to treat and support care for the injuries or disorders of the musculoskeletal system. Our videos, posts, topics, subjects, and insights cover clinical matters, issues, and topics that relate to and support, directly or indirectly, our clinical scope of practice.* Our office has made a reasonable attempt to provide supportive citations and has identified the relevant research study or studies supporting our posts. We provide copies of supporting research studies available to regulatory boards and the public upon request.
We understand that we cover matters that require an additional explanation of how it may assist in a particular care plan or treatment protocol; therefore, to further discuss the subject matter above, please feel free to ask Dr. Alex Jimenez or contact us at 915-850-0900.
Dr. Alex Jimenez DC, MSACP, CCST, IFMCP*, CIFM*, ATN*
email: coach@elpasofunctionalmedicine.com
Licensed in: Texas & New Mexico*
References
Jende JME, et al. (2017). Peripheral nerve involvement in multiple sclerosis: Demonstration by magnetic resonance neurography. DOI:
10.1002/ana.25068
Mayo Clinic Staff. (2019). Sciatica.
mayoclinic.org/diseases-conditions/sciatica/symptoms-causes/syc-20377435
Murphy KL, et al. (2017). Chapter 4: Neuropathic pain in multiple sclerosis—current therapeutic intervention and future treatment perspectives.
ncbi.nlm.nih.gov/books/NBK470151/
Pain and itching. (n.d.).
nationalmssociety.org/Symptoms-Diagnosis/MS-Symptoms/Pain
Samson K. (2017). In the pipeline-multiple sclerosis neurography, MRI reveals peripheral nerve lesions in MS patients. DOI:
10.1097/01.NT.0000527861.27137.b0
Sciatica: Of all the nerves. (2016).
health.harvard.edu/pain/sciatica-of-all-the-nerve