Herniated discs, although common, can be challenging to treat depending on the size. Over 3mm is considered a large herniated disc. However, it can progressively get more extensive, and this can cause severe side effects. The size can make the disc slip out of place and start compressing on surrounding nerves, leading to muscle weakness and nerve damage.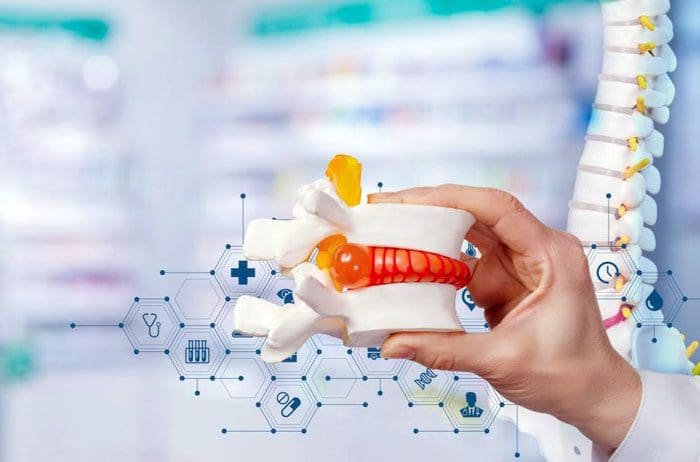 X-Ray and MRI
X-rays can't detect herniated discs, and this is because they highlight calcium in the bones. Because the vertebral discs and the nearby nerves lack calcium, they don't show up. They do help doctors see other problems that could be causing symptoms like a tumor. A herniated disc will show on an MRI and identify the size and position. Then a medical professional can get a closer look into the bone and surrounding nerves.
Degenerative Disc Disease
A herniated disc is not the same as degenerative disc disease. Degenerative disc disease is when the cartilage and tissues around the disc wear out and down, causing the discs to slowly slide out of their normal position. A herniated disc is the disc getting pulled/yanked out of place.
Tests
Specific tests will help a medical professional like a chiropractor understand the severity of a herniated disc. These include a nerve conduction study and electromyography.
Nerve Conduction Study
A nerve conduction study records electrical impulses in the nerves. Electrode patches are placed on various areas with varying electrical intensities to see different readings. Through the study, medical professionals are better able to understand the health of the nerves.
Electromyography
Electromyography is similar to nerve conduction but uses needles. Electrode patches are placed around the body; then, tiny needles are inserted into a surrounding muscle. The patches then record the reaction of the nerves.
Physical Therapy and Chiropractic Treatment
A herniated disc will usually heal without surgery in around six weeks. However, a herniated disc growing in size can take longer because of a treatment plan that has to be updated accordingly as the treatment progresses.
Physical Therapy
Physical therapy is very useful in working out herniated disc symptoms.
The therapy will slowly help the body recover by using equipment and stretching techniques to strengthen and restore flexibility. One technique is water therapy. Water helps relax the body, and the buoyancy prevents pressure build-up on the spine. This allows the body to stay flexible while avoiding strain and pressure on the herniated disc.
Chiropractic
Chiropractors specialize in herniated discs. Chiropractic works on repairing the whole musculoskeletal system. Once imaging tests have been examined and a personalized treatment plan developed, they perform the necessary adjustments. These include:
Flexion-distraction
This technique uses a segmented table that raises and lowers to release pressure on the spine. The movement also keeps the disc from touching the surrounding nerves, significantly reducing pain.
Pelvic block
The pelvic blocking adjustment utilizes cushions placed under the pelvis. As the chiropractor adjusts the spine, the cushions help to pull the disc back into place gradually.
Therapeutic Massage
Many chiropractors utilize massage therapy as it is highly beneficial for relieving pain and expedites recovery time. One recommended massage for herniated discs is deep tissue massage. The benefits include:
Relieving pressure around the nerves.
Reduces muscle spasms.
Improves the spine's range of motion.
Releases the body's natural painkillers.
Recommendations
Individuals are recommended not to overextend the spine. Avoid engaging in physical activities that require a lot of bending, twisting, reaching, etc. However, resting for too long can worsen the condition as the body needs movement to recover correctly. Too much rest can lead to the muscles contracting, leading to painful spasms. Safe activities include:
Supplements
Herniated discs often result from an injury, but they could also be caused by weakened joints and muscles. If the body does not get enough calcium, magnesium, or vitamin C, the discs can slip out of place more easily. Taking supplements will help strengthen the area by assisting in the production of collagen. Collagen attaches itself around the discs, ensuring they stay in place and are protected. Foods rich in calcium, magnesium, and vitamin c will also help. Foods include:
Red peppers
Pumpkin seeds
Lemons
Almonds
Milk
Healthy yogurt
Peas
Brussel sprouts
Hydration
Hydrating the body with plenty of water can reduce pain. Water increases the fluid around a herniated disc. The fluid works as a cushion between the herniated disc and the surrounding nerves, helping to not press on them. Drinking water will also help with movement and sleep.
---
Body Composition
---
What Happens To The Body When Eating Fruit
At the basic macronutrient level, fruit is made up of simple sugar called fructose. The natural sugar the body gets from a piece of fruit is not the same as industrial fructose added to processed products like high fructose corn syrup. Processed foods are filled with empty calories and little to no nutrition. When the body takes in fruit, the liver processes fructose before getting absorbed through the small intestine.
Research shows that adding more fiber-rich foods like fruit increases gut ecology to an anti-obese condition. This happens by increasing the lean-type bacteria and reducing obese-type bacteria. Fruit can help boost healthy bacteria that can help prevent weight gain.
Essential nutrients from fruit include Folate, Vitamin C, and Vitamin B1. The USDA recommends 2 cups of fruit a day, depending on age. Making half of each meal fruit and vegetables can be an effective strategy for weight maintenance. Fruit provides the body with a carbohydrate energy source, and fruit sources can also help meet dietary balance needs and promote long-term weight maintenance.
The information herein is not intended to replace a one-on-one relationship with a qualified health care professional, licensed physician, and is not medical advice. We encourage you to make your own health care decisions based on your research and partnership with a qualified health care professional. Our information scope is limited to chiropractic, musculoskeletal, physical medicines, wellness, sensitive health issues, functional medicine articles, topics, and discussions. We provide and present clinical collaboration with specialists from a wide array of disciplines. Each specialist is governed by their professional scope of practice and their jurisdiction of licensure. We use functional health & wellness protocols to treat and support care for the injuries or disorders of the musculoskeletal system. Our videos, posts, topics, subjects, and insights cover clinical matters, issues, and topics that relate to and support, directly or indirectly, our clinical scope of practice.* Our office has made a reasonable attempt to provide supportive citations and has identified the relevant research study or studies supporting our posts. We provide copies of supporting research studies available to regulatory boards and the public upon request.
We understand that we cover matters that require an additional explanation of how it may assist in a particular care plan or treatment protocol; therefore, to further discuss the subject matter above, please feel free to ask Dr. Alex Jimenez or contact us at 915-850-0900.
Dr. Alex Jimenez DC, MSACP, CCST, IFMCP*, CIFM*, ATN*
email: coach@elpasofunctionalmedicine.com
Licensed in: Texas & New Mexico*
References
Deniz Bayraktar, Arzu Guclu-Gunduz, Johan Lambeck, Gokhan Yazici, Sukru Aykol & Harun Demirci (2016) A comparison of water-based and land-based core stability exercises in patients with lumbar disc herniation: a pilot study, Disability, and Rehabilitation, 38:12, 1163-1171, DOI: 10.3109/09638288.2015.1075608
Gupta, Anmol et al. "Does Size Matter? An Analysis of the Effect of Lumbar Disc Herniation Size on the Success of Nonoperative Treatment." Global spine journal vol. 10,7 (2020): 881-887. doi:10.1177/2192568219880822
Polkinghorn BS, Colloca CJ. Treatment of symptomatic lumbar disc herniation using activator methods chiropractic technique. Journal of Manipulative and Physiological Therapeutics. 1998 Mar-Apr;21(3):187-196. PMID: 9567239.
Sharma, Satya P et al. "Paradoxical Effects of Fruit on Obesity." Nutrients vol. 8,10 633. 14 Oct. 2016, doi:10.3390/nu8100633