There are different types of muscle from a biological perspective, however, there is no such thing as lean muscle. Lean suggests the absence of body fat. But the fact is that all muscle is lean muscle. It is important to build muscle mass as the body ages, however, it is more important to build lean body mass. Here is the difference.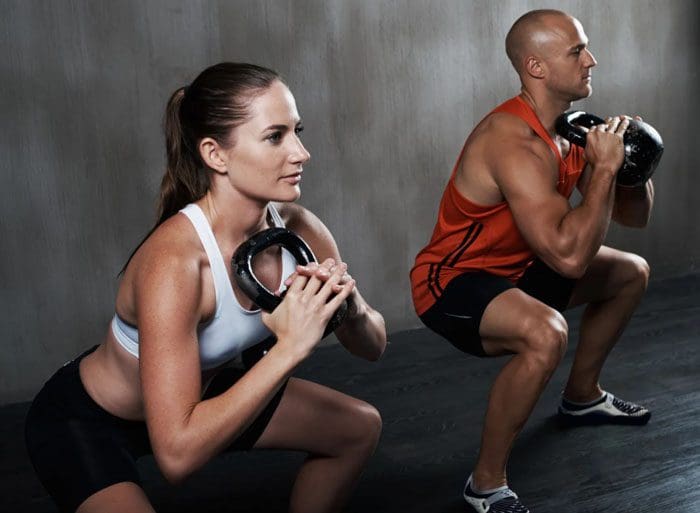 Lean Body Mass
Lean Body Mass is the total weight of an individual's body minus all the weight from the fat mass.
Lean Body Mass (LBM) = Total Weight – Fat Mass
Lean Body Mass includes the weight of the:
Skin
Body Water
Bones
Organs
Muscle Mass
Because Lean Body Mass consists of various components, any change in the weight of these areas is recorded as changes in lean body mass. However, the weight of the body's organs will not change. Bone density does decrease with time and age, but will not significantly affect the weight of lean body mass. With lean body mass, 2 areas of focus include:
Lean Muscle
Sometimes, individuals use the term lean muscle referring to the shape of the muscles. However, both types of muscle are lean and fat-free.
The difference between muscle mass and lean muscle
The strict definition of muscle mass is the weight of the muscles of the body. When individuals say they are gaining muscle mass, they typically mean that the muscles look and feel bigger.
Lean muscle mass on the other hand is a term often used when someone is referring to the weight of the muscles, not factoring in the amount of fat that could be present within a muscle.
Combining Lean Gains
Increases in Skeletal Muscle Mass are also an increase in Lean Body Mass. What tends to happen is individuals combine them as lean mass gains or lean gains. However, an increase in Lean Body Mass does not always increase muscle.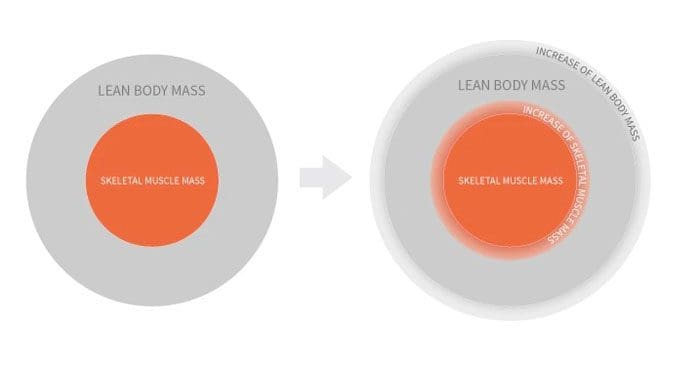 This is because body water makes up a significant portion of an individual's Lean Body Mass. For example, a body composition analysis of a 174-pound male.

98.1 Total Body Water + 35.5 Dry Lean Mass = 133.6 Lean Body Mass
Water makes up more than 55% of total body weight
This is normal for healthy adult males
Lean Body Mass consists of three components, two of which are water.
Everything else grouped together makes up the individual's Dry Lean Mass.
This includes bone minerals, protein content, etc.
Muscle gains contribute to Lean Body Mass gains, but so does water. The difference is that water levels can fluctuate throughout the day depending on:
Hydration levels
Diet
Physical activity
The muscle tissue itself contains a significant amount of water. Muscle tissue is comprised of up to 79% water. Research has shown that resistance training increases intracellular water in both men and women. This creates an issue when looking at lean gains.
Lean Mass gains can happen quickly, and the increases are mostly body water
Measuring Lean Body Mass and Muscle Mass
What not to do
Don't try to use a scale to calculate changes in Skeletal Muscle Mass. A popular method used is to estimate muscle gain from the number on the scale and applying fitness websites/magazine tips. The problem with this technique is that estimating progress has many factors that can influence an increase in body weight. These include:
Most methods of body composition analysis divide the body into Lean Body Mass or Fat-Free Mass/Fat Mass. These include:
Each has its pros and cons with a difference in accuracy, depending on the technique used.
Using A Lean Body Mass Calculator
A lean body mass calculator computes various factors that include:
It is the difference between total body weight and body fat weight. However, these calculations are more for helping physicians determine the appropriate amount of prescription medication/s or if an individual will be undergoing anesthesia and not a computation of overall body composition.
Paying Attention to Weight Loss
Paying attention to weight loss is an inaccurate reflection of lean body mass, muscle mass, or lean mass.
Weight loss, or gain, does not reflect overall health and body composition.
Body Fat Percentage
Body fat percentage is different, as far as, the healthy range for men and women. This can provide insights into the overall health of a person.
Key Points
All muscle is lean muscle
Muscle Mass aka Skeletal Muscle Mass
Resistance training/weightlifting workouts combined with added protein will generate a muscle mass percentage increase
Skeletal Muscle Mass is connected with Lean Body Mass
Everyone's body composition is different, making the proportion of an individual's skeletal muscle mass to Lean Body Mass unique.
Lean Mass or Lean body mass is the safest term to use to describe gains.
Which Is More Important?
When it comes to tracking muscle gain or fat loss, it all comes down to what tools are being used to measure progress.
If working with just a weight scale, an individual will only know their weight increases or decreases.
This is difficult to see the difference in weight gain from water, muscle, or body fat.
For individuals that want accurate measuring of their muscle gain and assessing their health, then body composition analysis is the key.
---
Body Composition Difference
---
Disclaimer
The information herein is not intended to replace a one-on-one relationship with a qualified health care professional, licensed physician, and is not medical advice. We encourage you to make your own health care decisions based on your research and partnership with a qualified health care professional. Our information scope is limited to chiropractic, musculoskeletal, physical medicines, wellness, sensitive health issues, functional medicine articles, topics, and discussions. We provide and present clinical collaboration with specialists from a wide array of disciplines. Each specialist is governed by their professional scope of practice and their jurisdiction of licensure. We use functional health & wellness protocols to treat and support care for the musculoskeletal system's injuries or disorders. Our videos, posts, topics, subjects, and insights cover clinical matters, issues, and topics that relate to and support, directly or indirectly, our clinical scope of practice.* Our office has made a reasonable attempt to provide supportive citations and has identified the relevant research study or studies supporting our posts. We provide copies of supporting research studies available to regulatory boards and the public upon request. We understand that we cover matters that require an additional explanation of how it may assist in a particular care plan or treatment protocol; therefore, to further discuss the subject matter above, please feel free to ask Dr. Alex Jimenez or contact us at 915-850-0900.
Dr. Alex Jimenez DC, MSACP, CCST, IFMCP*, CIFM*, CTG*
email: coach@elpasofunctionalmedicine.com
phone: 915-850-0900
Licensed in Texas & New Mexico
References
Galán-Rioja, Miguel Ángel et al. "Effects of Body Weight vs. Lean Body Mass on Wingate Anaerobic Test Performance in Endurance Athletes." International journal of sports medicine vol. 41,8 (2020): 545-551. doi:10.1055/a-1114-6206
Köstek, Osman et al. "Changes in skeletal muscle area and lean body mass during pazopanib vs sunitinib therapy for metastatic renal cancer." Cancer chemotherapy and pharmacology vol. 83,4 (2019): 735-742. doi:10.1007/s00280-019-03779-5
Ribeiro, Alex S et al. "Resistance training promotes an increase in intracellular hydration in men and women." European journal of sports science vol. 14,6 (2014): 578-85. doi:10.1080/17461391.2014.880192
Ten Haaf, Dominique S M et al. "Protein supplementation improves lean body mass in physically active older adults: a randomized placebo-controlled trial." Journal of cachexia, sarcopenia and muscle vol. 10,2 (2019): 298-310. doi:10.1002/jcsm.12394