Knee Injuries, Surgeries, and Vitamin D Status. The knee joint is one of the largest and complex joints. It connects the thigh bone to the shinbone, which has a very important role in:
Supporting the body's weight
Facilitating movement
Allowing the ability to bend the knee
Because of the complexity of the knee joint, it is highly susceptible to injuries. The most common injuries include tears in the:
Ligaments
Tendons
Cartilage
The kneecap itself can be fractured and/or dislocated.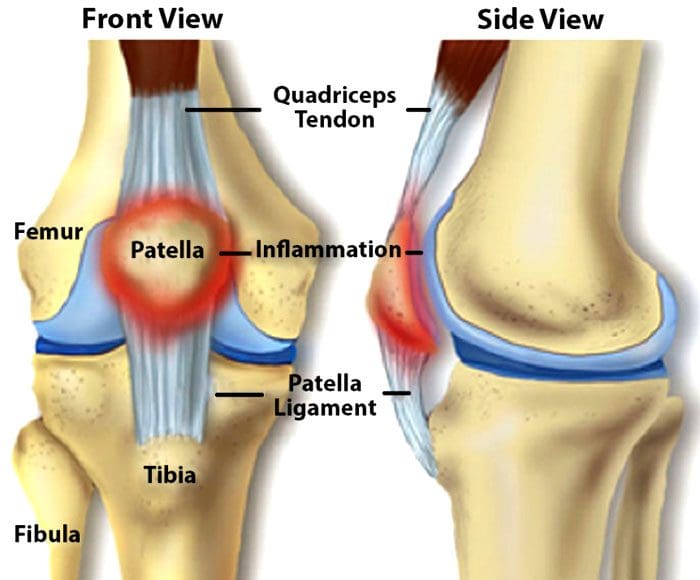 Tears
Meniscal Tears
The meniscus is the cartilage between the knee joint that absorbs the impact/shock when running, playing sports, yard work, hiking, bicycling, etc. It cushions the joint and maintains stability.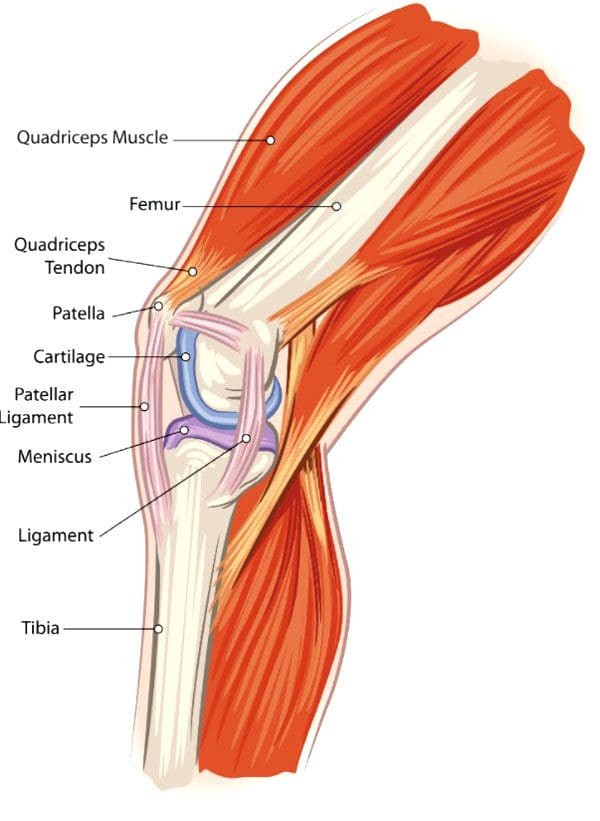 Meniscus tears are common in sports that have a lot of jumping, starting/stopping quickly, changing direction suddenly, like volleyball, basketball, tennis, soccer, football. This is when the meniscus tears. Surgery can be required, depending on the severity/extent of the injury and tear.
Tendon Tears
The patellar tendon works with the knee muscles in the front of the thigh to straighten the leg. Tears in the patellar tendon are common among middle-aged individuals and those that participate in running or jumping sports.
A complete tear is considered a disabling injury that requires surgery for full functional recovery.
Fortunately, most tears are partial and require rest and chiropractic/physical therapy to heal.
Dislocation
Knee dislocations happen when the knee bones shift out of position. This can happen after a fall, car crash, or high-speed impact. It can also be caused by twisting the knee while the foot stays planted. Dislocations require relocation. However, sometimes a dislocated kneecap corrects itself and returns to the proper position. Other cases can require a mild sedative to allow a doctor to relocate the knee. Dislocations generally take around six weeks to fully heal.
Anterior Cruciate Ligament - ACL Injury
The anterior cruciate ligament or ACL is knee tissue that joins the upper and lower leg bones and maintains the knees' stability. The ACL can be torn if the lower leg over-extends forward or if the leg gets twisted. ACL injuries are common knee injuries and account for around 40% of sports-related injuries. These injuries can range from a small tear in the ligament to a severe injury where the ligament tears completely or gets separated from the bone. Treatment depends on the severity of the injury. Depending on various factors including the severity of the tear, surgery could be required.
Knee Surgery
For most cases, surgery is done using arthroscopy technology. This procedure uses small incisions to insert a camera and surgical instruments into the joint. Usually, two or three incisions are needed with recovery time being quicker than large incision surgery where the whole knee is opened. Minimally invasive arthroscopic surgery is preferred by sports medicine experts. With this procedure:
There is no need to cut the tendons or muscles
Bleeding is reduced
Small incisions decrease scarring
Recovery time is shorter
However, sometimes a large incision is required for complex surgical techniques. Common knee surgery procedures include:
Arthroscopy Surgery
This method allows the ability to see inside the knee joint. The procedure is often recommended for:
Diagnosis
Minor repairs to ligaments and/or tendons
Cartilage or bone that needs to be removed
Total Knee Replacement
A full knee replacement is known as arthroplasty. When the joint is damaged beyond repair from injury or disease, an implant is placed in the knee joint restoring function. A small amount of cartilage and bone from the shinbone and thigh bone gets removed for perfect placement of the new knee joint.
Revision Knee Replacement
Most knee replacements last around 15 – 20 years. For individuals that have knee replacement early, then a new operation for new implants could be required. Here, the surgeon removes the original prosthesis and replaces it with a new one.
Partial Knee Replacement
Some knee injuries do not require complete replacement. Here, only the worn-out portion of the joint is replaced. As an example, the cartilage that has been lost in an area of the knee can be repaired with a partial replacement.
Vitamin D Status
A study on athletes that underwent ACL surgery looked at their vitamin d status and how it affected their recovery.
The research concluded that vitamin D status had no effect on surgery outcomes.
However, those with the lowest vitamin D status had three times the failure rate than those with higher vitamin D
The average age of the individuals was around twenty-four and were healthy athletes.
Each of the patients in this study had their vitamin levels measured before the operation and were grouped based on their vitamin D status:
Group 1 vitamin D below 20 ng/mL - considered deficient
Group 2 vitamin D between 20-30 ng/mL - considered low but in a technical range
Group 3 vitamin D above 30 ng/mL - considered sufficient, but not optimal
All were followed for two years with their surgery recovery being measured with two systems.
The Lysholm score, which is a 100 point scoring system that looks at an individual's knee functions that include:
Mechanical locking
Instability
Pain
Swelling
Stair climbing
Squatting
The WOMAC score is a scoring system that measures:
Physical function
Pain
Stiffness
This can be for knee and hip replacement
After 2 years, the Lysholm score and the WOMAC scores were similar.
However, there was a difference in the graft failure rate which was about 6% in group 1 with the lowest vitamin D and around 2% in groups 2 and 3. This shows that the lowest vitamin D status has three times the failure rate compared with those that had increased vitamin D levels. Vitamin D is a known anti-inflammatory with metabolic functions that are documented. Therefore, vitamin D does improve surgical success and recovery in healthy athletes.
---
Body Composition
---
Disclaimer
The information herein is not intended to replace a one-on-one relationship with a qualified health care professional, licensed physician, and is not medical advice. We encourage you to make your own health care decisions based on your research and partnership with a qualified health care professional. Our information scope is limited to chiropractic, musculoskeletal, physical medicines, wellness, sensitive health issues, functional medicine articles, topics, and discussions. We provide and present clinical collaboration with specialists from a wide array of disciplines. Each specialist is governed by their professional scope of practice and their jurisdiction of licensure. We use functional health & wellness protocols to treat and support care for the musculoskeletal system's injuries or disorders. Our videos, posts, topics, subjects, and insights cover clinical matters, issues, and topics that relate to and support, directly or indirectly, our clinical scope of practice.* Our office has made a reasonable attempt to provide supportive citations and has identified the relevant research study or studies supporting our posts. We provide copies of supporting research studies available to regulatory boards and the public upon request. We understand that we cover matters that require an additional explanation of how it may assist in a particular care plan or treatment protocol; therefore, to further discuss the subject matter above, please feel free to ask Dr. Alex Jimenez or contact us at 915-850-0900.
Dr. Alex Jimenez DC, MSACP, CCST, IFMCP*, CIFM*, CTG*
email: coach@elpasofunctionalmedicine.com
phone: 915-850-0900
Licensed in Texas & New Mexico
References
Brambilla, Lorenzo, et al. "Outcome of total hip and total knee arthroplasty and vitamin D homeostasis." British medical bulletin vol. 135,1 (2020): 50-61. doi:10.1093/bmb/ldaa018
European Journal of Orthopedic Surgery and Traumatology, January 2021
Zhang, Hao et al. "Vitamin D Status and Patient Outcomes after Knee or Hip Surgery: A Meta-Analysis." Annals of nutrition & metabolism vol. 73,2 (2018): 121-130. doi:10.1159/000490670